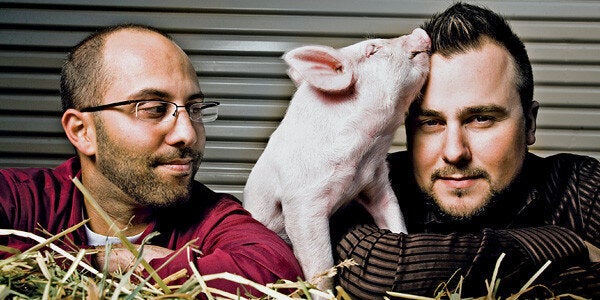 Where do you like your bacon? "On everything," said Dave Lefkow, co-founder of Seattle-based J&D's Foods. At a business dinner, Lefkow discovered Justin Esch, his co-worker at a tech company, also subscribed to the belief that bacon makes everything better. As the two discussed their mutual love for the savory meat, Esch revealed his idea for a bacon-flavored seasoning, and Bacon Salt was born.
Lefkow and Esch scored the domain name for Bacon Salt the next day, and their luck didn't end there. After figuring they needed $5,000 to start up, Lefkow got a phone call saying he won $5,000 from his son's submission on "America's Funniest Home Videos." "We stole money from my 3-year-old child to start our business," Lefkow said, "but we've paid him back since then."
The funny home video that helped fund their startup
Five years later, the internationally distributed, multimillion-dollar company has pushed bacon to its limit, with products ranging from bacon-flavored mayonnaise to lip balm. And while the self-proclaimed bacontrepreneurs are known for their shenanigans, they're always in good fun and for a great cause, even if it means wrestling in 6,000 pounds of mayonnaise. "We're doing well with our business and trying to do good for the community," Lefkow said.
Your products are vegetarian, kosher-certified and calorie free. So what exactly gives it the bacon flavor?
Lefkow: Bacon is smoky, savory and salty, so we combined vegetables that had those elements to get a bacon taste. It actually became vegetarian by mistake. We started out mixing bacon drippings with sea salt. It tasted and looked horrible and had no shelf life, so we went to some specialists in dry foods manufacturing with no money and no backing, but they were willing to help us and suggested using vegetables. The fact that we had to call a rabbi and tell him that we have a product called Bacon Salt and we want to kosher certify it was ridiculous and is a really quick way to get hung up on. It's irony in a jar, really -- it's kosher, vegetarian bacon-flavored seasoning. The main thing we were concerned about was whether it really tasted like bacon, and it does.
So, about that time you almost got arrested in a bacon suit...
Esch: The bacon suit was Dave's idea. It was like being a superhero, running around in this bacon suit. We had just gotten our products into Kroger stores in 2008 and were brainstorming how we were going to promote this. I suggested we go to football games, so we flew to Ohio for an Ohio State vs. Minnesota game and paid some kids from a local fraternity 10 bucks an hour to help us hand out product samples of Bacon Salt, while Dave and I took turns wearing the bacon suit. We were stealing all the condiments out of the condiment stands and packing them with Bacon Salt, and were giving away products illegally, without permits or permission. I was just waiting to get arrested. Mostly, we just kind of got drunk and ran around the college campus, handing out as much Bacon Salt as possible, and that's how the Bacon Across America Tour was born. I took a few friends and went to 10 games up and down the East Coast. Dave did another round with one of our employees in Pennsylvania, and almost got arrested for soliciting. Essentially, we were buying front row end zone tickets from scalpers, so whenever there was a touchdown, the bacon suit would be right there.
We started getting a lot of media coverage, and people would email us, asking us to come to their games. At the Washington vs. Washington State game, we held a contest with each school's communications departments -- we said whichever school could make the better TV ad, we'd run it as our first ever Bacon Salt TV spot during the game. When we walked out of the tunnel in the bacon suit, the entire student section started chanting "Bacon." Bacon was the first person over the rail leading the student section's charge onto the field, and jumping into the post-game interview behind the winning coach on Fox Sports.
Lefkow: At one of the college games, I was actually doing a keg stand in the bacon suit on top of an RV, and I fell through one of the little glass sunroofs in the bacon suit. Someone was watching TV in the RV and I fell onto the floor right in front of him.
Esch: It's just crazy to think that four years ago, that's what the company was born out of, and now we sell products in Walmarts all over the world.
What's the creative process behind your novelty items? Are you worried they're distracting from your food business?
Lefkow: We hire interns generally to make ridiculous stuff. A lot of times it does start as a joke. We usually do one novelty product and one April Fool's product every year, and the first one we ever did was bacon-flavored lip balm. We ended up selling hundreds of thousands of them. It turns out people like the taste of bacon fat on their lips more than we expected. The first April Fool's joke was Bacon Lube. We wrote a blog post that said, 'Due to the overwhelming success of Bacon Lip Balm, we think the future of J&D's is in bacon-flavored personal care products.' We said ridiculous things, like it was pending FDA approval due to some mild skin irritation, but if you wanted to be a beta tester, email us at keepitsizzlin@baconsalt.com. About 5,000 people signed up on a waiting list, and we realized that we had to actually make it. We were making interns try this bacon-flavored sexual lubricant -- some of them just left us. We launched that for real this past holiday season, and we sold thousands. It's the bestselling novelty item we've ever made.
Despite it being hilarious, it was a business move. We launched the lube with one of our mainstream food products, Bacon Croutons, and that's one of the best things we could do for the brand. Launching Bacon Croutons isn't exactly newsworthy, but introducing Bacon Lube at the same time means we're getting on 500 radio stations, on newscasts and in papers, and we're getting exposure as J&D's, the makers of Bacon Lube, but also makers of Bacon Salt, Bacon Croutons and Bacon Ranch.

Esch: As a small company, we don't have the advertising budget of Kraft, so our way of doing it is to get our product in front of people in a really memorable way. We're willing to take risks and do things that other companies wouldn't. We wake up every morning and save the first 15 minutes for sheer giddiness and laughter, because this is so ridiculous to us, that we're here and this worked out. The more we push the limitations, the more awesome and weird it gets, the bigger we get.
Giving back is a big part of J&D's. Tell me about the efforts that are most important to you.
Lefkow: We started a charity called Ashley's Team. Ashley is my daughter, and she was diagnosed with leukemia in 2009. She has worked her way through chemo and she's doing really well now, but we wanted a way to give back and make the experiences of children and their parents while they're in the hospital better. We've done a few events to raise money for the charity, including our Baconaisse launch, which was a mayo wrestling match. It was an awesome event -- 1,000 people came to it, we had 6,000 pounds of mayonnaise and we will never do anything like that ever again. We also sold a statue of Kevin Bacon made out of bacon for $4,000 on eBay. We've hosted the Bacathlon, which is a multi-sport bacon-themed event in Seattle. We found a competitive eater, Erik "the Red" Denmark, who broke the bacon-eating record at the event. He ate something like 225 strips of bacon. It was aggressive.
Esch: Operation Bacon Salt was started by a marine, Lee Bowden, who sent us an email in 2008. He told us that he was stationed in Iraq, and he saw an ad for our product online and wanted to buy products for the 50 marines stationed at his base for Christmas. We had just moved into our first office and warehouse, sales were really low and the company was just getting off the ground, but Dave and I figured let's just hook this guy up. He was so grateful and sent us an email with a bunch of pictures of the marines with our products. So we made the decision to pick one group of soldiers every month from every branch of the military, and send them a care package of our products, and it's been really fulfilling. We get really great thank you letters, photos and videos from them, like people flying around in jets with bottles of Bacon Salt in their pockets.
Lefkow: It's really cool, and it falls in line with what Justin and I wanted to build as a company. We don't do it for the glory -- we just want to help people and make people happy. Because of our effort, we got some great press in the military news sources, and now Bacon Salt is actually a part of the commissaries on military bases. I guess our Bacon Salt tastes pretty damn good on MREs.
Names: Justin Esch, Dave Lefkow
Company: J&D's Foods
Ages: 33, 38
Location: Seattle
Founded: 2007
Employees: 10
Website: www.jdfoods.net
Popular in the Community