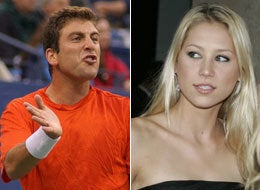 In between his usual pronouncements on the state of tennis, the American, twice a Grand Slam title winner at mixed doubles and now on the board of the Association of Tennis Professionals (ATP), launched into an extraordinary diatribe in which he labelled Anna Kournikova a "bitch" whom he wanted to harm, and described several other players at Wimbledon as "sexpots".

Yesterday Gimelstob, 31, was forced to issue an apology to the women's game and found himself suspended from the professional US tennis league in which he plays.
Asked if that meant he hated the Russian, with whom he trained as a youth player, he replied: "Hate is a very strong word. I just despise her to the maximum level just below hate." He added that he would not like to sleep with Kournikova, "because she's such a douche". Instead, "I wouldn't mind my brother, who is kind of a stud, nail her and then reap the benefits."
Related
Popular in the Community