It was supposed to be a light meal.
Diners at the Hibachi Grill & Supreme Buffet in Daytona, Florida, were treated to a surprise dinner guest on Tuesday when an alleged burglar fell from the ceiling, police said.
Justin Grimes, 30, was charged with felony burglary following the incident. Security footage shows the Deltona man as he plummets from the ceiling into the main dining area, where he is surrounded by shocked patrons.
"Bi Liu (Restaurant Manager) called 9-1-1 to report a man falling through their ceiling and into the restaurant," the responding officer noted in a police report.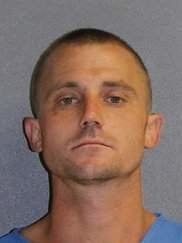 Police said that Grimes used some string to lock the restaurant bathroom attempted to steal money by climbing through ceiling tiles to enter the restaurant office.
"Liu was first alerted to the incident by several patrons notifying him that they were hearing strange noises coming from the ceiling," the police report said.
Police said that Grimes attempted to flee, but was "captured by a patron."
Authorities transported Grimes to a nearby medical center to be treated for multiple injuries.
PHOTO GALLERY
Men Of Florida
REAL LIFE. REAL NEWS. REAL VOICES.
Help us tell more of the stories that matter from voices that too often remain unheard.