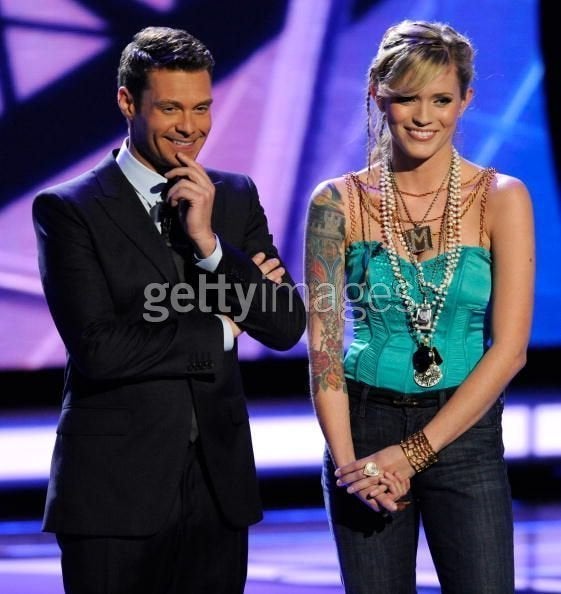 Can you believe it? We're down to eight contestants... it feels just like yesterday that we were weaving in and out of the performers who made it to Hollywood week. To the show...
The usual shenanigans between Ryan and the judges ensued but this time with a blast from the past, as the finalists were introduced with their baby pictures. I love "Songs From The Year..." week because we get an intimate portrait of each of the contestants from their very beginnings.
The night began with the top eight's oldest finalist and I'd be willing to bet that a lot of the adults watching the show (myself included) let out a forlorn sigh when they saw that the oldest contestant on this years Idol was born in 1980. Where do the days go?
Danny Gokey was this year's first born, and he took on Mickey Gilley's version of the classic "Stand By Me". A jazzy and reserved opening led to a feel-good, mid-tempo tune that had Paula standing up and dancing. Danny finished the song with his signature gospel-rock sound. His performance was a solid way to open the show.
Up next, Kris Allen showed us why it's better that he turned out a great musician, instead of a taxi cab driver with his very own rendition of Don Henley's "All She Wants To Do Is Dance" featuring a unique arrangement peppered with a great horn section. Kris's combo of understated star power and boy-next-door likability made for a great performance.
Lil Rounds brought us into the mid-eighties with Tina Turner's hit "What's Love Got To Do With It". Complete with Tina movements, Lil brought some of her flavor to a song that revived Tina's career. At a time when Lil needed a boost she was unfortunately lambasted by the judges for sounding a little too much like Miss Turner. Lil was the first contestant of the night to be scored low by the judges. Would she be the last?
After Anoop Desai apologized for a slip-up on last weeks show, America was treated to one of the more unexpected songs choices of the night, Cyndi Lauper's "True Colors". Although the song was a departure from the norm, the tune was in essence a return to the Anoop that America fell in love with. He had control, smooth vocals, and class in the face of adversity. Well done.
Scott MacIntyre's performance showed that he certainly has surprises up his sleeve. This week's surprise came in the form of a guitar. An impressive performance, and one that was a direct response to the judges asking him to change things up a bit. Every week I'm impressed by what Scott pulls off.
As I watched Allison's intro package I once again let out a sigh...she was born in 1992. Amazing. Then as if that wasn't impressive enough she chose an amazing song and sang the heck out of it. "I Can't Make You Love Me" is such a mature song, and Allison's performance was so masterful, she made me forget that a 16 year old was singing it.
Matt Giraud sang one my favorite Stevie Wonder songs "Part-Time Lover", and gave it a jazzy spin that I didn't see coming. He took risks and gave himself a much-needed lift from last week's performance. The judges were impressed, and I hope America was too.
Adam Lambert closed out the show with Tears for Fears' "Mad World". Adam gave a reserved and purposeful performance that had Simon giving him the most rare of gestures, a standing ovation. 'Nuff said.
This week's "Idol" was so chock-full that it actually ran over its allotted time. I don't mind, and based on the amazing performances we witnessed tonight I'm willing to bet that the FOX execs don't either. This Wednesday is sure to be one that will keep us on the edge of our seats.
Justin Guarini is a co-host on TV Guide Network's "Idol Tonight" Airing Wednesday Nights at 8 p.m. ET/PT
Calling all HuffPost superfans!
Sign up for membership to become a founding member and help shape HuffPost's next chapter