In popular culture, Justin Long is mostly known for being two things: Drew Barrymore's ex-boyfriend and "The Mac Guy." Oh, and I guess he also has a career starring in critically acclaimed films like Galaxy Quest, Jeepers Creepers, and DodgeBall: A True Underdog Story.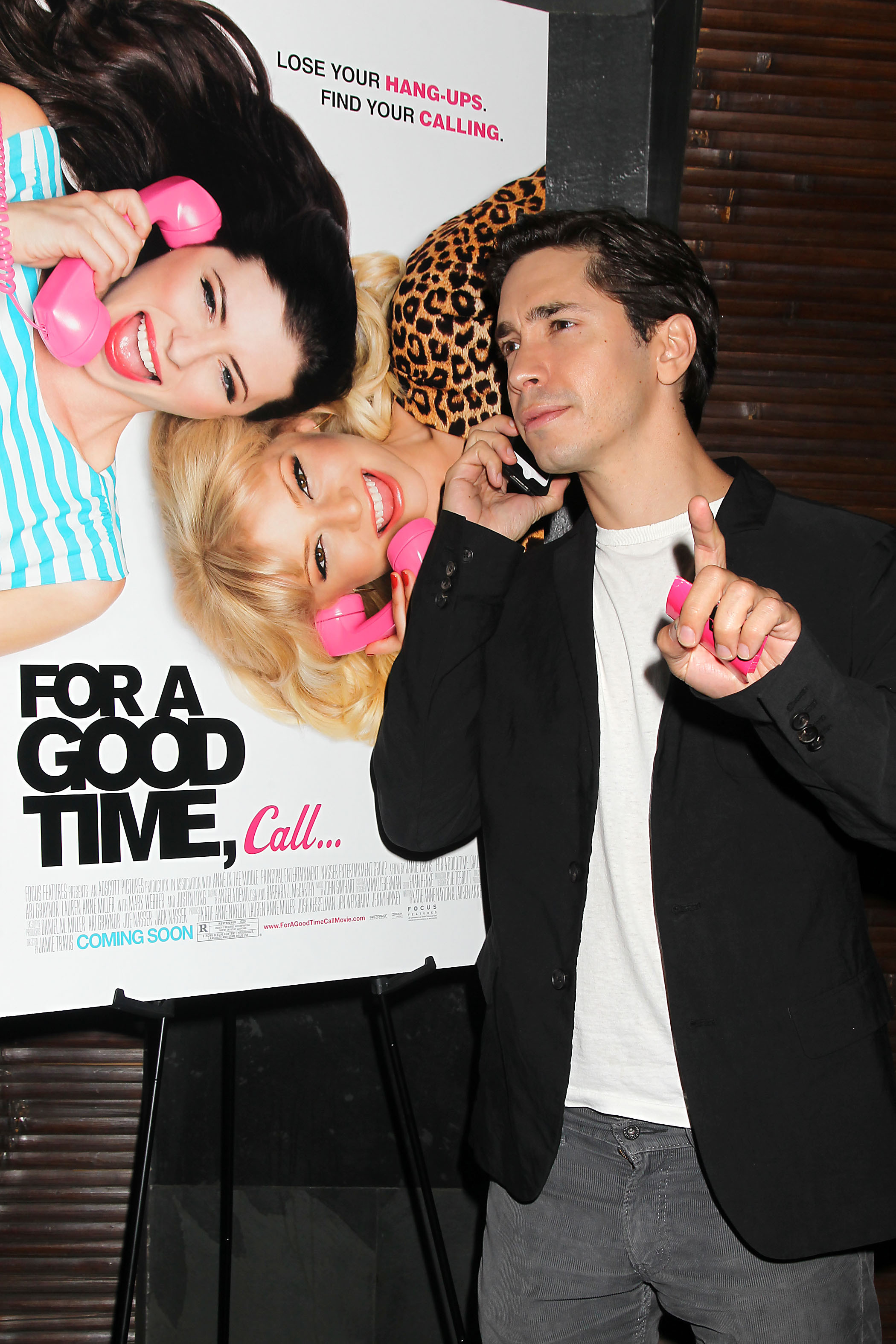 In his latest role, he plays a mustachioed gay best friend character in the indie feature film For A Good Time, Call... At the New York screening and after party for the film last night sponsored by Grey Goose Cherry Noir and Focus Features, he told us that he didn't want to play a gay caricature, though he did study the film's gay director, Jamie Travis, closely.
"I loved his voice," Long told reporters when asked about Travis. "It struck me that he had a great voice: nasal, elegant. And I said, 'What if I just did you?' He said, 'I mean, Okay,' and he read my lines to me. And I certainly didn't want to do anything disrespectful. Most people I know in my life are gay, so I certainly have a lot of admiration, and I didn't want to make it like I was making fun or disrespectful. And so I had Jamie at my disposal to just do an imitation of him, basically."
Travis told me that, contrary to Queerty headline claiming that Long was "stalking" him, Long was simply trying to do some research. "He definitely didn't stalk me," said Travis. "He invited me out to dinner in L.A., and he recorded me reading lines from the script on his iPhone... He was not outside my house. There was no stalking of any sort. If we were ever to have a stalking relationship between us, it would be me stalking him, because I think he's such an amazing talent."
On being studied for a character to hit the big screen, Travis said:
I loved it. It was a giant ego boost for me. The first time we talked on the phone, we discussed how to keep this character from being a gay stereotype, and I feel like he zoned in on my voice and the way I was. It really was a starting point, though, he brought so much to the character, and it's really more him than it is me.
I will have to admit that, while it is true that Justin Long plays gay respectfully, the character is somewhat of a stereotypical gay: he's obsessed with his dog Zelda, talks sassily and fairly effeminately, and so on. But at least he's not sex-obsessed, the main affliction Travis feels affects gay characters on-screen.
I was so happy to have a gay character who's not overly sexualized. I feel like gay men in movies are always chasing tail somewhere. In this one, he has the very wholesome goal of wanting his two best friends to be friends already. We all know what that feels like, to have two friends who don't want to be friends.
Ari Graynor stars in the movie as Mr. Long's sassy gal pal, the friend who doesn't want to be friends with co-star Lauren Miller. Graynor told us she was on cloud nine working with Long: "It was heaven. This is our third movie together, and he already felt like my gay best friend, so... He's straight, but he seems like a gay best friend in life, so I was like, you might as well put this on film."
Then I asked Graynor if Long had to turn down the ladies' man to play gay. "Hey, Justin, did you have to turn down the ladies' man to be in this movie?" she asked him, since he was standing three feet away.
"Yeah, I totally had to crank it down a couple notches," Long said, faking his best macho bro-dude voice.
"Just a couple big turns on the dial," added Graynor.
"It's a blessing and a curse," finished Long.
After the red carpet fun was over, Long headed upstairs to attend the screening, but not before he was stopped by a bunch of teenage girls who wanted a picture. He obliged, and I decided to tell him as we rode the elevator together that my question was not out of nowhere (or based on whatever yarns the gossip rags spin) -- I have personally seen him at events around town where he was not slated to attend with various mystery ladies.
"There are ladies in and out," he replied. "I'm not gonna lie."
I didn't stick around long enough at the afterparty to see if The Mac Guy took home a new piece of hardware, but he certainly had ample bottles of Grey Goose vodka to ply her with. And it was Cherry Noir-flavored! That's French for top-shelf black-cherry drunken deliciousness. And if candy flavor intoxicating beverages can't get girls to go for a fairly attractive male celebrity like Justin, we don't know what can.
Even the more mature Seth Rogen, who has a brief but awesome cameo in the movie, loves the stuff. Picture evidence below. Seth's wife Lauren Miller stars alongside as Graynor's college enemy who becomes her best friend and business partner.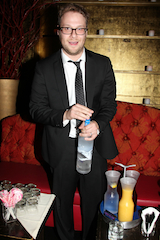 REAL LIFE. REAL NEWS. REAL VOICES.
Help us tell more of the stories that matter from voices that too often remain unheard.