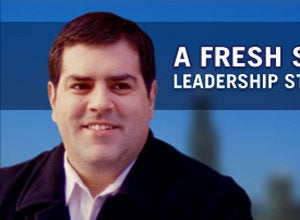 His full statement to supporters:

"Dear Friend,

In early December, with your invaluable encouragement, we put together the beginnings of a campaign for Congress in Illinois' 5th District. We built a great team and with the support of you and hundreds of others across the district, the state, and the country, we raised more than $160,000 in six weeks and obtained more than 3,000 voter signatures in a six-day petition drive.

The confidence you have shown in me reinforces my eagerness to serve the people of Illinois, but I have determined that the best use of your resources is not for this special election, and I have decided to withdraw from the race. With sincere gratitude for your willingness to support our efforts, I will be returning all unused funds to you and all of our other contributors.

When we started, the field was wide open and the prospects for a successful campaign were promising. But in the past week, that landscape has changed substantially. It is now clear that most regular Democratic ward organizations across the district will be united behind one of my opponents; when viewed in the context of the short time until Election Day and the exceptionally low turnout expected in this special election, we have determined there isn't enough time to earn the votes we need to win.

At the same time, we all know how much work is needed in Chicago, Springfield, and Washington by public officials who lead by example, who understand how to jumpstart the economy so it works for the middle class, and who can restore America's standing in the world. This is work I look forward to carrying out on your behalf.

Thank you again for your generosity and I will be in touch in the coming weeks regarding our plans.

Regards,
Justin"
REAL LIFE. REAL NEWS. REAL VOICES.
Help us tell more of the stories that matter from voices that too often remain unheard.