Two young men are pacing between rows of seats at the David H. Koch Theater in New York City's Lincoln Center. The lights are down and an orchestra is playing Sufjan Stevens' latest masterpiece, music commissioned by the New York City Ballet for the 26-year-old rising star Justin Peck.
It's just one day before their latest collaboration, a ballet entitled "Everywhere We Go," will make its debut, and Peck and Stevens are hashing out the final details during the orchestra rehearsal while treading on the theater's storied red carpet. As the musicians soldier through Stevens' ambitious composition, you can see how the two collaborators are a natural fit for one another. Stevens' movements are smaller, and he shakes his clenched fists in time with the music, his knees slightly rocking when he pauses. Peck has the presence of a dancer, with each step he takes commanding attention. But when they cross paths, they stop to exchange ideas and laugh. They clearly share creative energy, and their rapport is undeniable.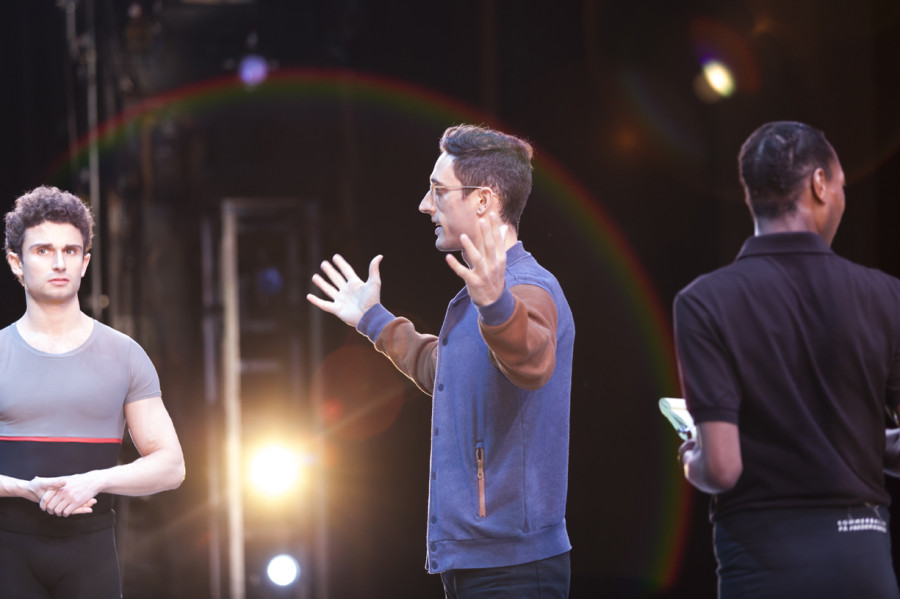 Justin Peck instructs dancers during the dress rehearsal for "Everywhere We Go" (Photo credit: Raydene Salinas)
"We have a pretty close working relationship, so he has a good understanding of my taste and my movement style and what I like in ballet," Peck told The Huffington Post about Stevens. "When we started this, it really came from the music."
"Everywhere We Go" is the duo's second collaboration. Their first ballet together, "Year of the Rabbit," debuted in 2012 to rave reviews. Peck had met Stevens, 38, through a mutual friend and approached him about using Stevens' 2001 album "Enjoy Your Rabbit" for one of his first ventures into choreography with the New York City Ballet (he was "just" a member of the corps de ballet at the time and was soon promoted to soloist). Stevens obliged and proceeded to allow Peck to educate him in ballet, an art form that was foreign to the indie singer at the time. Luckily, they managed to bridge the gap quite quickly.
"Ballet is like proof of the existence of God, whereas my art is proof of the existence of me," Stevens recently told The New York Times. "It made me understand how selfish and boring it can be to make art that is all about yourself."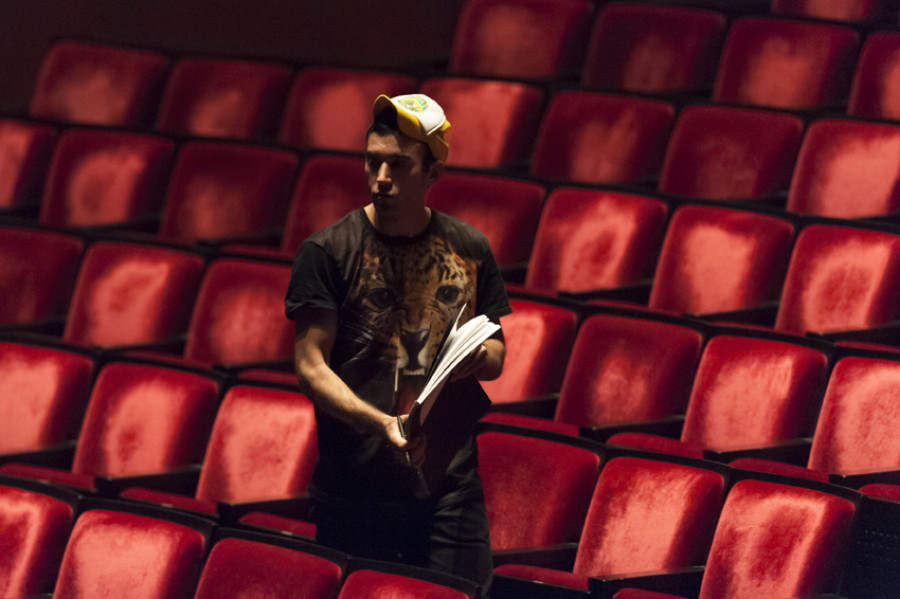 Sufjan Stevens paces during the dress rehearsal for "Everywhere We Go" (Photo credit: Raydene Salinas)
Their latest production is very much a team effort. After the success of "Rabbit," Peck asked Stevens to compose music from scratch for "Everywhere We Go." Stevens would send samples of music to Peck and the two would have long discussions before Peck would begin choreographing in response to the samples Stevens sent -- a process that's in stark contrast from the usual music commission, where composers simply write the entire piece and hand it over to the choreographer. Peck and Stevens ended up working together to whittle down Stevens' hour-long composition to the approximately 40-minute show they're in the midst of perfecting.
Once the orchestra rehearsal is through, the 25 dancers shuffle in for the dress rehearsal. Peck pops backstage to make sure that everyone's in costume and ready ("Girls, I've got to see the tights in the shoes"), while Janie Taylor, a recently retired ballet dancer who designed the costumes for the show (and played an important role dancing in "Rabbit"), inspects the dancers' buns. She's requiring that the ladies style their hair into a pomp as an added way to let the audience know that this isn't your average, stuffy ballet.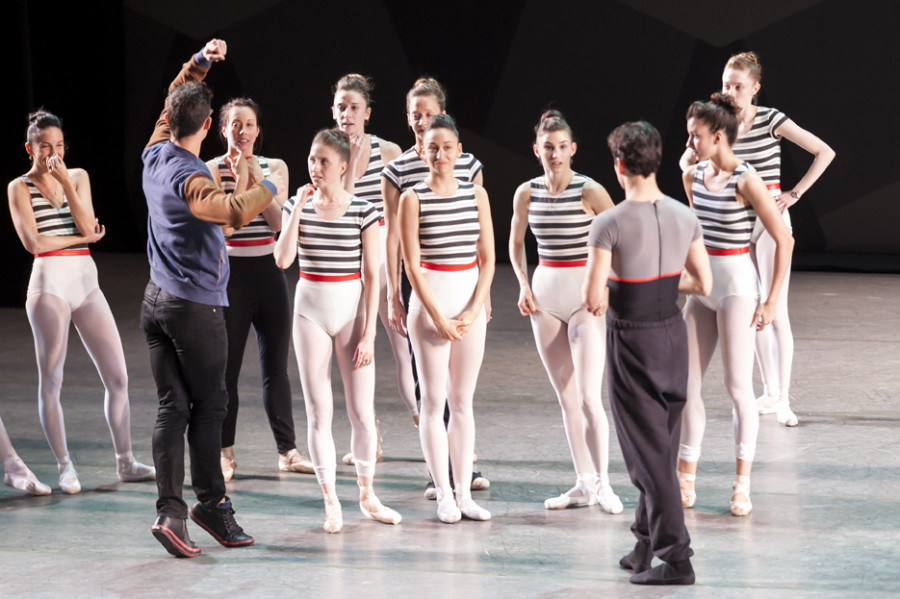 Dancers watch Justin Peck's demonstration during the dress rehearsal for "Everywhere We Go" (Photo credit: Raydene Salinas)
As the lights dim again and the dress rehearsal begins, Peck and Stevens resume their pacing. The ballet itself is just what you'd expect from the two: It contains the playful, yet elegant, spirit of Peck's dancing style as well as Stevens' signature dreamy sense of musical grandeur (thanks, in part, to conductor Michael Atkinson, who orchestrated the music Stevens composed). Dancers fall on the floor with the crescendos; a dancer's hop signals the orchestra to start up after a pause.
Peck, recently hailed as "the next great ballet choreographer," gives the kind of stage directions one wouldn't necessarily expect from a classically trained, auspicious choreographer-slash-soloist at NYCB. When the dancers fall to the floor, he tells them not to bother with how "pretty" their movements are. "I don't care if it looks a little abrasive," he says. When a dancer's leap is too precious, he clarifies, "It's not a jump -- it's a jolt of electricity."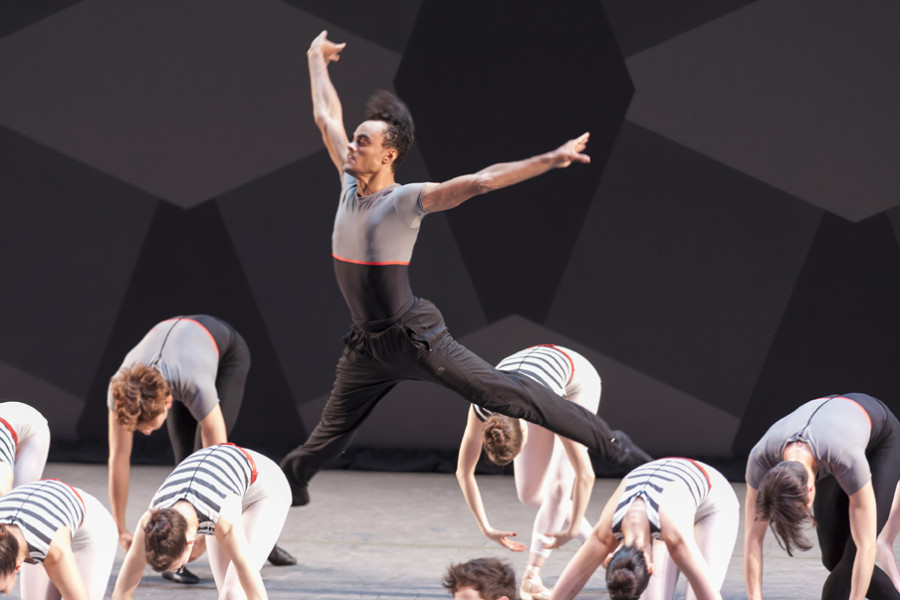 A dancer leaps during the dress rehearsal for "Everywhere We Go" (Photo credit: Raydene Salinas)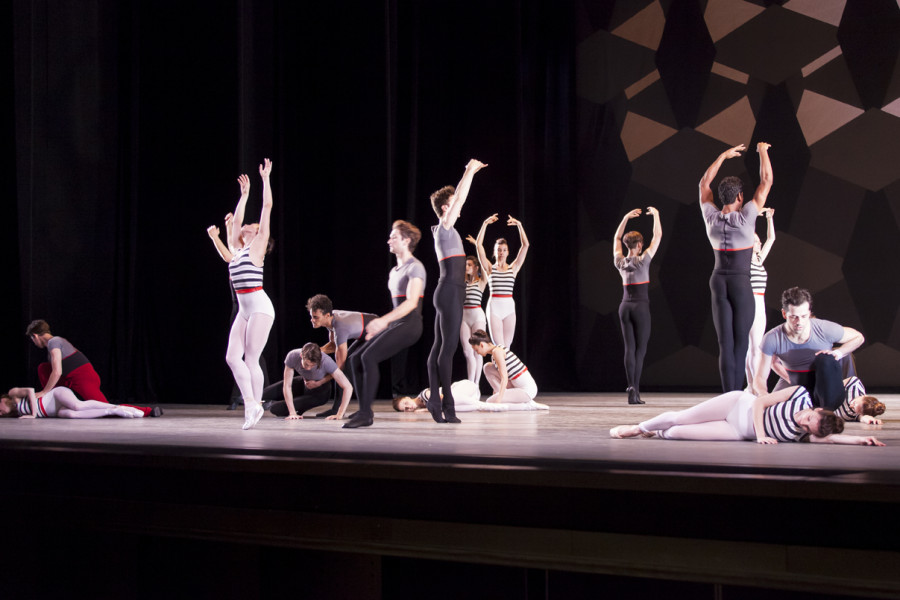 Dancers during the dress rehearsal for "Everywhere We Go" (Photo credit: Raydene Salinas)
The momentum Peck and Stevens are gaining themselves is just as palpable. With a full orchestra and such a large cast of dancers, the scale of this production is quite a leap, so to speak, from "Rabbit." Design aficionados will even notice the active, structural backdrop of the show, which was dreamed up by Brooklyn-based architect Karl Jensen. Naturally, all of this creative cross-pollination is drawing new, younger audiences to ballet, a coup that Peck didn't seek out but certainly appreciates.
"[Sufjan] has a relatively sophisticated crowd of young followers, so they're the right type of people to come in and see his works and potentially develop an interest in this art form," Peck said. "It's not unlike getting to know how to taste wine, in a way. There's a lot of variety in what people like. People develop their palate by seeing more and more work. Hopefully, his draw will help bring people into that."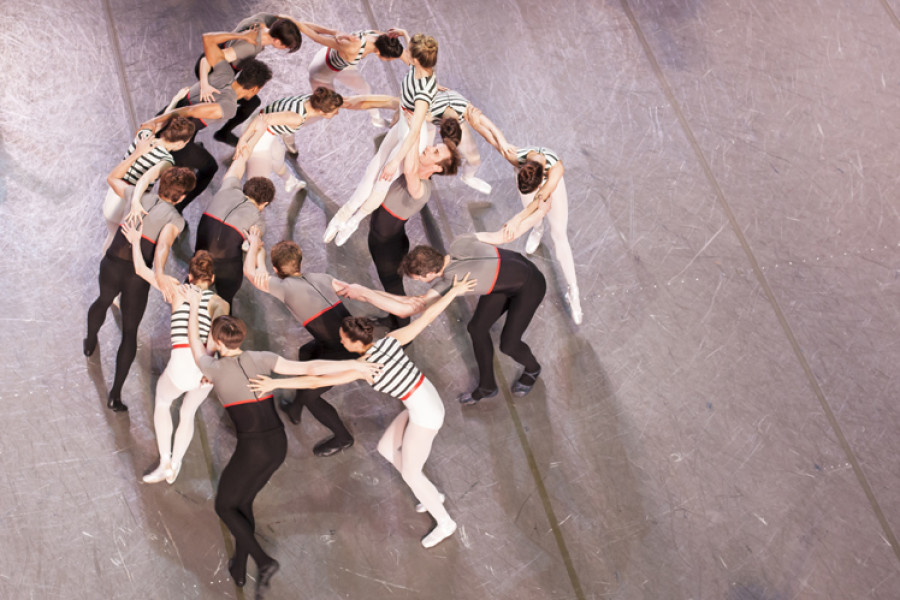 Dancers during the dress rehearsal for "Everywhere We Go" (Photo credit: Raydene Salinas)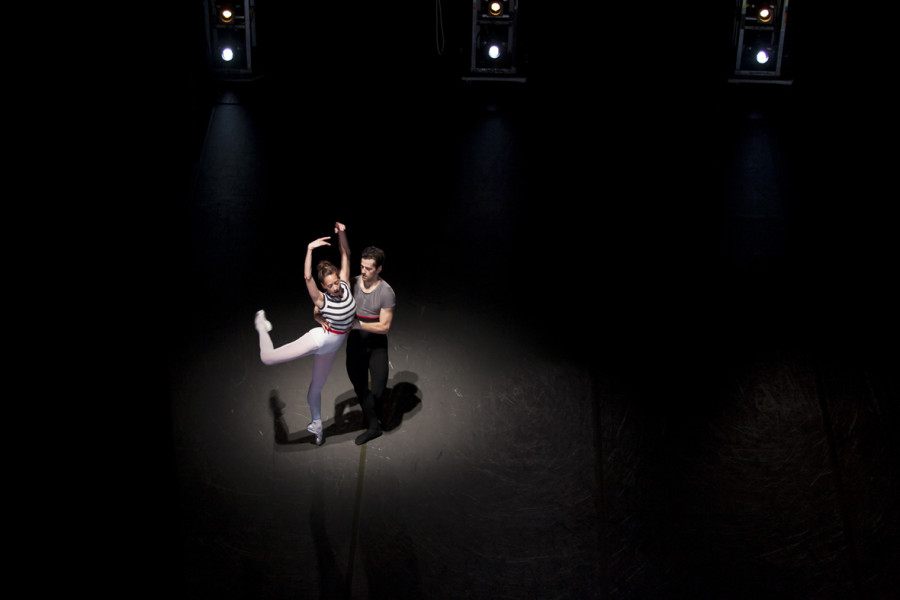 Dancers during the dress rehearsal for "Everywhere We Go" (Photo credit: Raydene Salinas)
Perhaps the most fortunate byproduct of this ballet/indie music collaboration is the renewed attention on the former, less accessible art form. If any two people are going to make ballet hip and engage the under-thirty set with innovative, compelling -- and fun -- works of performance art, it's Peck and Stevens. And while they're both prolific on their own, it seems they can accomplish much loftier goals together in this respect.
After three hours of rehearsal, the curtains close and the dancers walk off stage. There's just one day until those curtains will open again for the premiere of "Everywhere We Go," but Peck is already confident enough to start dreaming of his next project with Stevens.
"I know Sufjan and I will probably start talking about the next one a few days after this ballet finishes," Peck said. "We want to continue to create new works and ideally here for the New York City Ballet -- it just seems fitting."
Clearly, the two of them still have a lot more territory to cover.
"Everywhere We Go" premiered at the New York City Ballet on May 8, but it's running through the month and again in October at Lincoln Center. More details here.
Calling all HuffPost superfans!
Sign up for membership to become a founding member and help shape HuffPost's next chapter
BEFORE YOU GO
PHOTO GALLERY
Justin Peck & Sufjan Stevens' "Everywhere We Go"