An Arizona couple recently left homeless when their mobile home burned to the ground couldn't believe their eyes when they received a bill for nearly $20,000 from a private fire department.
"I couldn't believe it," Justin Purcell told The Huffington Post. "We lost our home, we just had a baby and now we're going through this. It's crazy. We don't know how we are going to come up with the money."
Justin and Kasia Purcell's home went up in flames on the night of Aug. 12. The Purcells, who were staying with relatives because they were preparing for the birth of a child, were not home at the time of the fire. A neighbor notified them of the blaze, and they made the 45-minute drive to their home in Surprise, a city in Maricopa County. They arrived just in time to see firefighters extinguish flames from what was left of their house. The home was a total loss, and the cause of the blaze is undetermined.
Two weeks later, on Aug. 27, the couple received a bill from Rural Metro Fire Department for $19,825. The bill included charges of $1,500 per fire truck and $150 dollars per hour for firefighters.
Justin Purcell said he was shocked by the bill and did not understand why he was receiving it, considering he and other local residents pay a fire district assistance tax to help fund volunteer fire departments. However, that tax, he soon learned, does not cover Rural Metro Fire Department because it is an independent agency.
The Purcells' next step was to contact their insurance company.
"I was told by our insurance company that they don't cover fire departments in county areas," Justin Purcell said. "I asked our insurance [representative] what the typical city fire department charges them and he said he had never seen a bill for anything over five or six thousand dollars."
Contacted by HuffPost on Monday, Colin Williams, the public information officer for Rural Metro, said the bill is justified.
"This family, like many others, elected to not pay their annual fire service bill," Williams said in an email. "Others in their area pay Rural/Metro for fire protection."
The annual subscription, according to Williams, is "roughly $290 per year." However, a subscription bill from a neighbor of the Purcells shows the fee to be $474 per year.
The Purcells claim they would have paid for the subscription had they known it existed.
"We would have paid it in a heartbeat," Kasia Purcell said. "We never received a letter from them."
Williams said the family elected not to subscribe.
"Of course they knew they had an obligation/option to pay our annual subscription. ... They, along with others across Arizona, in areas we serve, elected to ... roll the dice that they would not have a fire -- they lost," he said. "We provided service to them and now they are mad. This is not new. We bill for unsubscribed fires all of the time. ... Why should these people ride the coat tails [SIC] of their neighbors who elect [to] have a fire service contract with us?"
According to FOX 10 News, people living in the Purcells' neighborhood were clueless about the Rural Metro subscription plan until after the Purcells' fire.
"Coincidentally, we all received a bill from Rural Metro fire informing us we have no fire coverage in our area, so they highly suggested we finally begin paying some fire coverage that we didn't currently have," the Purcells' neighbor, Kelly Miller, told Fox 10 News.
Fox 10 also reported that Rural Metro has acknowledged they did not market subscriptions in that area until recently.
It should also be noted that Surprise firefighters were first on the scene at the Purcells' mobile home fire. According to Fox 10, they arrived approximately 13 minutes after the fire started. Their firehouse is located about seven miles from the Purcells' home. Rural Metro, the Purcells said, did not arrive until much later. The Rural Metro firehouse is approximately 20 miles away.
"They weren't even the first responders," Justin Purcell said. "We arrived 45 minutes after the fire started, and it was pretty much extinguished by Surprise. Rural Metro showed up after we were already there. They basically did a mop-up -- saturated the hotspots with water."
PHOTOS PROVIDED BY THE PURCELL FAMILY (Story Continues Below)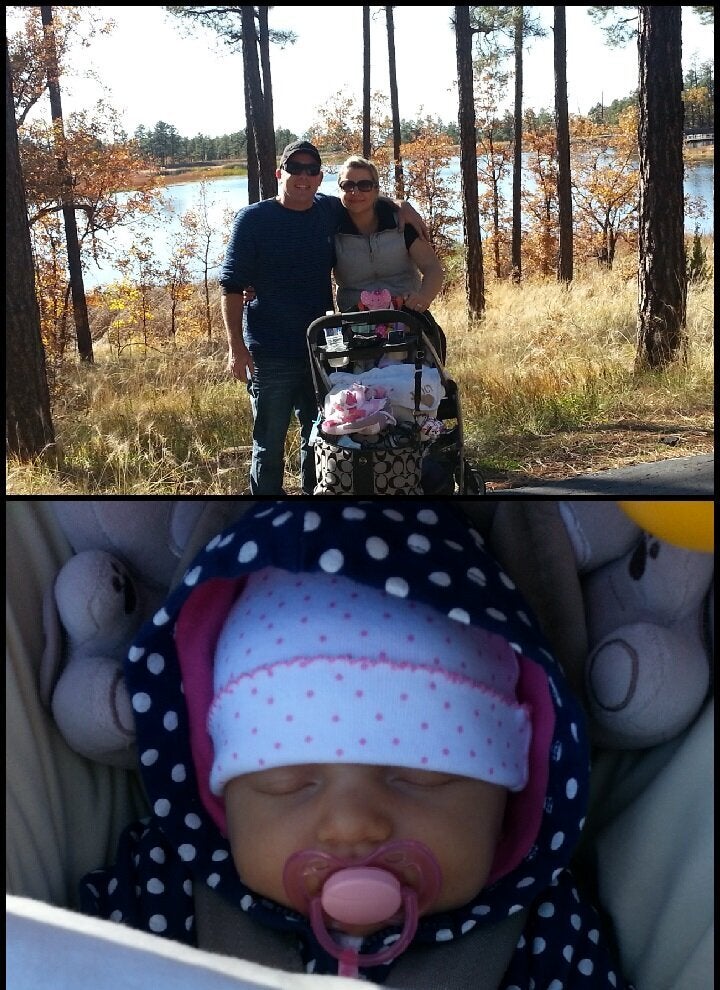 Purcell Family Fire
Justin and Kasia Purcell said they were never told by firefighters dispatched by Rural Metro that they would be charged.
"We never asked Rural Metro to come out, and they never said we would be charged. We just thought they were helping us," Kasia Purcell said.
Justin Purcell added, "If I had known we were being billed, I would have grabbed the garden hose and doused it myself."
The family also questions the $150-per-hour bill for the firefighters.
"They are milking it," Justin Purcell said. "I was there the whole night, and there was probably two of their men actually doing any work. The other ones were standing around bulls***ting."
According to Channel 10 news, residents in the area are suspicious of the fees Rural Metro is charging. The company recently filed for bankruptcy, the media outlet reported. In an email to HuffPost, Williams asked that the bankruptcy be left out of this article.
"The story that ran on Fox 10 in Phoenix was a ratings hatchet job. ... Please don't link our recent chapter 11 to this story," Williams said.
The Purcells are still debating what action they will take next. They are also trying to figure out how to get back on their feet.
"We don't know what to do," Kasia Purcell said. "This was all unexpected. We had paid our taxes for the volunteer fire department, and we had insurance. We thought we had covered all our bases. Why would we think we didn't, especially when the volunteer fire department was just seven miles from our house?"
She added, "I gave birth on Sept. 13. We now have a newborn and at this point we don't even have money to replace our home."
A fund has been set up with Wells Fargo to assist the Purcell family. Anyone interested can make a donation online or at any branch to the "Purcell Family Fire" fund. The account number is 6745432424.
Support HuffPost
The Stakes Have Never Been Higher
Related
Popular in the Community