Writer, performer and comedian Justin Sayre made a name for himself on the New York cabaret circuit by paying tribute to Judy Garland, Liza Minnelli and Cher, among other queer cultural icons. 
His latest act tackles a different, albeit similarly complex, subject: American politics. 
This weekend, Sayre will take the stage of Joe's Pub at the Public Theater in New York for "Justin Sayre Makes The Case For America: A Love-In To Get You Through." The show is a music- and comedy-filled recreation of one of his personal "philosophy nights" ― during which, Sayre said, he's been known to "play music, get a little stoned, make fried chicken and ask myself big questions about life."
"I think more than anything else, I'm beginning to understand the importance of being together and [having] these communal moments of thought and empathy," said Sayre, who relocated to Los Angeles to write for the CBS series "2 Broke Girls." "There are laughs. There are sad moments, but we're trying to get to understanding and hope again."
Sayre spoke to HuffPost amid preparations for his new show, discussing artists' roles in the political sphere and what he sees as the biggest threat to the LGBTQ community.
What inspired your new show, and what can audiences expect from this performance?
On Tuesday nights, I have what I call my "philosophy nights." It's been a thing I've done to keep my mind processing instead of just settling into belief. With all the political hoopla going on in the world, I've had a lot of big questions to ask myself, and these nights have really been very healing for me. They've also been really energizing.
They're like mini-debates, where I try to get to the heart of what it is I viscerally think of the world, and what I hold to be most true. So I started thinking about politics, which I think is occupying so much of our time in the present moment, and I started talking about the feeling of this moment. The fear, the worry, the anger, and lastly ― but perhaps most importantly ― the hope.
I started to clarify and write more of what I was thinking and I thought, "This is a show. And this is the show I want to do at this moment." So I'm recreating my apartment at Joe's. I'm playing music, and I am talking it out with [my audience].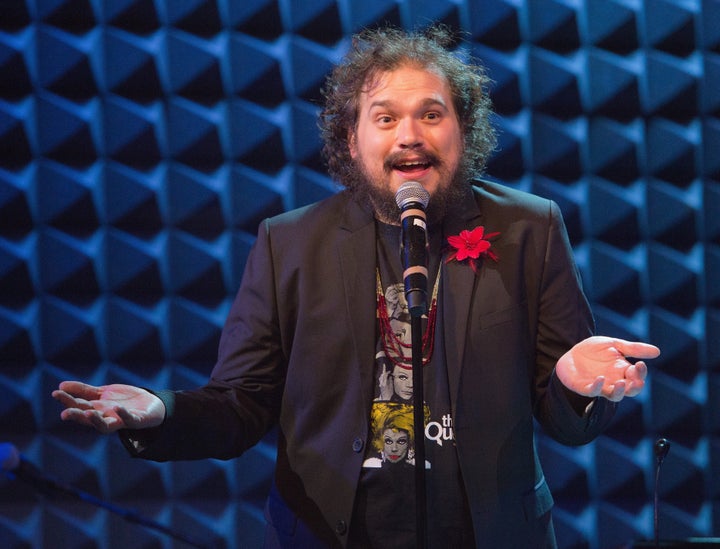 Your Joe's Pub performances have traditionally been great celebrations of LGBTQ culture. How will this one be unique in that respect?
Well everything I do, I think, is made through a queer gaze. It's the only gaze I got. So I think in some ways, I'm still keeping true to LGBTQ culture. But a lot of LGBTQ culture is about politics.
I always tried to bring intersectionality to my work, and I think that's a lot of what this show is about. It's a departure in some ways because it's a bit more interactive, but it's really, I think, part of all the work that I've done. It's conversation with an audience. I'm engaging and making them laugh, but I'm hoping to make them think.
I'm an LGBTQ artist, and that's always going to be part of the work I make, but the truth is, I'm a human living in perilous times and I want to understand that and help with anyone who's as concerned and worried as I am. 
What do you see as the biggest threat to LGBTQ rights at the moment, and what advice do you have for queer people in addressing and resisting that threat?
The courts. We're seeing a constant and calculated effort to do away with all the work we've done in the last 30 years. Laws denying gay parents adoption rights. Religious exemptions that could be extended to medical and other services. When you look at the slashing to AIDS funding that's going on nationally so that the administration can separate more families at the border, we are truly under attack. On all fronts. We may not see the same vitriol of the 1980s or earlier, but that just means the homophobia and prejudice are finding quieter and more destructive means to get far more done. 
My greatest advice ― not just for LGBTQ activists, but for all politically-minded people ― is keep paying attention and getting involved locally. Change happens on the state level, on the city level, and we need to be paying close attention to the machinations of an emboldened conservative movement that is seeking to get rid of us.
That may sound extreme, but I don't think it's unwarranted. They're seeking to undo us politically. To take away our rights, and render us again outside the purview of equality. We need to be paying close attention and fighting back on all fronts. Women's health, Black Lives Matter, education, the environment ― these are all LGBTQ issues because we are all those people, too.
Watch Justin Sayre and fellow writer-performer Ben Rimalower perform "The New Gay Slang" from 2017 below. 
What role do you see artists and performers having in addressing today's political climate through their work?
I think artists have a difficult task ahead of them. It's a hard time to keep things fresh when we're all on a 24-hour news cycle with a different crisis every hour on the hour.
I think, in a way, that the role of art right now, or at least the role I'm leaning toward, is taking the time to show an alternative to the dire and doom of the current world. It's a time to talk about fairness and equality, not as abstracts, but as real and attainable goals in our world. I think, rather than fighting out the terrible blow-by-blow of an administration bent on totalitarianism, we have the obligation to show hope. We have to have joy. And I think we have to raise consciousness. 
Ultimately, what's the message you hope audiences take away from this weekend's performance?
This isn't a patriotic moment of "America-Greating." It's a look at the heart of the issue, and hopefully a frank and honest examination of how to move forward. I hope the audience can experience this for themselves. More than anything, I hope they leave with hope. I hope they see that they have the power and the heart to face the challenges ahead of us.
There's so much despair in the air, but that sadness is never going to do anything but keep us silent and keep us down. We can't be beaten by our own disregard or apathy. I hope they feel energized and focused. I hope they feel a great pull toward putting their sadness into the work ahead of us. To take that angst and despair and to turn it into action.
Lastly, I hope they hope. I always think of Harvey Milk in moments like this, and I plan to at least give them hope. 
Responses have been edited for style and clarity.
Calling all HuffPost superfans!
Sign up for membership to become a founding member and help shape HuffPost's next chapter