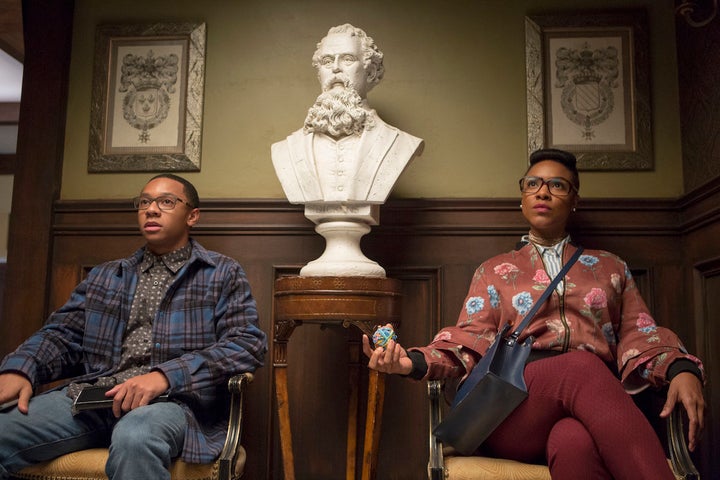 From the time Justin Simien imagined it on the campus of Chapman University  in 2005 until its adaptation into a series in 2016, "Dear White People" has served as an audacious record of how Simien and other people of color navigate predominantly white worlds.
Set at the fictional Ivy League Winchester University, "Dear White People," in its second season, elaborates upon its previous discussions about race. But these discussions also intersect with conversations about faith, trauma, exhaustion and pleasure in ways that do justice to the tiresome nature of blackness in an unfamiliar world. 
"Dear White People" is unique in television for referencing race in such an explicit fashion. While many shows introduce race as an ancillary matter in the worlds they depict, "Dear White People" centers racism and, further, white people and their culpability for racism. 
"Black people cannot dismantle a system of race that we didn't create and have no say in," Simien told HuffPost.
And through this lens, Simien's thought project ― now two seasons in and streaming in full on Netflix ― examines the power dynamics in one the most stubbornly segregated institutions remaining today: academia. 
HuffPost talked with Simien about depicting black quirkiness on screen, responding to online backlash and building fake worlds to address real pain. 
Having attended a predominantly white university, is the majority of what we see in "Dear White People" drawn from your personal experiences, or are you pulling from other sources as well?
The initial instinct to write it came in the mid-2000s when I was graduating from Chapman University, certainly a PWI. And, you know, it's a liberal arts school. But honestly, at some point in my writing process, I just thought that setting it in an Ivy League university would make for some interesting stakes and consequences for the characters.
Can you elaborate on those stakes and consequences?
Well, they're very difficult schools to get into, but as I researched even further I realized that there really are only a few better microcosms of the American power system than Ivy League institutions. You know, Winchester really is an amalgamation of a bunch of Ivy League schools. And it's a television stand-in for America.
The reason why the show looks so glossy, and why the world of Winchester seems so heightened, is because I want you to know that this is not a real, actual place. We're obviously drawing inspiration from my college experiences and those of the writers, and there's a lot of very interesting, fascinating history about these Ivy League schools that I think are integral to our conversations about America, but I want you to sort of think of Winchester as a television version — or a theme park version — of the American cultural elite.
Power — who has it, who wants it, and how they get it — seems to be a consistent theme throughout last season and this season as well.
These are the conversations that are happening among people who control our destiny and are more in charge of our own lives than we are at times. And I think that discussion is vital, but it is fictional, and intentionally so. 
There's a certain depth and, frankly, darkness that I want to explore without the weight of reality.

Justin Simien
When I watch the show, I feel as though the reality is augmented, perhaps, but never fully exaggerated beyond belief. It never feels surreal.
What I love about right now is that there are multiple black shows on the air. They're all dealing with people in the same age group, but in different ways. And I think that's exciting. But whereas something like "Atlanta" is surreal, in that you think you're in the real world, something happens, and then you're not, "Dear White People" sort of tells you right away that you're not in the real world.
I do want viewers to think about the real world, but I want them to fall into this dream state with me — this place called "Winchester." And I want them to fall into the fantasy of it because these issues are so difficult to talk about, and some of them run so deep, that staying in the real world can be a hindrance for the kinds of discussions I want to have. There's a certain depth and, frankly, darkness that I want to explore without the weight of reality.
It is a comedy, not just in name. There are jokes and it does make you laugh, so the situations — as you said — are augmented. But the responses are real, the people are real and the situations are real. We try to have our cake and eat it too.
Your show is often grouped with "Insecure" and "Atlanta," and though I think they're all quite different, I do notice a theme among them in their examinations of black quirkiness and introversion. They all feature characters who are finding themselves but acutely aware of their blackness. Are you building characters like that — like Sam, like Lionel — intentionally?
Well, no. I think we're all kind of telling on ourselves. I'm very Lionel-esque, but I can also be very Sam-ish. My characters sort of came out of amalgamations of people I knew, and it's been Sam, Lionel, Coco and Troy since 2005. Those have been the characters I've been working with. And I think if there were any characters I was less interested in talking about, it's only because I'd seen them already.
You know, the show is many things, but one of the things it is is an opportunity to sort of tell stories that involve black people that I haven't really seen anywhere else before. Because as many ways as we get to see yourself, that's as human as we feel. I don't know how you felt watching "Get Out," but my feeling was like, "Oh, my God! Totally!"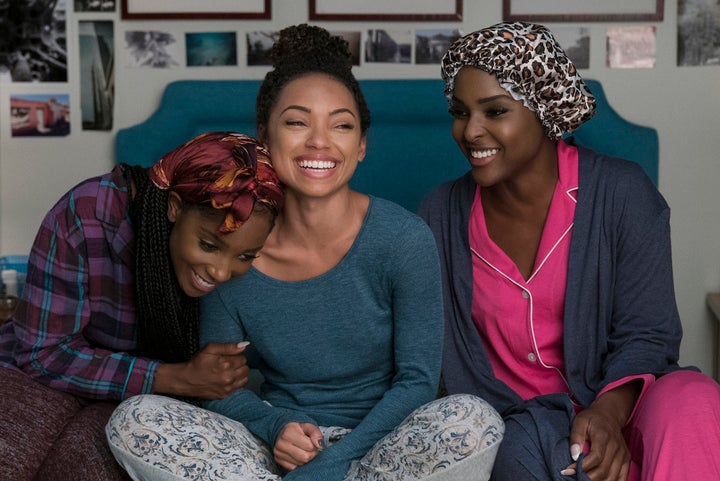 Right, right. I think its relatability was its greatest weapon.
Yeah, and it affirms all of these moments where you thought you were the crazy person. And it makes you feel like, "Oh, my God. I'm human. I'm not the only one who has to bear the weight of this experience." And, you know, white people get that all the time. (Laughs.)
There are a litany of introverted, quirky white characters in shows that, certainly, we'd never group together. So all of our shows are being compared to each other because we are still the few colored faces in a sea of white, but I think we also — I'm speaking for myself, but I also believe I'm speaking for Issa [Rae] and Donald [Glover] in this particular case — we're so mutually inspired by each other. I don't feel a sense of competition with them that I think was pretty standard for the generation before us, where you couldn't necessarily have shows about young, black quirky people on at the same time. It was just a different world, literally.
We already have too few stories. I don't need to see the same ones over and over again. And it's exciting because I don't have to make all these stories to sit back and watch them. (Laughs.)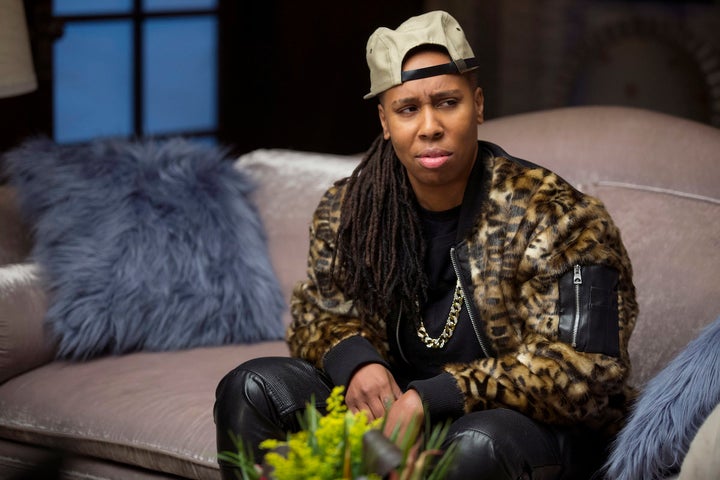 (Laughs.) You can kick back and relax … a bit.
Yeah, I don't have to make "Insecure" or "Atlanta" — I can just enjoy them.
I occasionally contrast this current television era with the Blaxploitation era, when there was a very specific black aesthetic to which many artists felt they had to adhere. What is it about this time that allows you and other visual artists to step outside the typical boundaries of what blackness ought to look like?
I think it's because we don't have to deal with the weight of being the first anymore. Listen, there are still a ton of firsts happening. Lena Waithe is still the first black woman to win an Emmy for comedy writing, which is crazy. Very deserved, but it's also crazy that it took so long for a black woman to win an Emmy for writing. I mean, come on. How many black women have been writing amazing comedy for how long? There are some names that just immediately come to mind — Yvette Lee Bowser is one of them. She's our showrunner and the creator of "Living Single."
But I had the benefit of growing up on "Living Single," and growing up on "A "Different World." I get to sort of exist in a world where these things have already happened, you know? So the boundaries are just a little bit further for me. 
I understand. So there's more leeway for nuance now?
Yeah. I get to say, "This is my little niche over here, and I get to have it because that other niche over there — well, Issa's got that one. And that other niche over there — well, we have a whole series from the '90s that deals with that." So I'm standing on others' shoulders. We're all people who have just been preparing for a moment — an opportunity — and luckily, we've been given them.
I think the point of the show is that being black in this country feels like a response to whiteness all the time, and in a lot of ways it actually is.
It seems the channels through which these stories are told have been democratized in such a way that we don't necessarily have to go through the same approval processes we've always had to go through.
Right. And, you know, that creates new challenges because it's like, "Well, how do you pop?" When there are seven different shows that are different but they're appealing to similar demographics, that's when you start getting into marketing speech for black people. We're all sort of in one group, whereas white viewership tends to be divided according to class lines, educational lines, age, etc. Black people still kind of exist in the same marketing chunk, so we all get the same campaigns and it's assumed that our audience is the same. All I'm saying is there are still challenges, but it is exciting from a creative standpoint because I do feel like the stranger it is — to a degree (laughs) ...
(Laughs.) Important qualifier incoming.
To a certain point! But the more novel an idea is, the more exciting it is, because people want something new.
Sure. You've written about the show's name in the past and I don't want to belabor points you've made, but it strikes me as a profound moment for us to have a show called "Dear White People" amid this highly racialized period when many black people are feeling more distant from power and whiteness than they ever have. Does our social moment pressure you in any way?
Well first, I'm just so perplexed as to why the name is still such a trigger point for people. I really, truly am. And the only thing I can think of is that not enough people know about the show yet, because honestly, there's nothing inherently racist about the phrase "Dear White People."
We make this point in the show, but it might be people's shock of being referred to by their race at all, which black people are used to from the day we understand English. We learn that we are black and we're referred to as black.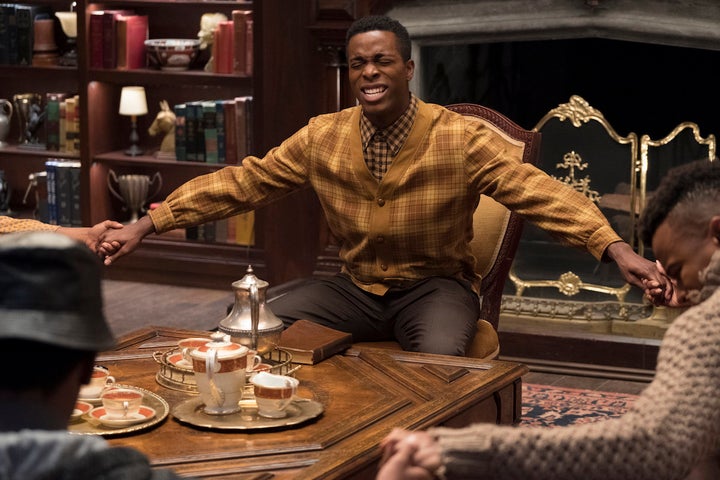 Some people are so accustomed to race being invoked negatively that they can't imagine it being invoked in any sort of benign way.
But as for your question, I think the point of the show is that being black in this country feels like a response to whiteness all the time, and in a lot of ways it actually is. In the way that race discussions have evolved in this country, it always begins with whiteness. So in order to have this discussion about race, it naturally involves white people. What is within my power is my ability to use my voice, my creative abilities, and my cast to say things that hopefully implore not only white people to see themselves in my characters but to give us a space, too. I really don't know how that's been spun into a threatening proposition for some people, but boy, has it. (Laughs).
"Dear White People" strikes me as very socially responsive in that it includes a lot of familiar references. When viral incidents happen — take Kanye's outbursts for example — are you jotting these things down to include in the next season?
I really try to lean into things. Getting on Twitter and making memes out of it for days is fun, I guess, and it's a way to kind of distance myself from the horror of it. But what I've learned is that I actually find more of a catharsis from leaning into it.
That's certainly a unique perspective. Is it shaped at all by the fact that you, yourself, drew ire online from people wanting to tank the series?
When I and some of our writers were under attack online from alt-right leaders who were sicking people, robots, algorithms — you name it — after us, I leaned into that experience. And I got an understanding of the ways in which these things operate, bait us and suck our energy. And I was able to talk about that, in this season and the last, in a way that was new, I think, and fresh for television. 
How has "Dear White People" matured since Season 1?
I was very conscious about being too cute in Season 2. We listened to our guts and we listened to our audience, and I didn't think we had to be cute anymore. There's an establishment in Season 1 that I think sets you up for Season 2. I don't have to introduce you to Sam, or Lionel, or Troy or Coco anymore; now I'm going to introduce you to something else and you're going to follow them. So this season allowed me to get a little messier with their storylines.
REAL LIFE. REAL NEWS. REAL VOICES.
Help us tell more of the stories that matter from voices that too often remain unheard.