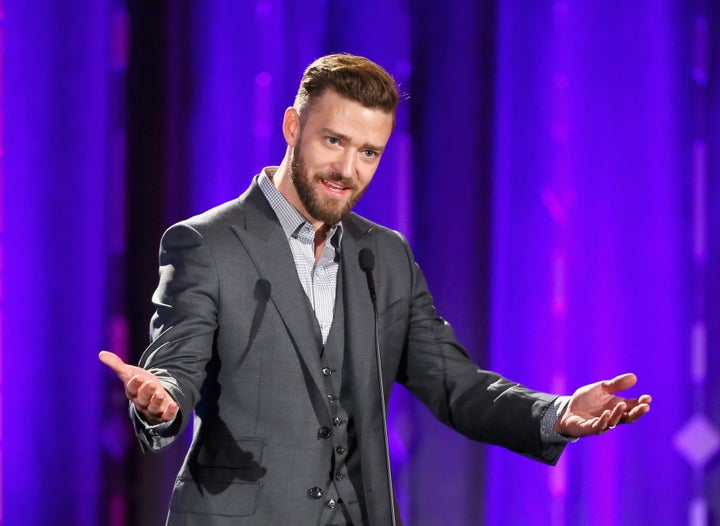 Justin Timberlake, who's been in the spotlight since he was a kid, has no doubt he didn't "have a normal childhood." Now, the singer is opening up about how his journey has impacted his role as a father.
In an interview with The Hollywood Reporter, Timberlake was refreshingly honest about becoming a first-time parent to his almost 2-year-old son, Silas, with actress Jessica Biel. The singer-actor even discussed the fears he has as a father that were influenced by his own childhood.
"You go through your life with your own traumas, big and small, and think, 'It's not that bad, I have a lot to be thankful for, my parents did the best they could,'" he said. "But then you have a child of your own, and suddenly it opens all the floodgates, and you're like, 'No, no, no! That childhood trauma really did f**k me up!'"
Timberlake also had a hilarious description (with an iconic pop culture reference to boot) about what the first months of his son's life were like for him.
"Those first eight months felt like those old [Ed Sullivan] shows where people are balancing spinning plates on poles — except if you drop one, they die," he said.
Timberlake has echoed his fears in several interviews since becoming a father, describing parenthood as "extremely humbling."
"It changes everything," he told Today in October. "You literally just wake up in the morning, look in the mirror and go, 'I have no idea what I'm doing.'"
Little Silas has clearly been an inspiration for the proud dad. Timberlake is up for an Oscar this year for his song "Can't Stop the Feeling!" from the movie "Trolls," in which he also starred. The singer told The Hollywood Reporter he never could have written it without his son and that he loves watching Silas dance along.
"Watching him jump around to 'Can't Stop the Feeling!' starting to learn words because of that song — it's the best thing in the world," he said.
The HuffPost Parents newsletter offers a daily dose of personal stories, helpful advice and comedic takes on what it's like to raise kids today. Sign up here.