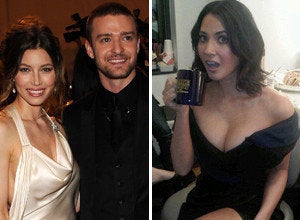 A few months ago, Us Weekly reported that Justin Timberlake cheated on Jessica Biel with Olivia Munn during a "steamy three-day affair" after they met at a MySpace live chat event for "The Social Network."
JT's rep denied the report but now a source tells Life & Style that he has been reaching out to Olivia again in recent weeks.
Life & Style's press release follows:
Justin Timberlake is up to some old tricks in the New Year. Though he denied reports last fall that he cheated on longtime girlfriend Jessica Biel, 28, with actress Olivia Munn, Life & Style has learned he's still reaching out to Olivia. Over New Year's weekend, an insider reveals, the Perfect Couples star, 30, was showing her phone to a few friends. "She had several new text messages from Justin on it," the insider says. "They'd all been sent very recently, the last few weeks of December."

And they were hardly innocent. "One said, 'My relationship is basically over,' " says the insider to Life & Style. "The other said, 'I'm thinking about you.' There was part of a third that said something like, 'You don't understand how hard it is.' I didn't see that entire text, so I'm not sure how that sentence ended."

A rep for Justin, 29, declined to comment. Olivia, says the insider, is texting back - yet keeping her distance. "She's super flattered," says the insider, "but she's not stupid. She's not expecting it to go anywhere - but she'd love it if it did!"
Popular in the Community