 I was not surprised to hear over the weekend that Justin Timberlake's hosting of Saturday Night Live resulted in fantastic ratings for NBC.

I also won't be surprised if his investment/involvement in the "new" MySpace succeeds as well. Although I do feel it may be his toughest road to success. And there is that word -- success. It does appear to many that anything Timberlake touches carries a little something called Midas Magic. For the most part, it's true. He's exceptionally successful in nearly every venture and here's why.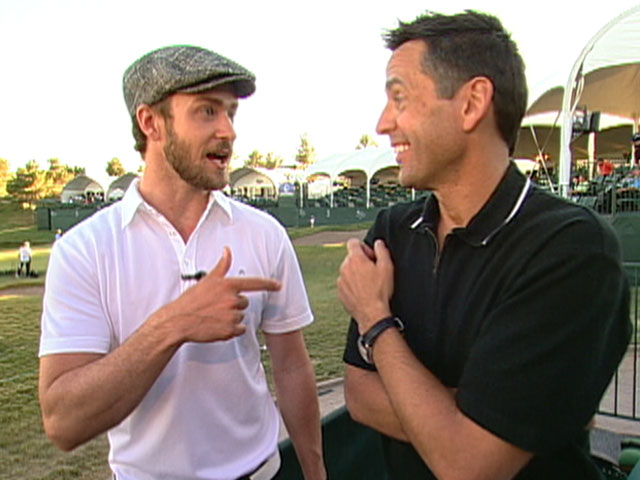 I first noticed it when I met Timberlake back in 2000 when he and the N'SYNC boys exploded on the scene with "Bye Bye Bye." It continued over the next couple of years whenever I would interview him. Timberlake was always curious about more than "just" fronting the band. Business, golf, clothes, acting and more, I got the sense that anything he was going to do, he would analyze and then, if warranted, be all-in. This is when Justin Timberlake 'the brand' started to emerge.
This continued as he went solo and founded a clothing line, a restaurant and more. I remember chatting with him about his love of golf, how he had fond memories of playing golf with his dad when he was a kid. He told me how it would be cool to someday own a golf course that he and his dad could play anytime without needing a tee-time. Well, he did just that. Timberlake took a struggling golf course in his native Tennessee and turned it into the successful and eco-friendly Mirimichi Golf Course. He then told me another story about golf and how it ties into performing with Madonna in NY, but wait, I'm getting ahead of myself.
Here's the net-net on why I believe JT is so successful. It comes down to one word. One trait. It's something that is rare in many people, especially in our entertainment world. It's also rare in the business world. But when it is there, front and center, success is usually not far behind. What is it?
Authenticity.
Justin Timberlake is authentic. Sure, he's incredibly talented as well. However, I would wager that authenticity is his greatest strength. From turning around that failing golf course, to his clothing line, to his just-sold-to-Apple app-company he backed called Particle, Timberlake's investments work for a number of reasons.
First, he's using mostly OPM, other people's money and his brand equity. He and some investors just snapped-up the run-down, on-it-last-legs MySpace and re-launched it.
Second and most importantly, Timberlake brings a fantastic brand to every deal. Not just his celebrity clout, but a persona which has that wonderful, essential quality --- authenticity. As I mentioned and seen many times during my career, persona and authenticity, especially in Hollywood, music and business are often mutually exclusive. When persona and authenticity are one, there is almost always success.
Justin has both PLUS talent. That's what attracts investors, fans and customers. He's not going to do it half-assed. His fans, investors and partners know it. As my entrepreneurial wife always tells me -- authenticity is key.
This is especially true In this day and age when we are bombarded with messages, ads, apps, the next 'big thing' and the social blizzard of feeds. Authenticity will rise above this tornadic whirlwind of pretenders as something solid that fans, brands, investors can latch onto with clarity.
That's Timberlake. Their 'investment' in him, whether from a fan, customer or brand is justified.
So, it's no wonder fans would follow him to SNL. He does it all so well and with a wink-and-a-nod as if to say, "I don't take myself too seriously, but I take what I do seriously, come along, it'll be interesting."
And speaking of interesting, Timberlake told me this story of how he and his dad had always watched The Masters, golf's holy grail of tournaments, on TV as he was growing up. It is played on one of the most revered golf courses in the world, Augusta National Golf Club in Georgia. They often talked about how great it would be to play Augusta some day. It is incredibly difficult, to say the least, to be allowed to play Augusta.
So, fast-forward to years later and Timberlake is standing just off stage in New York while Madonna is performing. He's waiting to join her for their hit song, "4 Minutes." He told me he invited his parents to come watch him perform with Madonna. At least that's why they thought they were there. He made sure they were backstage with him right before he was about to join Madonna.
Timberlake then said to me, "The music for the song starts and I have to go on stage and I turn to my dad." He reminds his dad of how they always wanted to play golf at Augusta. His dad nods. Timberlake says that what happened next is one of his all-time favorite moments. He tells his dad there is a private jet waiting for them after the show to fly them to Augusta and that they are playing golf there the very next day. Before his dad can react, he bolts on stage and performs with Madonna, leaving his dad speechless.
The look of joy on Timberlake's face when he told me this story was priceless. And authentic.
Popular in the Community