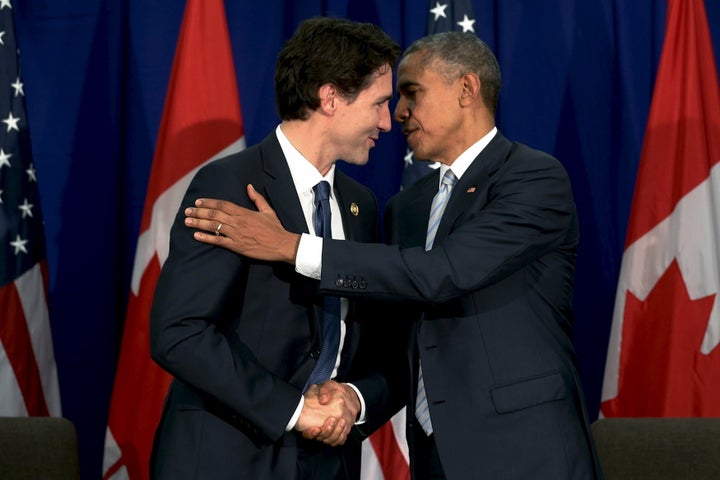 TORONTO -- Gerald Butts, a top adviser to Canadian Prime Minister Justin Trudeau, received an email this past October when his man won the office.
It came from Butt's friend and fellow political consultant David Axelrod, who had played a similar role for U.S. President Barack Obama.
"Congratulations on a great victory," Axelrod said. "Now don't screw it up."
Butts laughed as he recalled the email the other day in Toronto. He, his boss and Trudeau's inner circle were making final preparations for the prime minister's visit to Washington this week. Trudeau will be feted with the first White House state dinner in 19 years for Canada's leader.
It's not likely that Trudeau -- or Obama, for that matter -- will "screw it up."
But it's important for millions of people that they don't, because the destinies of Canada and the United States are more closely intertwined than ever. On border security, climate change, trade and foreign policy, working together in relative harmony is a requirement, not an option.
The challenge for the two men will be to turn their personal similarities and the camaraderie of their previous brief encounters into concrete measures. They have to begin by repairing a government-to-government relationship that was strained under then-Prime Minister Stephen Harper, a tea party-style conservative who was ultimately frozen out by the Obama administration.
"Our most important relationship is with the U.S., and I am going to do everything I can to bring us closer together."
Trudeau and Obama need to work quickly, since the latter has only 10 months left in office and America could wind up with a Harper-esque successor in 2017.
"We just have to do as much as we can in the meantime and not worry about that," said Butts. "And we think we'll make a good start."
Canada now has a prime minister with foreign policy views similar to Obama's -- namely, that the best and most useful way to neutralize "radical Islamist terrorism" is to engage with Islam and the Middle East diplomatically and commercially, and not merely with bombs, drones and surveillance.
When Pierre Trudeau, the current PM's father, was prime minister -- from 1968 to 1984, with one brief interruption -- the U.S. and Canada were often at odds over foreign policy. In the early years, the U.S. was fighting a war in Vietnam that the Canadians abhorred. Trudeau also infuriated U.S. administrations by dealing openly with the likes of Fidel Castro and the communist Chinese government, the latter before the U.S. did.
There is a faint echo of those strains now, as Justin Trudeau followed through on a campaign promise to end Canadian participation in allied bombing runs over Syria. But Obama reacted mildly, giving Trudeau some domestic political cover by praising him for increasing the number of non-combatant Canadian instructors in the region.
Trudeau wants to move Canada toward full diplomatic relations with Iran, though carefully and cautiously; the U.S. president hasn't gone quite that far yet. Trudeau is under pressure to halt arms sales to Saudi Arabia; that kind of breach with the Saudis remains all but unthinkable in Washington. Trudeau wants a more even-handed approach to Israeli-Palestinian issues; Obama does, too, even if he doesn't put it that way.
These and other matters will no doubt come up at a joint press conference the two will have in Washington -- although the event is almost sure to be dominated by queries about Trudeau's increasingly wary comments (made to The Huffington Post) about Donald Trump and the U.S. election scene.
The more immediate anti-terrorism issue involves borders, which is likely to be the subject of the most important "announce-able" this week. The United States essentially wants a more secure perimeter around all three NAFTA countries (Mexico, Canada and the U.S.) to make it more difficult for suspected bad actors to enter the U.S.
But that means harmonizing U.S. and Canadian border regimes more closely, and overcoming both bureaucratic inertia and Canada's long-standing ties to other countries, including those of the Commonwealth of Nations.
Canada also wants it made easier to ship goods to the U.S., with which it does $2 billion worth of trade each day. Loosening and tightening borders at the same time isn't easy.
In the realm of climate change, the Canadians have abandoned hope that the U.S. will approve the Keystone XL pipeline, which Obama rejected. "It's dead and we're not worrying about it anymore," said Butts, an expert on environmental issues as well as campaigns. But Canada is pursuing other pipeline projects that lie entirely within its borders, and the Trudeau administration has no intention of abandoning them.
In other words, while Trudeau promised to be Obama's climate change ally during the Paris talks in December, he may find it hard to deliver. The prime minister is already finding it difficult to persuade provincial leaders to go along with a new carbon tax. He may have to unilaterally impose a federal levy, but he has not committed to that course and it is politically risky.
Trudeau travels to Washington this week with his entire family in tow: wife Sophie Grégoire-Trudeau, his wife's parents and his three young children. "They all want to visit the Smithsonian," he said.
While they are doing so, Trudeau will meet with Capitol Hill leaders, Cabinet officials and the president over the course of three days.
"We'll get a lot done, but this is just the beginning," said Trudeau. "Our most important relationship is with the U.S., and I am going to do everything I can to bring us closer together."