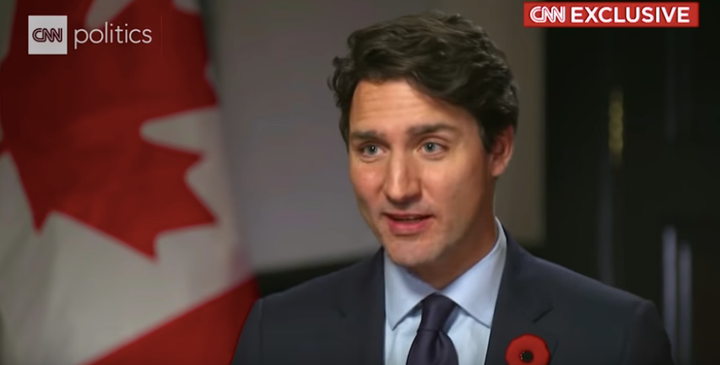 Three years ago, Canadian Prime Minister Justin Trudeau announced that half his Cabinet ministers would be women, saying simply, "It's 2015." Now the gender equality advocate is reminding the world why equal representation in politics really matters. 
"Why do it was fundamental to governing well," Trudeau explained his 2015 move to CNN's Poppy Harlow during a Monday night segment on "Boss Files." 
"When you have a broader group of people with different perspectives, with different backgrounds, with different stories, with different life experiences," he continued, "you're actually much better able to solve different problems and solve them in a way that is going to respond the needs people have."
Trudeau said that although Canada's Parliament doesn't have full gender representation yet, he hopes he can lead by example. Gender equality, he added, can improve government. 
"I can't control the numbers in Parliament. I can control the numbers in my Cabinet," he said. "Modeling that leadership of making a determination that, yes, it's 2015, we had to do that, is important. But also modeling that you get better government out of it, that it's not just the right thing to do, it's the smart thing to do, is the message that's resonating more and more these past few years." 
As a self-proclaimed feminist who has backed up many of his ideas with policy, Trudeau told Harlow he has faced some challenges in his attempts to implement equal gender representation. In the process, he noticed how enthusiastic men are to be allies. 
"One [positive] is how eager men are to be allies to women, but how much uncertainty there is about how to do it or whether it's OK to do it," he said. "I think one of the conversations we're seeing more and more is we're seeing men stepping up and asking how to be allies and figuring out how to be better allies. And that's something that's been a positive surprise." 
Trudeau said later in the conversation that the recent prominence of the Me Too movement has "absolutely" changed the way he leads. 
"I think respecting and leaving room for multiple voices and multiple experiences is essential in our conversation," he said. "Whether it's the unfounded cases that get dismissed by police services across our country ... or the disbelief with which a survivor is treated when she comes forward with her story."
In July allegations resurfaced that Trudeau groped a woman at a music festival in Creston, British Columbia, nearly two decades ago. The Canadian leader said that he didn't recall "any negative interactions that day," but later said that men can experience "an interaction as being benign or not inappropriate and a woman, particularly in a professional context, can experience it differently" and "we have to respect that." 
In response to the Me Too movement, Trudeau said that it's important to "start from a place of support and belief." 
"That changes how we engage in our workplaces. It changes how we lead. It changes how we treat one another," he said, "and how we become more aware of the power dynamics inherent in just about any situation." 
Watch Trudeau's full interview below.