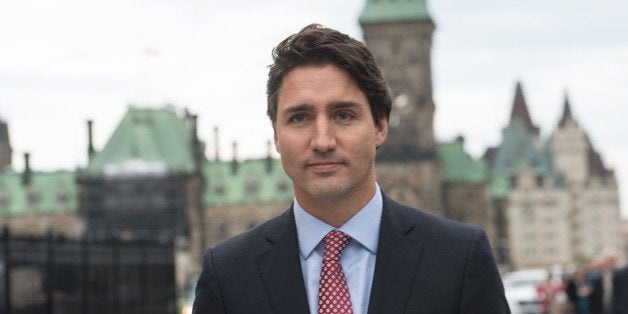 On Tuesday night, just before shutting down my computer, I received a letter from Justin Trudeau, Canada's new Prime Minister who was sworn into office on a brilliant autumn day in Ottawa on Wednesday, November 4th, among cries of excitement from those in attendance.
"Justine, as I write to you, evening is falling outside our new home, Rideau Cottage, on the grounds of Rideau Hall. A few minutes from now, Sophie and I will put Xavier and Ella-Grace to bed (Hadrien is already fast asleep) but, before I go, I want to share a few thoughts with you to mark this moment.
Tomorrow, we take the next step in our journey together when I will be sworn in by the Governor-General, becoming Canada's 23rd Prime Minister, and announce the team of extraordinary Canadians who will serve as ministers in your new government..."
Upon receiving the letter, I felt the warmth of this young man as well as his determination to stand as a leader of this country, as a father and as a husband.
The first impressions were memorable. In the courtyard of Rideau Hall, his children, Xavier, Ella-Grace and Hadrien, cuddled in the arms of their grandmother, Margaret, were laughing and anxiously awaiting the arrival of their parents.
Justin, attired in a crisp grey-blue suit and Sophie, radiant in a white coat, approached the entrance of the mansion.They were jesting and enjoying each other's conversation, while, in the background, a small group of predominantly youthful-looking individuals (the governmental ministers) followed closely behind. The scene was charming, not at all pretentious, moving.
After the taking of the oath, the unveiling of the cabinet followed, creating a wave of excitement among the Canadian and international media as the 43-year old Prime Minister announced an equal number of 15 male and 15 female ministers. When asked why he made such a decision, Justin coolly answered, "because this is 2015."
Astutely, the Prime Minister forged a cabinet that, as he noted, reflects the multicultural identity of Canada. He named two indigenous candidates, one refugee and three Sikhs while, at the same time, placing experienced members of previous Liberal administrations in key positions. In his remarks, he placed an emphasis on the enhanced responsibilities he would be bestowing upon the ministries of his government, unlike his predecessor, Conservative Stephen Harper, who had gathered the overwhelming majority of powers around the Prime Minister's office, turning his headquarters into a "decision-making fortress."
Trudeau's most impressive choice was probably that of defence minister Harjit Singh Sajjan, a Sikh who sports the traditional turban and full beard and who may view the world from the point of view of a Canadian but also brings a different perspective given his Asian origin. Mr. Sajjan, a retired lieutenant-colonel and veteran of three combat tours in Afghanistan, will be part of the new government's most powerful cabinet committees, including that of public safety and intelligence, bringing with him not only his war-time experience but the 11 years he spent fighting crime as a policeman on the streets of Vancouver.
The Prime Minister, in a most symbolic gesture with respect to the Syrian crisis, put the newly titled Ministry of Immigration, "Refugees" and Citizenship in the hands of the experienced John McCallum along with the formidable task of bringing 25,000 Syrian refugees to Canada by year's end as was promised during the election campaign.
On another issue of utmost importance, Catherine McKenna, the newly labelled Minister of Environment and "Climate Change," will join Trudeau at the head of a huge Canadian delegation to Paris' United Nations climate change meeting, aiming to restore Canada's image on a matter that Stephen Harper had "put on ice."
Justin Trudeau wants to appear on the global scene as a fresh face that will be returning Canada to its traditional peaceful and progressive role in the world. Unlike his predecessor, who witnessed his country relegated to the fringes by cultivating an introverted but aggressive stance with a staunch anti-Russian and heavily pro-Israeli slant, he would like to see Ottawa return to the forefront of international diplomacy.
Needless to say, the Prime Minister has called for immediate action in these and other areas in order to take the nation forward. As he told reporters when quizzed about the memory of his storied father, the late Pierre-Elliott Trudeau, he quipped that he is not reflecting on him but, rather, on the future of his children and all the children of Canada.
It appears that Justin Trudeau wants to move quickly to put Canada back at the head of the game! For, as he stated in his letter, "sunny days" will be his administration's motto.
Calling all HuffPost superfans!
Sign up for membership to become a founding member and help shape HuffPost's next chapter