Environmental activists are sounding optimistic that Canada's new prime minister-designate will usher in a new era of climate policy and warmer diplomatic relations with the United States -- even if he has supported the Keystone XL oil pipeline.
Justin Trudeau, who was tapped to become Canada's new leader Monday night when his Liberal Party won a majority in Parliament, has spoken in favor of the Canada-to-Texas pipeline. Still, climate activists predict that the Obama administration will reject the controversial project soon and that Trudeau won't fight that decision.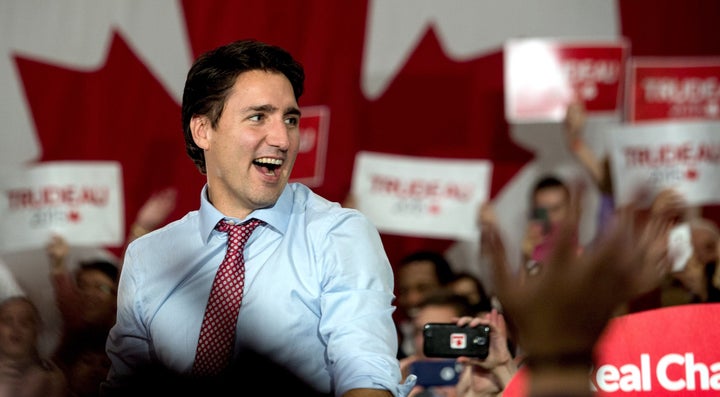 President Barack Obama "has clearly signaled that [Keystone XL] doesn't meet his climate test, and so it doesn't matter at this point who the Canadian prime minister is," said Adam Scott, climate and energy program manager with Canada's Environmental Defence. "Everybody in Canada fully expects that the project will get rejected."
The pipeline, which environmentalists warn could lead to dangerous oil spills and increased carbon emissions, has been under lengthy review by the U.S. State Department. In February, Obama vetoed legislation that tried to end-run that process and authorize its construction. 
Unlike outgoing Conservative Prime Minister Stephen Harper, Scott said, Trudeau and the Liberal Party are unlikely to put any resources behind lobbying Obama to approve Keystone.
"Our previous prime minister repeatedly said he wouldn't take no for an answer. Well, I think it's likely the new prime minister would take no for an answer and move on and try to work on things that could be constructive between our two countries and rebuild a bit of its diplomatic relationship," Scott said.
Trudeau indicated as much in a press conference on Tuesday, although he was vague on specifics.
"I certainly feel that Canada could have taken a different tack towards issues on energy and environment over the past 10 years. That's certainly what I'm focused on, going forward," he said.
Trudeau also revealed that in a Tuesday conversation with Obama, he told the president that climate protections would be more of a priority under his leadership.
"I indicated to Mr. Obama that I felt that it was important that Canada demonstrates a level of positive engagement on the environmental file on the international stage," he said. "I look forward to demonstrating that we have a Canadian government now that understands that the way to build a strong economy is to protect and defend our environment at the same time."
Lena Moffitt, the Sierra Club's director of the "Stop Dirty Fuels" campaign, suggested that it's worth focusing on Trudeau's earlier comments about pipelines other than Keystone.
"While it's disappointing that the Liberal Party has expressed support for Keystone XL ... we think it's more important to look at the opposition of Trudeau and the Liberal Party to the Enbridge Northern Gateway Pipelines and the fact that they have reserved judgment on TransCanada's Energy East Pipeline project," she said. Moffitt described the latter two projects as matters of larger concern to Canadians now.
Trudeau's "soft support" for Keystone, Scott suggested, may have been lip service to a powerful industry.
"It's important to remember that in Canadian politics, federal leaders often have to communicate some support for oil and gas because there are parts of the country that are so dependent on it economically," he said. 
Other environmental advocates celebrated Harper's departure but said that doesn't mean Trudeau is off the hook. The U.S.-based climate group 350.org will be holding him accountable, according to co-founder Jamie Henn. 
"Keystone XL just lost its biggest cheerleader," said Henn. "There's no way Trudeau can be as bad as Harper when it comes to pushing pipelines and further tar sands development."
But Trudeau still has "a lot to prove," Henn said. His group is helping organize a four-day sit-in to demand that the prime minister-designate freeze new tar sands development.
"Trudeau has a chance to set the reset button on Canadian climate policy," Henn said. "We're intent on making sure he uses it."
PHOTO GALLERY
15 Ways You Contribute To Climate Change
Calling all HuffPost superfans!
Sign up for membership to become a founding member and help shape HuffPost's next chapter