Canadian Prime Minister Justin Trudeau announced Sunday that his government will offer a formal apology for its past discrimination against LGBTQ citizens.
Trudeau will apologize "for the persecution & injustices [LGBTQ people] have suffered" at the House of Commons next week, according to a tweet from him and an invitation to the event obtained by the Canadian outlet The Globe and Mail.
The address is "expected to be the most comprehensive ever offered by any national government for past persecution of sexual minorities," the outlet wrote.
Trudeau's address will likely focus largely on Canada's past treatment of LGBTQ service members and other government employees. From the 1950s until 1992, many of those the government suspected of being gay were interrogated, put through humiliating tests to expose their sexual orientation and expelled from their Canadian government positions.
The forthcoming apology is one of several redresses recommended by the Canadian LGBTQ advocacy group Egale, which has been working with Trudeau's administration to address sexual minority equality issues in Canada.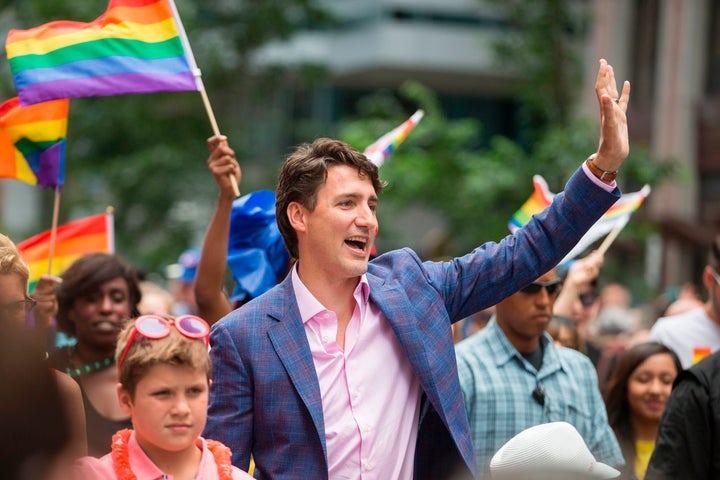 The planned apology comes as U.S. President Donald Trump attempts to walk back American progress in the same sphere. In August, Trump released a memorandum banning transgender people from serving in the U.S. armed forces, just over a year after the Pentagon's 2016 decision to lift the ban. However, a federal judge last month blocked its enforcement.
Since his 2015 election, Trudeau has also issued apologies for Canada's past treatment of indigenous peoples and for the so-called "Komagata Maru incident" in 1914, in which Canada denied entry to hundreds of Sikh, Muslim and Hindu passengers and forced them to return to a violent situation back in India.
Related
Popular in the Community