Canadian Prime Minister Justin Trudeau came under fire Wednesday after grabbing one member of Parliament and elbowing another.
Video footage from the floor of the House of Commons shows Trudeau grabbing the arm of Opposition Whip Gord Brown and elbowing MP Ruth Ellen Brosseau before a vote on an assisted-dying bill. The physical interaction caused audible gasps from other MPs in the room and prompted Brosseau to exit the chamber, CBC news reported.
The prime minister then got into a yelling match with New Democratic Party leader Tom Mulcair.
The behavior seemed uncharacteristic for Trudeau, who since assuming office in November has made headlines for making half the members of his cabinet women and for welcoming Syrian refugees to Canada.
Trudeau took the floor to apologize after the vote, once Brosseau had returned. The prime minister blamed his behavior on Brown delaying the vote. He had to speak over vocal dissent from MPs.
"I noticed that the ... opposite member whip was being impeded in his progress," Trudeau said. "I took it upon myself to go and assist him forward, which was I now see unadvisable as a course of action, and resulted in physical contact in this house that we can all accept was unacceptable, and I apologize for that unreservedly, and I look for opportunities to make amends directly to the member and to any members who feel negatively impacted by this exchange and this intervention, because I take responsibility."
Trudeau's behavior was condemned by MPs.
"It was a pretty violent push," NDP House Leader Peter Julian told reporters. "I think Canadians would be sad by this kind of behavior, and we sometimes see this happening in other legislatures in other countries, and I've always thought, when I see those scenes, 'Gosh that would never happen in Canada.' Sometimes we yell at each other, sometimes we disagree ... but we never push, we never hit, we never manhandle, because that is not the Canadian way. And what happened tonight was disgraceful. There's no other way to put it."
Brown said later that he told Trudeau to let him go during the incident.
"As I was trying to start the vote, the prime minister grabbed my arm. I immediately told the prime minister to let go of me -- now," Brown told The Recorder. "I later told the prime minister he should not have gotten out of his seat."
MPs blasted Trudeau on Twitter.
Rona Ambrose, leader of the official opposition and interim leader of the Conservative Party, called Trudeau's behavior "shocking" and said he acted "disrespectfully and recklessly" in trying to intimidate members. "No one should ever have to deal with this kind of behavior in any workplace," Ambrose said. "The fact that it's the prime minister of Canada is embarrassing. He should be ashamed of his actions."
Trudeau spokesman Olivier Duchesneau declined to comment further on the incident and said his office would release a statement later.
The apology wasn't Trudeau's first of the day. Earlier, he apologized on behalf of the Canadian government for the 1914 Komagata Maru incident, in which Canada rejected nearly 400 Sikh, Muslim and Hindu people from immigrating to the country.
This article has been updated to include Brown's comments.
Andrew Hart contributed reporting.
Before You Go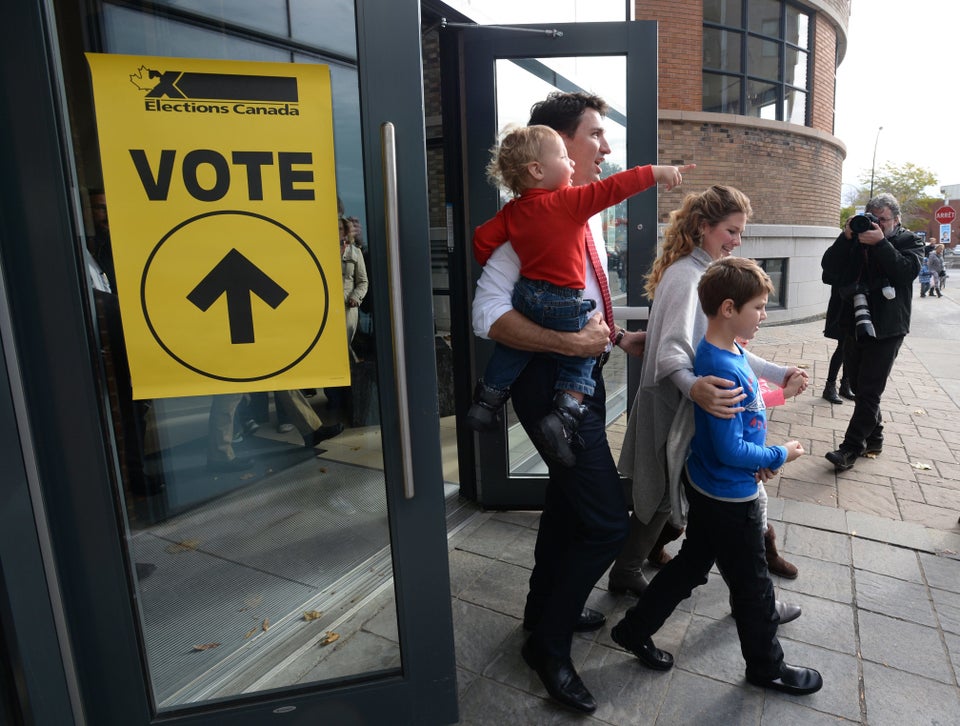 In Photos: Canada Election 2015
Popular in the Community