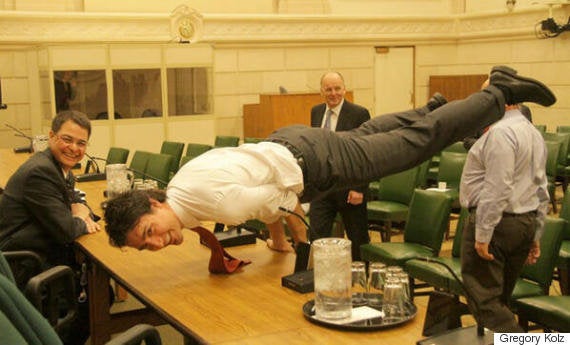 Beyond his political prowess, Canadian Prime Minister Justin Trudeau has made international headlines for his hair, his sex appeal, his selfies, and now, his athleticism.
A photo Trudeau tweeted in 2013 that shows him hovering over a table using only his hands to support himself is now flooding social media once again.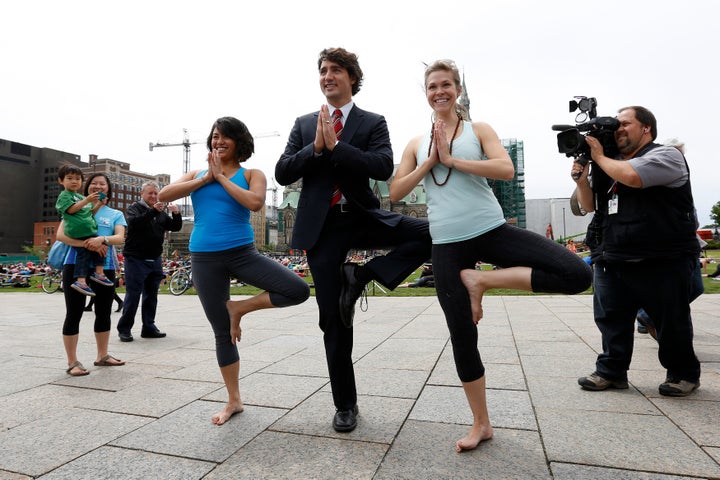 He may still be working to balance the budget, but Trudeau's core balance certainly doesn't need any more work. The 44-year-old likely learned the trick, known by yoga enthusiasts as the Mayurasana pose, from his late father and former prime minister, Pierre Elliott Trudeau.
Trudeau's athletic nature has been turning heads for years. The politician stunned Canadians in 2012 when he defeated Conservative Senator Patrick Brazeau, a karate blackbelt, in a charity boxing match. He even performed a striptease at another charity event in 2011.
And in 2014, Trudeau demonstrated his agility during a rugby game between politicians and journalists on Parliament Hill.
He can even juggle... on stilts!
Maybe he was a cheerleader in a past life.
He also has some impressive baby-tossing skills.
Trudeau's strangest "trick" is showcased in this French video, that shows the 6-foot-2 Liberal leader voluntarily tumbling backwards down a staircase.
"Can [British Prime Minister] David Cameron ride a unicycle?" one Twitter user asks. "No."
As CNN points out, Canada is not the only nation with an athletically-inclined leader. Russia's Vladimir Putin has been photographed playing hockey, shooting an assault rifle, driving a racing car, riding a snowmobile, practicing karate, and, of course, riding a horse while shirtless!
Related
Before You Go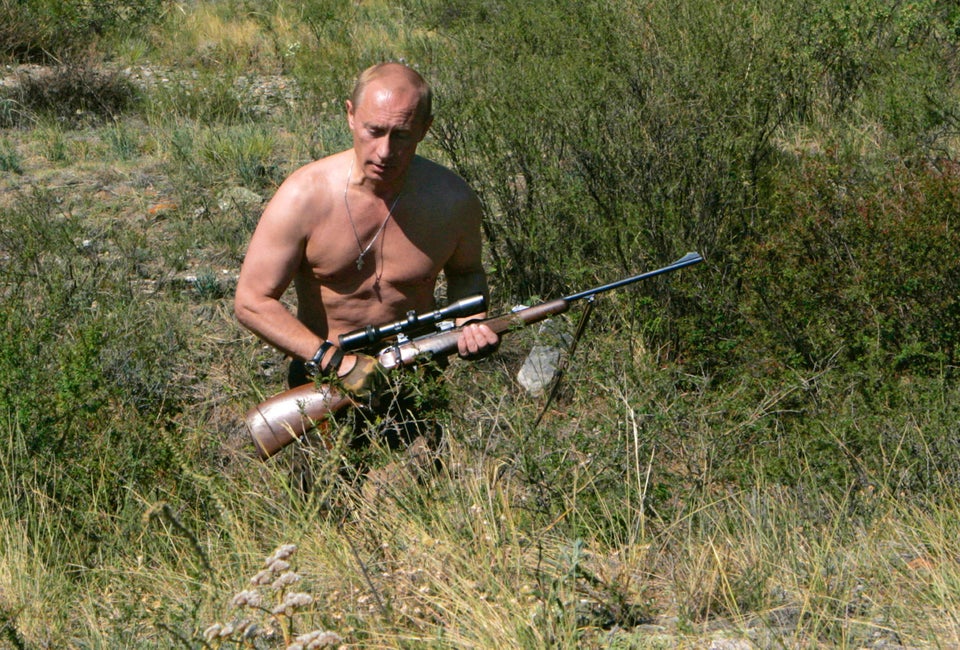 Putin Does Sports
Popular in the Community