Canada's Prime Minister Justin Trudeau is celebrating his country's religious diversity with a holiday message for Sikh Canadians.
In a Facebook post, Trudeau spoke in English, French and Punjabi to wish Sikhs a happy Vaisakhi, one of the most important holidays in their tradition. He also praised Sikh Canadians for helping make Canada, the "strong, rich and inclusive country it is today."
Starting off with two traditional Sikh greetings, Trudeau says, "Waheguru Ji Ka Khalsa, Waheguru Ji Kee Fateh," which means "the Khalsa (or community of committed Sikhs) belongs to the divine and so do all its successes."
The second greeting the prime minister used, "Sat Sri Akal," translates to "Truth is Eternal."
Vaisakhi, also spelled Baisakhi, marks the day in 1699 when Sikhism's tenth guru, Guru Gobind Singh, founded the Khalsa and established some of the core tenets of the Sikh identity. He instructed his followers to keep the five K's. These are five items that Sikhs are encouraged to carry at all times ― Kes (uncut hair), Kangha (a small comb), Karra (an iron bracelet), Kachh (cotton underwear) and Kirpan (a sword).
In his video, Trudeau tied Vaisakhi to the upcoming 35th anniversary of the Canadian Charter of Rights and Freedoms.
"Just as the creation of Khalsa defines Sikhism, the charter defines our country. And for Canadians of the Sikh faith, it insures that the Five Ks are protected."
In French, he added, "This year on the 150th anniversary of Canada, the many traditions, cultures, and beliefs that make our country such a great place to live."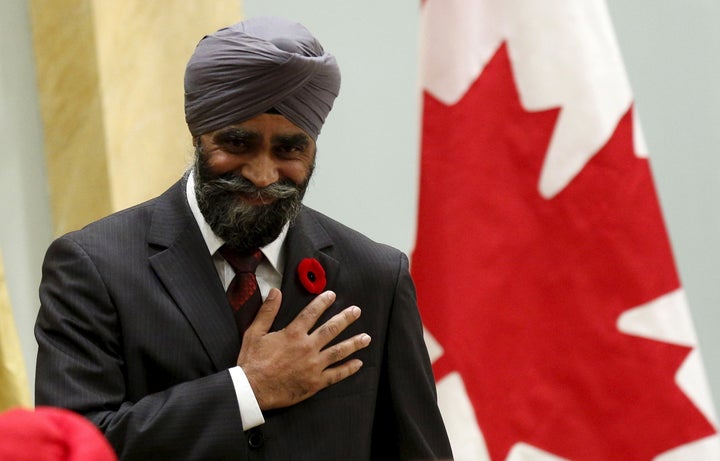 The prime minister has made it a point to highlight Canada's multiculturalism and religious diversity. Trudeau has four Sikh ministers on his cabinet, including Harjit Sajjan, Canada's defense minister, Amarjeet Sohi, minister of infrastructure, Navdeep Bains, minister of innovation, science and economic development, and Bardish Chagger, minister of small business and tourism.
"Vaisakhi diyan lakh lakh vadhaiyan," Trudeau said in his Vaisakhi video, which means, "Countless best wishes for Vaisakhi."
Translations provided by Simran Jeet Singh, Assistant Professor of Religion at Trinity University.
Related
Popular in the Community