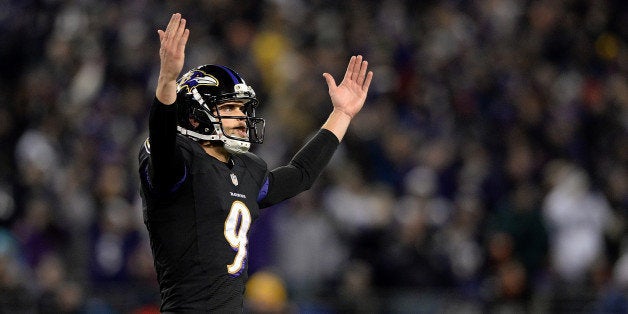 If the NFL really wants to make games more exciting then maybe it should ask advice from kickers rather than change the rules related to kicking. In response to a recent report that the NFL Competition Committee is considering moving back extra-point attempts, Justin Tucker of the Baltimore Ravens kicked back with a few ideas of his own.
"I don't think it's necessary to change the game every couple of years to make it more exciting. It's plenty exciting," Tucker told the Ravens' official website. "If you want it to be more exciting, TV timeouts could be a little shorter and we could actually play some football."
Judy Battista of NFL.com reported earlier this week that the NFL Competition Committee discussed moving the extra-point attempt from the 2-yard line to the 25-yard line.
As Tucker sees things, this latest proposed rule change is part of the league's attempt to "phase kickers out of the game."

Back in January during the playoffs, NFL commissioner Roger Goodell talked about getting rid of extra points all together and implementing a different scoring system after touchdowns.
"The extra point is almost automatic. I believe we had five missed extra points this year out of 1,200 some odd (attempts). So it's a very small fraction of the play, and you want to add excitement with every play," Goodell said, via NFL.com. "There's one proposal in particular that I've heard about. It's automatic that you get seven points when you score a touchdown, but you could potentially go for an eighth point, either by running or passing the ball, so if you fail, you go back to six."
Indianapolis Colts kicker Adam Vinatieri believes that moving extra-point attempts back in order to increase excitement would run counter to the NFL's professed interest in increasing player safety.
"I don't understand the logic," Vinatieri told USA TODAY Sports on Tuesday. "Will it make the game safer for people by moving the extra point back to a 43-yarder? If anything, players are going to rush harder because they're thinking, 'That far of a field goal-type try, we have to go after blocking it more.' If you want to talk about potential risk, more guys get injured on a field goal than extra point."