MINNEAPOLIS ― Hundreds gathered to demand justice and mourn all victims of police shootings Thursday in the Minneapolis neighborhood where a local police officer killed Justine Damond last weekend.
The 40-year-old Australian native was fatally shot on Saturday by police officer Mohamed Noor after she had called 911 to report hearing a possible sexual assault taking place near her home in the city's upscale Fulton neighborhood.
On Thursday evening, members of Damond's family were surrounded by activists from across the city in a powerful display of solidarity. Damond's fiance Don, his son Zach and his mother Sharon Sebring stood side by side with the family of Philando Castile, the black man who was shot and killed by a police officer in the St. Paul suburb of Falcon Heights last year during a traffic stop.
Robert Bennett, the high-profile attorney who represented Castile's family in their case against Falcon Heights, was hired earlier this week by the Damond family.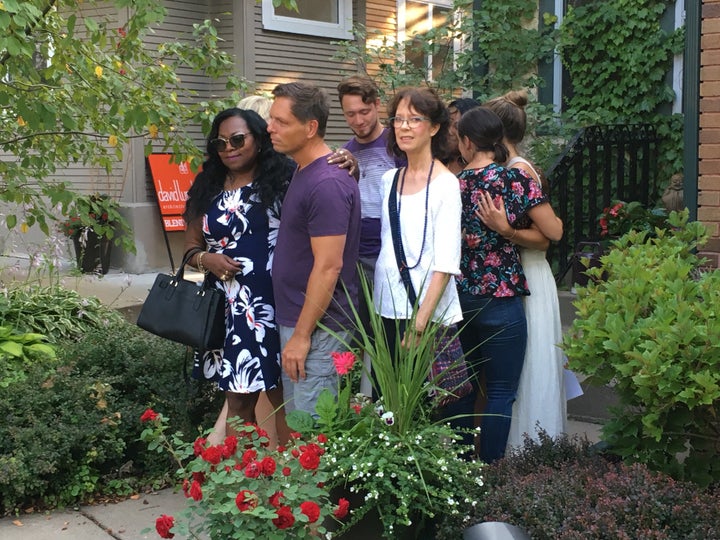 "We gather here to grieve together in solidarity with the families, the families of those killed by police," Ashley Harness, a pastor at Lyndale United Church of Christ and a resident of the neighborhood, said during the rally. "Justine Damond, Philando Castile, Jamar Clark, Marcus Golden, Tycel Nelson, Terrance Franklin, and all of those who have been killed by police in Minnesota and beyond."
"Help us, help us to hold our injustice system accountable without fanning the flames of anti-Somali fear or Islamophobia," she continued, referring to the heritage of the officer who killed Damond. "Help us to bear together in community our grief that looks like everything from tears to rage, all of which are holy."
As the sun began to set, gatherers chanted anti-violence messages, including: "She called 911," "No justice. No peace. Prosecute the police" and "The people united will never be defeated."
In heartfelt and inspiring speeches, Damond's friends and neighbors also didn't shy away from difficult questions, recognizing that their neighborhood rarely faces the kind of police violence other communities in the city see on a regular basis.
"I'm here today because this tragedy is close to home for me in a way I never experience," Sarah Kuhnen, one of Damond's neighbors, said in a moving speech to the crowd. "I have to be honest here and explain my privilege."
"This is not about one police officer ― this is about a broken system. ... It is past time for me and other white people to wake up."
"I have felt completely safe in my new neighborhood as a white woman, as a mother, a wife and a citizen in this city," she continued. "Today, I feel scared. I don't feel safe in my neighborhood."
"This is not about one police officer ― this is about a broken system. ... It is past time for me and other white people to wake up. ... We all deserve to feel safe, including our Somalian neighbors."
John Thompson, Philando Castille's best friend, said there were "too many mothers crying."
"I never thought I'd be speaking on behalf of a white woman getting murdered by the police. It's not about race. It's not about white. It's not about black. It's about the police chief killing us," Thompson said. "We will not accept this anymore."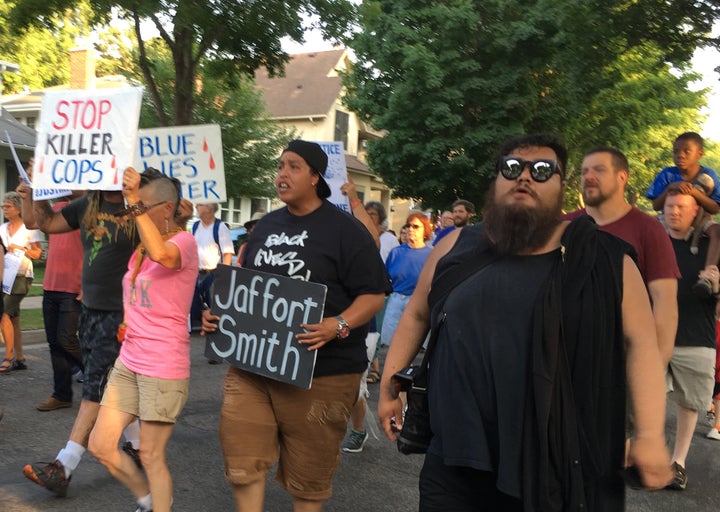 Chauntyll Allen, a member of Black Lives Matter Twin Cities, said she joined the march Thursday to show support for Damond's family, as well as the countless black and brown victims of police brutality over the years.
"This is tied into the bigger picture of police violence that's been happening in the black community for a long time," Allen told HuffPost. "I honestly think that we can come together and make a difference because all of us collectively want [Noor] to be arrested. We want justice to be had. I think this is going to a learning moment where we can all merge together."
Minneapolis Mayor Betsy Hodges was also at the gathering, but declined to comment to reporters, saying she wanted to focus on speaking with the community members instead.
Thursday's event was organized by Damond's neighbors, as well as Women's March Minnesota and The New North, an intersectional movement.
"The neighbors of Justine organizing this event feel strongly that this space be one that honors not just Justine, but ALL of those who have been killed by police in our city," organizers wrote on the event's Facebook page. "Lives lost to police violence deserve a MARCH, deserve justice, deserve recognition of the systemic racism and white supremacist culture that kills."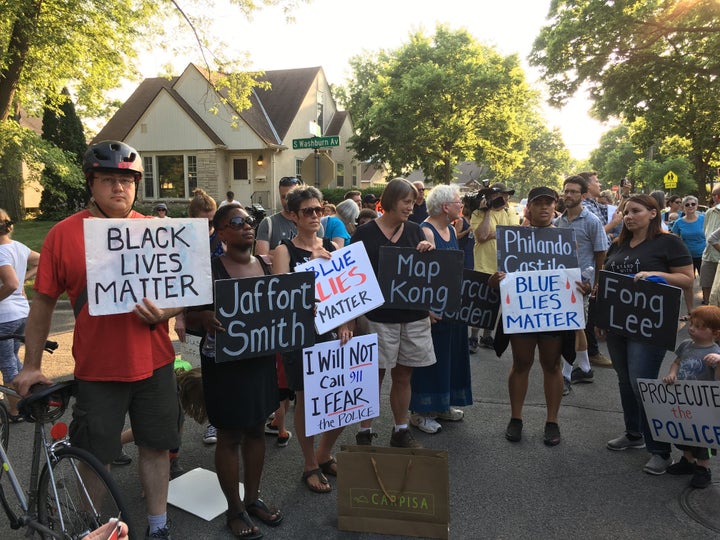 Questions remain about what exactly motivated Noor to shoot Damond in the abdomen on Saturday night. Noor and his partner had been called to the alley behind Damond's home to investigate reports of a possible assault. When Damond approached the police car on the side of the driver, Noor shot her from the passenger's seat.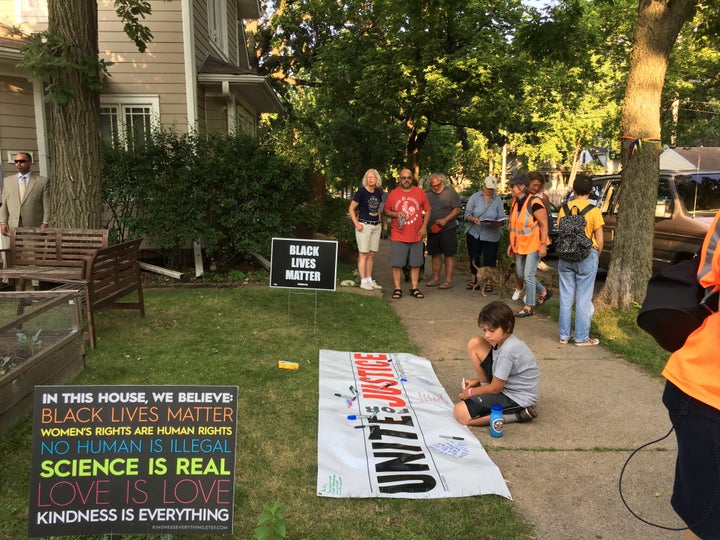 Earlier Thursday, Minneapolis Police Chief Janee Harteau said Damon "didn't have to die." She based her analysis on information released by the state's Bureau of Criminal Apprehension, which is conducting the investigation into the shooting.
"On our squad cars you will find the words, 'To protect with courage and serve with compassion.' This did not happen," Harteau said during a press conference.
Nick Visser contributed to this report.
Popular in the Community