It had been some time since I'd caught up with the work of Justine Kurland, the photographer best known for her staged scenes of women and adolescent girls in idyllic landscapes, palimpsests of fantasy and memory merging. Such utopian visions carried with them the experiences of her own childhood, I'd venture, as the daughter of an artist-mother who designed costumes for Renaissance fairs, and traveled the circuit year after year, kids in tow.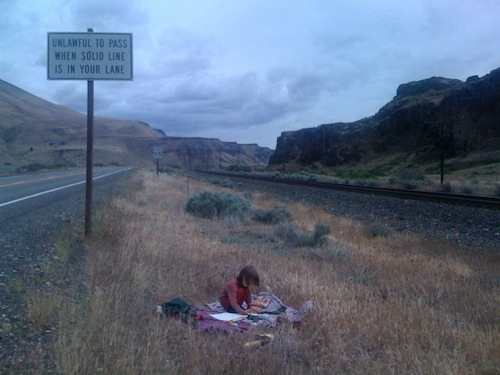 Justine Kurland, Casper At Work, 2010, Courtesy Mitchell-Innes & Nash
Now a mother herself, Kurland has not surprisingly turned the camera on her son, Casper, who more than a muse, has become her collaborator. For years, he has accompanied her on shoots out west where traveling caravan-style, they befriend road dogs, train hoppers, back-to-the land commune members, and other emblematic types of an American identity gone to seed (if strongly rooted still in the collective unconscious). I love this, the loop of continuity between life as a daughter, and life as a mother, the ongoing romantic engagement with the ardor of nature and its allegorical potential. The portraits of Casper though,which Kurland posts regularly on Facebook, suggest something more to me than this potential, reminding me of my own childhood (the late 1960s-70s), a time spent largely outdoors in that pre-digital age where nature embodied not just play but a deep sense of belonging.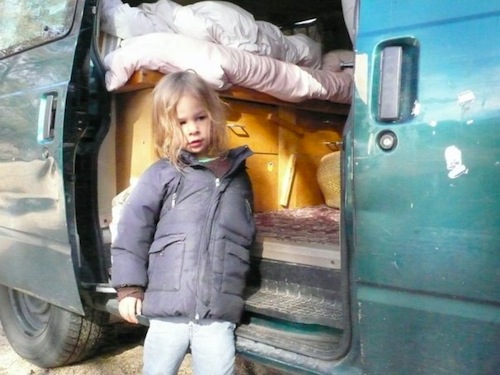 Justine Kurland, Casper, June 2009, Courtesy Mitchell-Innes & Nash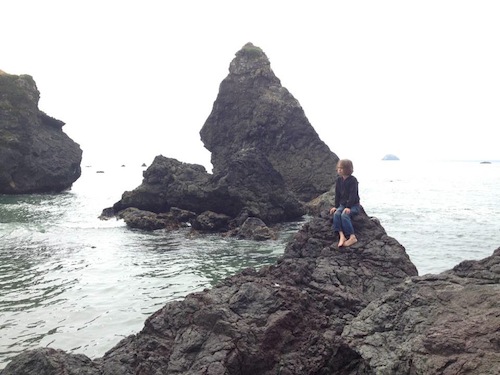 Justine Kurland, Casper On the Rocks, July18, 2013, Courtesy Mitchell-Innes & Nash
Some of the portraits are shot on her phone, others with the cumbersome 4 x 5 camera she remains steadfastly loyal to, lugging it through rugged landscapes and dusty towns along with the heavy tripod and sheet film it requires, in her efforts to capture ghosts of a by-gone past. As the friend of many women artists who have also become mothers, I am particularly intrigued by the way Kurland bridges this gap through the direct involvement of her son in her work, rather than enacting the usual separation of roles required by an art world that typically sees motherhood as a compromise (to serious art-making). So I decided to ask her about that.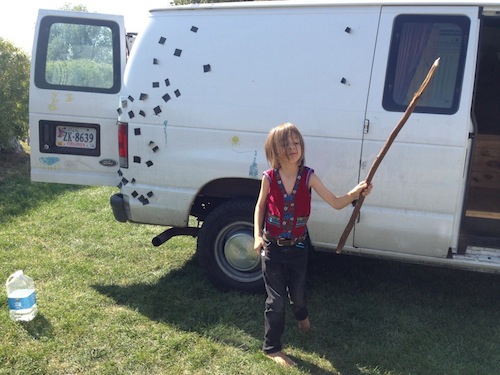 Justine Kurland, Casper, August 25, 2012, near Forsyth, MT, Courtesy Mitchell-Innes & Nash

JUH: How much do your photos of Casper derive from an artistic impulse versus a desire to capture his life through images? Clearly, they're part of your larger practice, conceptually and practically, but I imagine there's a mother's instinct at work too, something more than "that would make a great shot" motivating your documentation? Essentially I'm asking about your relationship to them as intimate portraits of your son, and how this is filtered, or maybe even problematized by who you are as a photographer (and if I'm over-thinking it here, just say so).
JK: I don't find distinctions between artist and mother useful. I think an artist's job is to respond to experience and one of my most profound experiences has been motherhood, which until now(ish) I think has been discredited and demeaned because it has been a female experience.
That being said, the pictures I make of my son are not always made with the glowing warmth of fresh-baked apple pie. Sometimes they are made because its all I can do, sometimes they are twinged with the resentment of a prisoner glaring at her guard.
Over the years pictures of Casper thread through the work. His presence and company have been constant because I work during extended road trips and he travels with me. Even now as I write this he is calling me back to him. He has changed how I work and how I see.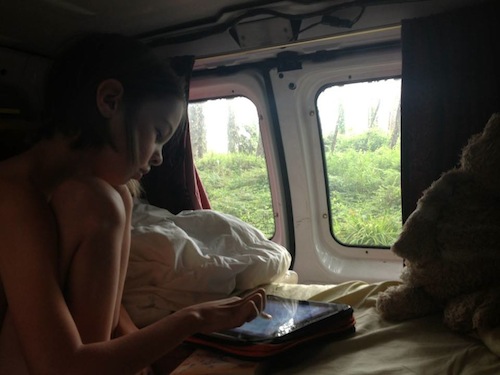 Justine Kurland, Casper, In the Van, July 17, 2013, Courtesy Mitchell-Innes & Nash
JK: When Casper was 6 months old I started bringing him on road trips. I home-schooled him and was gone 8 months of the year. When he was 6 he started going to public school and we'd travel together only during the summer months. But being with a baby then a toddler and then a pretty headstrong kid has forced me to change the way I work. I can't over think things. My photographs that had always been loosely planned and staged became looser. My attention became spread out and my work became simpler, not as over thought or over determined. Everything became more fragmented and seen through my son's eyes as well as my own. He became more central to the work, it became more subjective while still trying to find something true - some lingering ghost of American identity and history.
JUH: I know he directly inspired your railway/train series, documenting what you've called "Gypsy American nomads". Can you talk about that?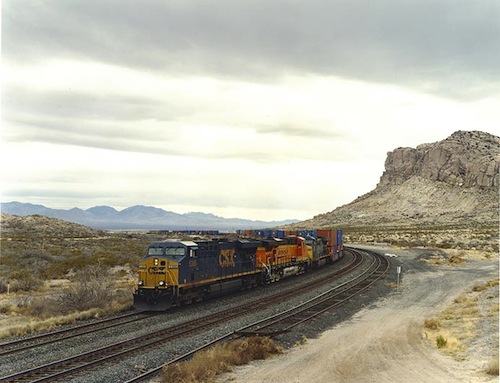 Justine Kurland, Ghost Town CSX, 2007, Courtesy Mitchell-Innes & Nash
JK: When Casper was little he became obsessed with trains. He needed to know everything about them, how they worked, what the parts were called, I started photographing trains because it seemed fair that if I was shlepping him across the country on these road trips that I should make it something he was interested in too. And then it was clear that the trains held everything I had already been interested in. They shaped the west both literally and figuratively. The are the stuff of folklore and legend at the same time a rusty artery transporting goods from china to Walmart to landfills. I became interested in train riders as a way of seeing myself (as a longstanding traveler and searcher) in the history of the trains. And then one thing leads to another and the photographs themselves determine the next photographs. For instance now I'm photographing cars and mechanics.
JUH: One of my favorite portraits of him, which you caption "more bunnies" on your Facebook post of it, shows him engrossed in a book with a sleeping bunny on his lap. The texture of the towel, its color against the book's, the light in the folds of his shirt, the look of immersion that seems knowing somehow (maybe its a familiar story/character, or he's thinking "there goes mom again taking another pic"?) - so many details draw you in.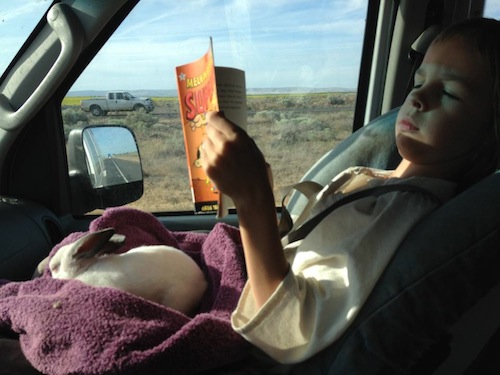 Justine Kurland, Casper, More Bunnies, June 21, 2012, Courtesy Mitchell-Innes & Nash
JK: Last summer we decided to get a bunny to travel with. I took that picture while driving, on my phone. The pictures I exhibit are shot on 4x5. I gave a picture of "Glacier" and Casper to Aperture for their benefit edition called "Road Bunnies" after the phrase road dogs. It turns out a rabbit is a terrible animal to travel through the west with. They can't be in temperatures above 80 degrees. We hugged the coast all summer and gave him to a friend with a farm when we got back to New York.
JUH: Many of the images are of quiet still moments in nature where he appears alone, reflective, small, all in keeping/co-extensive with the romantic/symbolist sensibility of your work, though somehow less "arcadian". Perhaps because they aren't set-up? For me they conjure the era of our childhood (we're both sixties babies) when photographers like Robert Frank, Danny Lyons, Diane Arbus, etc. were creating a new vision of the world through photography. They're poetic in a similarly emotive way, the candid being perforated by a kind of nostalgia. How does the lens of your own childhood inform what and how you envision Casper's life, particularly as lived on these summer trips, outdoors? Do you see them in relation to your own childhood, or conjurings thereof, be they conscious/deliberate or more fluid/reflexive?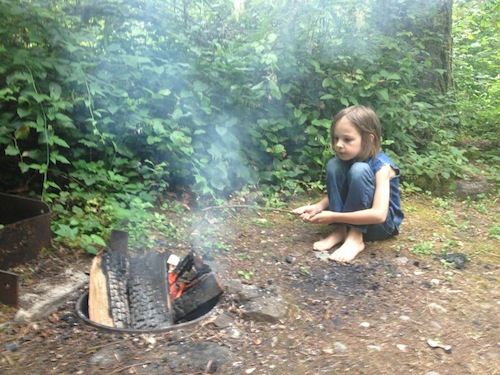 Justine Kurland, Casper Roasting Marshmallows, July 11, 2013, Courtesy Mitchell-Innes & Nash
JK: My work is part of a 19th century photographic tradition. One where the landscape becomes a receptacle for utopian ideals, the pioneer's dream of the west as a promised land. In Marilynne Robinson's essay "I Read Books As a Child" she describes the difference of the west as opposed to the east or south as a region where loneliness is not a pejorative word but a necessary condition in order to observe all that is splendid. In regards to my larger body of work, these pictures of Casper are - as you observe - metered by a grittier realism. Pictures lately, for example, of cars and mechanics and vernacular architecture on the side of the highway and edges of towns. And yes, I was a child of the 70's and definitely inherited the values of that era. My mother was and is still a wonderfully witchy and nature-centric woman.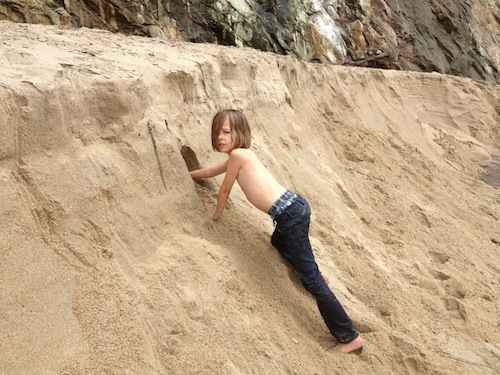 Justine Kurland, Casper Climbing, July 28, 2013, Courtesy Mitchell-Innes & Nash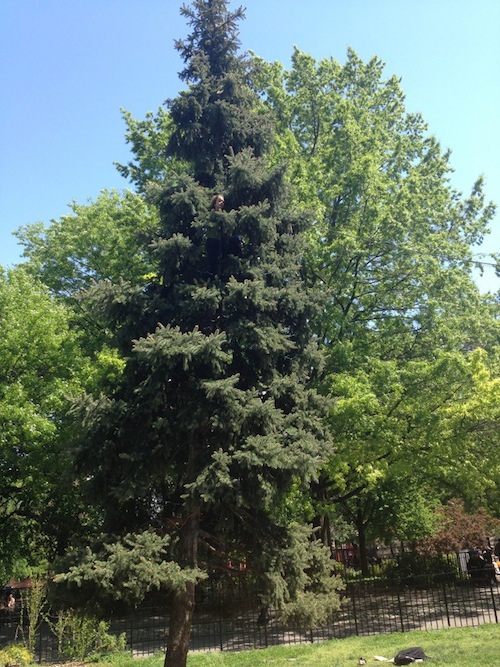 Justine Kurland, My Little Tree Hugger, May 13, 2013, Courtesy Mitchell-Innes & Nash
JUH: What does Casper think of these portraits?
JK: Casper says: "I like them."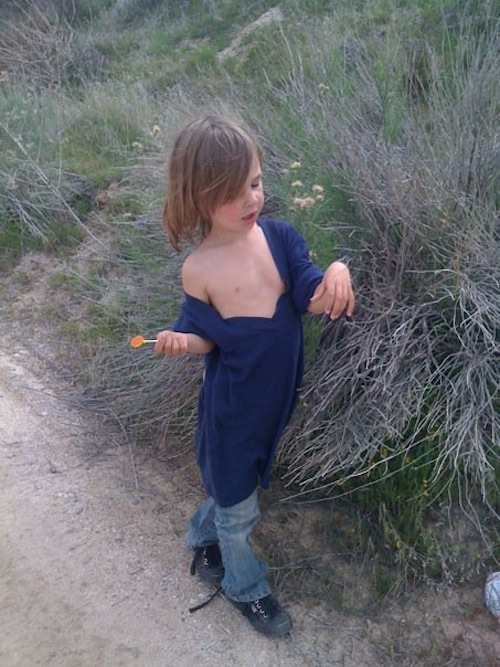 ."
Justine Kurland, Casper, In the Grass, 2010
Popular in the Community