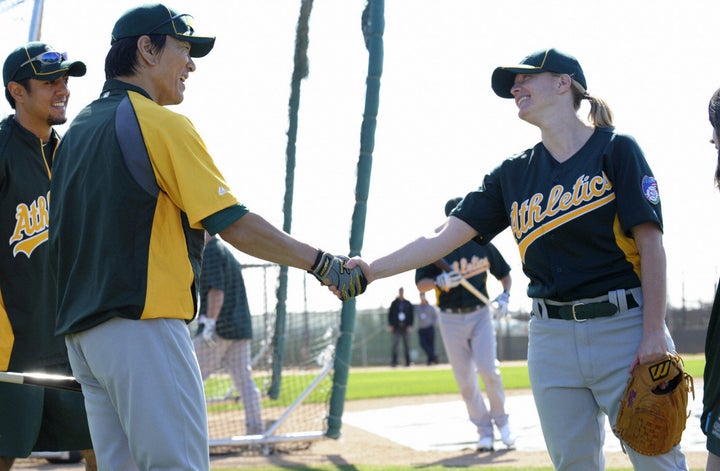 This fall, as Becky Hammon prepared for her second season as an assistant coach with the NBA's San Antonio Spurs and the Arizona Cardinals made Jen Welter the first woman to coach for an NFL team, it seemed like Major League Baseball had fallen behind its two largest competitors in welcoming women to the coaching ranks.
The league has become more conscious of diversity on all fronts -- the possibility that it might enter the 2016 season without an African-American coach sounded alarm bells before the hiring of Dusty Baker in Washington and, this week, Dave Roberts in Los Angeles. So there was no question that Major League Baseball was trying to expand roles for women, too, the president of Minor League Baseball told The Huffington Post in September.
"Somewhere, somebody is trying to figure out how we're going to get the first female [general manager], the first female coach," Pat O'Conner said at the time. "I can tell you it's a priority -- diversity from all angles."
Still, there wasn't much optimism -- from O'Conner or others who had tracked the history of women in baseball -- that change would happen soon.
But a few weeks later, the moment came: The Oakland A's hired Justine Siegal, a former collegiate and independent league coach, to work the fall instructional league in Arizona. Siegal was the first woman ever hired to coach for an MLB franchise, and even if it was only for the short fall season, which gives minor leaguers a chance to put in extra work before the winter, it was progress.
"This has been a wonderful moment and a long-deserved moment in history when women are getting their chance to coach in professional sports," Siegal told HuffPost this week. "I think the American consciousness is ready for more females in positions of sports leadership."
For two weeks in October, Siegal began each day working with infielders, beating ground balls to Oakland's third basemen. She threw batting practice when it was her turn in the rotation and took her familiar spot coaching first base during afternoon games.
It wasn't long, she said, before everyone forgot that she was anything but another baseball coach.
"I was a rookie coach, so my job was more or less to support full-time coaches. But it doesn't stop the interaction or change the interaction with the players," Siegal said. "I've never felt more accepted on a baseball field. That was an incredible feeling for me."
Acceptance has been a common reaction to Siegal's work.
"I've found throughout my years of coaching that if you show you know what you're doing and you care about them and can make them better players, they'll accept you," she said.
Siegal's career has been marked by milestones. She was one of the first women to coach in college baseball. In 2009, she signed on as the first-base coach for the Brockton Rox, an independent team in Massachusetts, making her the first woman to coach in men's pro baseball. Two years later, she became the first woman to throw batting practice to a MLB team.
Despite that success, "it never crossed my mind that I'd be able to coach professionally [in the major league]," Siegal said.
Still, for the last few years, she had called around MLB front offices asking for a chance to coach in their instructional leagues. Oakland's general manager, Billy Beane, was the first to say yes.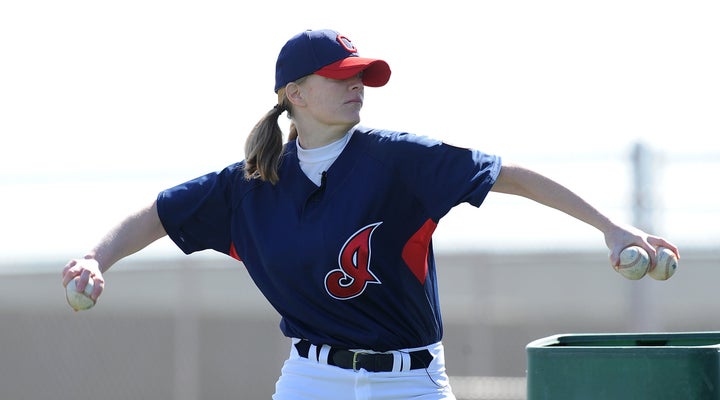 Even before Siegal joined the A's, 2015 had seen a number of positive signs for women in America's pastime.
Siegal, who runs a nonprofit to promote girls' baseball, brought together 12 teams from across the country in June for the first-ever national girls baseball tournament in Florida. Later that month, Melissa Mayeux, a 16-year-old French shortstop, became the first girl ever added to MLB's international prospect list, making her eligible to sign with a pro team.
July's Pan American Games included women's baseball for the first time, and one of Team USA's players, Sarah Hudek, became the latest girl to earn a college baseball scholarship.
In the fall, ESPN made Jess Mendoza, a former college and Olympic softball player, the first woman analyst on a national MLB playoff broadcast. That all followed the summer of Little League pitcher Mo'ne Davis a year before.
"It's a tipping point for girls and women in baseball," Siegal said. "I've been doing this 17 years, helping girls have a place to play. We see Mo'ne Davis, women in the Pan Am Games, that general recognition that softball and baseball are not the same sport, and that girls should be given the opportunity to change."
MLB says it has stepped up its efforts. Last year the league launched diversity initiatives that primarily targeted African-American participation but were also aimed at "strengthening the foundation of women in our game," Wendy Lewis, baseball's senior vice president for diversity, inclusion and strategic alliances, said in an email before Siegal was hired.
The league has never had a female general manager, a position that comes with direct power over baseball-related decisions. But it has had three female assistant GMs. Kim Ng, currently an MLB senior vice president, was a finalist for the San Diego Padres' general manager job a year ago and is often considered the likeliest candidate to finally break that ceiling.
MLB also says it has increased the number of women working in its front office, and women have made strides in other roles as well. Rachel Balkovec is the St. Louis Cardinals' minor league strength coach, the first woman to ever hold that position with an MLB club. In 2011, the Los Angeles Dodgers hired Sue Falsone as the first female head athletic trainer in MLB history. The league seeks to include more women in umpire training programs, Lewis said.
"We can and will do better, and that includes building a stronger pipeline at all levels of our organizations," Lewis said, adding that the league will host a diversity summit in 2016 aimed at connecting women and minorities who want to work in baseball with MLB and its clubs. "We will remain diligent in providing wide-ranging opportunities for women to be a part of our game, both on and off the field."
While women are still too few and far between in baseball's highest ranks, Siegal hopes her experience will "open more doors."
Now that her stint with the A's is done, Siegal is pursuing her own mission outside the ranks of men's baseball. Next year, she wants to launch the Dreamcatchers, a women's pro baseball team that would play at Doubleday Field in Cooperstown, New York, the home of the Baseball Hall of Fame. There are currently no other women's pro teams. Siegal would like eventually to see teams in minor league parks across the country, "showcasing the women's game" and giving girls who want to play ball "a place to dream," she said.
She hasn't given up on the idea of returning to Major or Minor League Baseball, either.
"I'd love to continue in professional baseball," Siegal said, "if that opportunity comes about."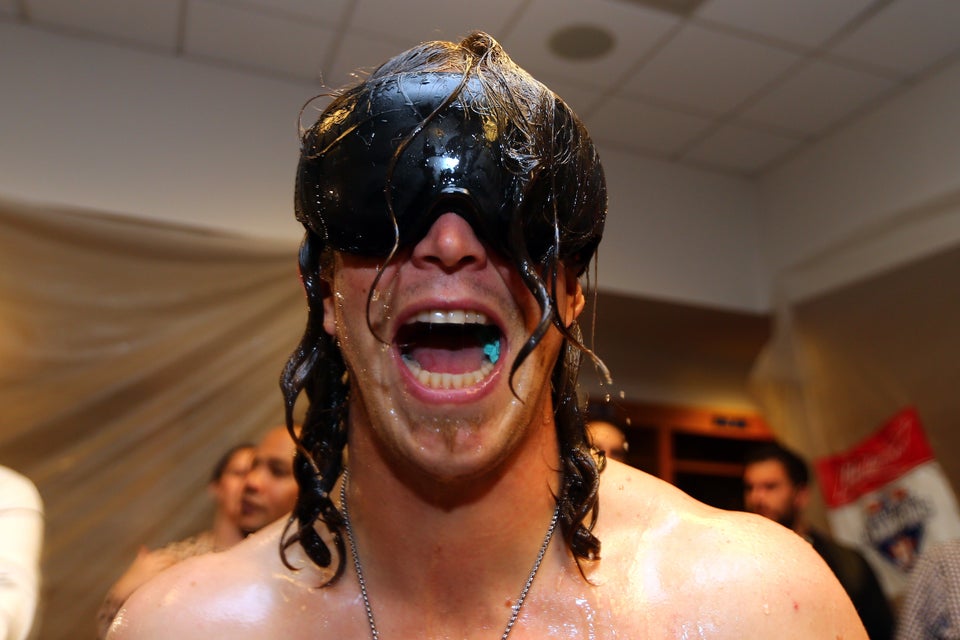 2015 MLB Playoffs Celebrations
Related