Justin Gold has never eaten Spam. He probably never will.
So it's a surprise, even to him, that he just sold his organic nut butter company to the processed meat giant that makes the canned ham product.
"For me, it hasn't been easy," Gold, whose Boulder, Colorado-based Justin's sells an array of spreads and peanut butter cups, said with a laugh. "I'm a vegetarian who's really excited to work with a notorious meat company."
The two do make strange bedfellows. Hormel Foods Corporation, which last week agreed to buy Justin's for an undisclosed amount, is an $18.3 billion titan in the processed meat industry. Its roster of products includes deli meats, canned chicken breast and various iterations of bacon. By contrast, the eco-conscious Justin's -- which aims to provide high-quality, vegetarian fare -- began with its shaggy-haired, outdoorsy founder selling homemade jars of nut butter at farmers markets in Colorado.
That's exactly what drew Hormel to the startup. Sales of organic foods surged 10.6 percent to $39.8 billion last year, significantly ahead of the 3 percent growth in the overall food industry, according to data cited by the trade publication Food Navigator-USA. And that's even with organic food prices soaring in recent years. 
"Justin's naturally delicious, high-quality nut butters, nut butter snacks and organic peanut butter cups align perfectly with our goal of complementing our existing brands with new offerings that resonate with younger, on-the-go and more health-conscious consumers," Jeffrey M. Ettinger, Hormel's chairman and chief executive, said in a statement.
Despite their differences, Justin's seems like a natural fit in Hormel's growing stable of acquisitions.
In 2011, Hormel bought, as part of a joint venture, Wholly Guacamole-maker Fresherized Foods, which touts its methods of pressurizing food with water as an alternative to adding chemical preservatives. In 2014, Hormel snapped up CytoSport, the nutritional company behind Muscle Milk. Last July it announced the purchase of organic meat seller Applegate.
"[It's] a 125-year-old business that has invested over $1 billion in the last two acquisitions in the natural-organic space," Gold, who will retain the title of founder, said of his new owner. "These guys understand what the future is, and where it's going. They want to make sure they're there."
It's easy to view such deals with suspicion. Conventional wisdom posits that corporate parents gobble up the companies they take over, smother their high-minded missions and imbue them with a warped sense of ethics that puts profit above all else. Food industry behemoths in particular have earned reputations for questionable labor practices and unhealthful offerings.
For its part, Hormel plays the villain pretty effortlessly.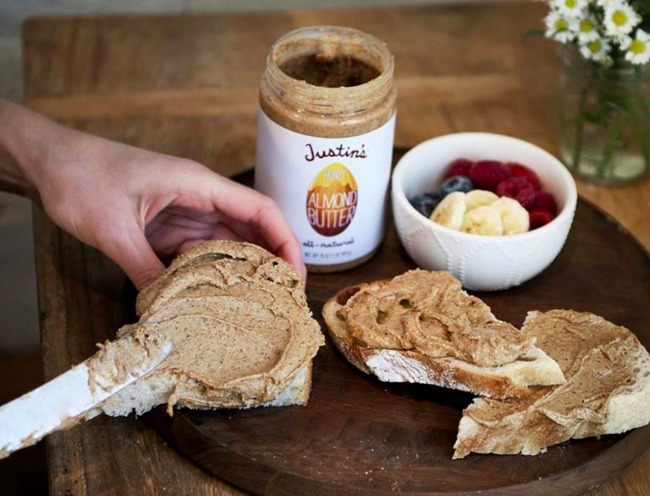 The 1990 documentary "American Dream" chronicled the company's efforts to gut the workers' union at its Austin, Minnesota, meatpacking plant. In 2011, Mother Jones exposed nauseating conditions at the plant, where workers tasked with shucking the brains and eyes from about 1,300 severed pig heads per hour were fired for falling ill. (Hormel spokesman Rick Williamson said the company has since addressed the health problems at its supplier.)
On top of that, though, there are the nutritional issues with Hormel's flagship product: A single serving of Spam contains 53 percent of the daily recommendation amount of sodium.  
But Gold doesn't seem concerned that Hormel's past will taint Justin's ethos.
"They bought the company," Gold said. "They have the right to take it in the direction they want it to go. But to their credit, they're really investing in natural products."
Gold did his homework. Before agreeing to the deal, he and Justin's CEO Peter Burns met with executives at CytoSport and Applegate, who assured them that Hormel had left their companies' cultures -- and the ingredients in their foods -- unadulterated. Plus, as part of the deal, Justin's set up a board including Gold, two representatives from the company and an executive from Hormel.
"Justin's is going to be Justin's," Burns said. "But now we have the ability as an independent operating company to voice what it is we want to do and have all the resources that Hormel can offer us for R&D, innovation and sourcing raw materials."
Already, Justin's sources its nuts from the United States -- peanuts from Georgia, hazelnuts from Oregon and almonds from California. The company uses certified organic ingredients and cocoa approved by the nonprofit Rainforest Alliance. Its palm oil -- a major source of pollution -- comes from sustainable plantations. The cardboard in its packaging is made completely from recycled paper.
If anything, Hormel may adopt a thing or two from Justin's. It wouldn't be the first time a corporate food giant picked up progressive policies from a smaller firm it acquired.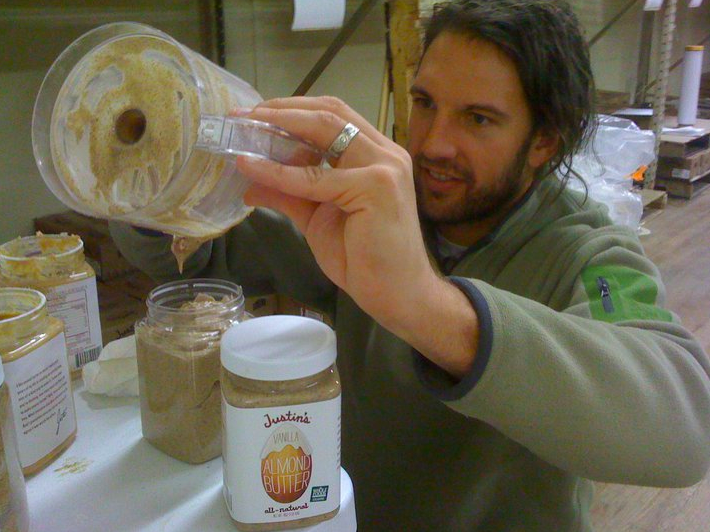 Take, for example, the case of Campbell Soup Company and its subsidiary Plum Organics. Campbell bought Plum just as the baby food startup was seeking to become certified as a so-called benefit corporation, or B Corp. Such firms must meet the rigid environmental and social good standards outlined by the nonprofit B Lab. The designation provides companies with something akin to what LEED certification lends to buildings: a public indicator that they're one of the good guys.
A month after its acquisition, Plum became the first B Corp ever owned by a public company. It wasn't long before the 147-year-old maker of "chunky hearty cheeseburger soup" started doing some soul-searching.
Last July, Campbell vowed to remove all artificial flavors and colors from its food. In January, the company said it would begin labeling all U.S. food products that contain genetically modified crops and even publicly advocated for a nationally mandatory GMO label. In April, Campbell announced its first ever parental leave program, modeled in part on Plum's.
"We see the influence that Plum's had on Campbell," Gold said. "Hopefully, we can have that same influence on Hormel."
And vice versa. Until now, the otherwise-bootstrapped Justin's -- which three years ago sold a minority stake to private equity firm VMG Partners for $47 million -- didn't have the money or time to invest in the process to become certified as a B Corp. With Hormel's deep pockets to draw from, "that is something we are now looking into," Gold said.
"At the end of the day, I really care about Justin's not changing," he said. "Except, really, to be better at what we're already doing."
Calling all HuffPost superfans!
Sign up for membership to become a founding member and help shape HuffPost's next chapter
BEFORE YOU GO
PHOTO GALLERY
37 Energizing, High-Protein Foods That Aren't Meat