Justus Reeves, the executive secretary of the Liberia Baptist Missionary and Educational Convention (LBMEC), who is based in Monrovia, Liberia, and William R. Slocum, pastor of Ebenezer Baptist Church in Caldwell, Liberia, are on the front lines of the world's worst Ebola outbreak. Because of the deadly outbreak, the LBMEC has donated bags of food to counties and a hospital in need, and also prepares and distributes meals to Ebola patients. We asked Reeves and Slocum to share what it's really like to be in a country officially in a state of emergency.
HuffPost: Can you tell us more about what the LBMEC is, and how it is helping the people of Liberia during this time?
Reeves:: We are a fellowship of churches in Liberia, and we work together to promote the Gospel of Jesus Christ in the Republic of Liberia. And part of what we do is provide services to the Liberian people.
What is daily life like in Liberia right now, particularly for people who were already struggling to make ends meet before the Ebola outbreak, as well as people who may not be able to work right now because of the outbreak?
Reeves: Some people aren't getting paid, and they can't afford to buy food. Imagine: A teacher was out of school last June, and then we got into a State of Emergency, and there were school closures in July. So they've been without a salary since June. So it's really difficult for people [in these situations] to cope at this time, and they need help. So giving somebody something like a bag of rice, or beans, gives people a sense of value at this time. It's even worse for the poorest of the poor, who already didn't have much and were struggling every day.
We are all afraid and living literally under a cloud. Ebola is a shadow, it's an inescapable shadow -- and it doesn't seem to move. And so to build people's esteem and give them a sense that they belong to a community that cares, is important.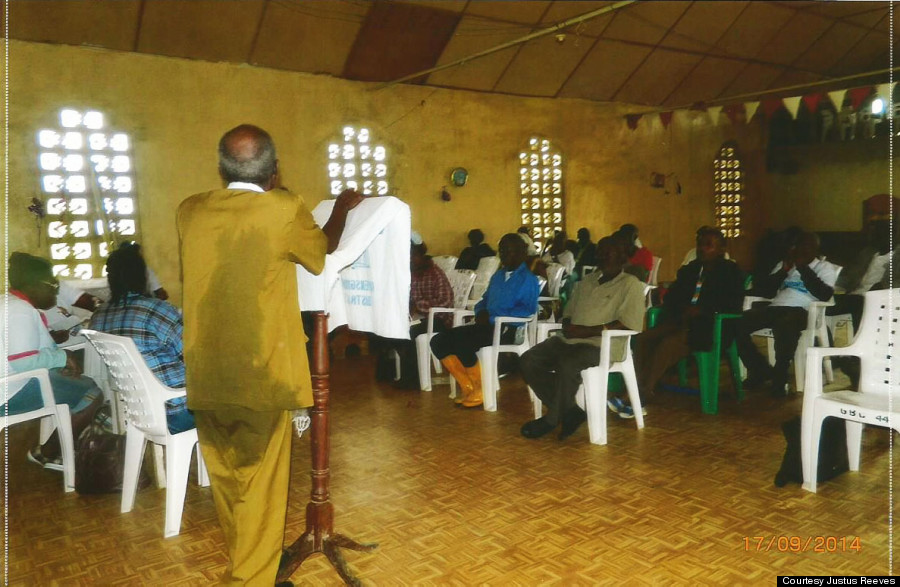 A scene from an Ebola sensitization conference this month in Owensgrove District, Grand Bassa County, Liberia.
How pervasive is the threat of Ebola?
Reeves: It's that looming shadow: Ebola. It just hangs around. When we were just coming here a few minutes ago [for this video interview], there's a woman who was very sick and very weak, and she was waiting for an ambulance to pick her up. And a whole crowd gathered. And as hard as the government tries, they cannot do everything. And so literally, that community is watching this person die. That's the reality. That's what we live. A couple days ago, there was another person, in the middle of the street, dead. And we drove by, because it's Ebola, and you can't touch the person. It's a frightening reality.
Another thing, is in Liberian culture, we celebrate death and the dead. When a person dies, it's a big thing. It's community. We come together. But for all of these thousands of people who died [from Ebola], there's no celebration, except for maybe a small group. We used to do a wake, where you wash the body in the home, and walk around and sing. We had these elaborate services. We can't even do that anymore. You cannot do a wake with Ebola because it's so contagious.
To talk more about body removal, is it common, as you just mentioned, to see a body in the streets? We are seeing so many images of Liberia, Sierra Leone and Guinea that depict bodies laying in the streets until they can be removed by people who are specially trained and outfitted to protect them from Ebola. Is that what real life is like there?
Slocum: You actually don't have a lot of bodies on the street, but you do have bodies in the home. The government is overwhelmed, and they don't have the resources to actually combat what is happening right now. So sometimes it takes two to three days to even come pick up a body that [a family] reported. People are calling a hotline, but sometimes there just aren't enough resources to respond in a timely manner.
How are people with Ebola -- or people who have survived Ebola -- treated and viewed by society?
Reeves: The disease stigmatizes a person. So for a family member to go to an Ebola treatment facility, it can stigmatize that [household]. So people don't want to interact with you. You might find that some people lie -- if a family member is sick, they will not say they are sick. And so our hope is to educate people, and to sensitize people to the fact that if you go to the [treatment] center early, you have a higher chance of returning home, rather than staying and lying and hiding. So we have to literally keep re-telling the story so people will do it.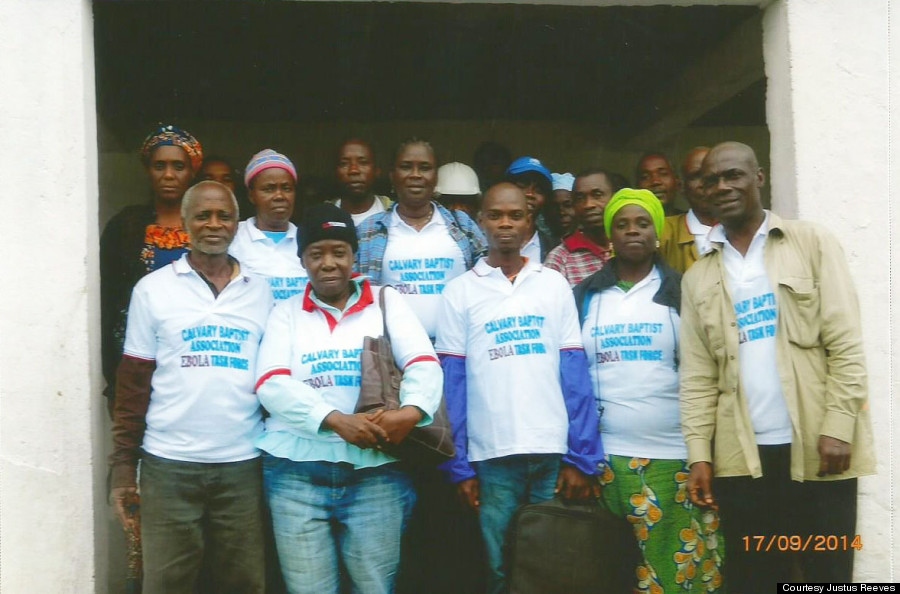 Attendees of the sensitization clinic, which was sponsored by the LBMEC Calvary Baptist Association.
Slocum: We need to actually deconstruct the mindset of these people, of those in the community and at the centers. We need to work on the mindset of the people, because if we don't do it, the community will not embrace them. Even those who have survived are still stigmatized.
Reeves: [For Ebola survivors], it can take time to reintegrate into the community because people are nervous. "You went to Ebola land where people go to die?" [That makes] people nervous. But over time, those barriers will be broken down.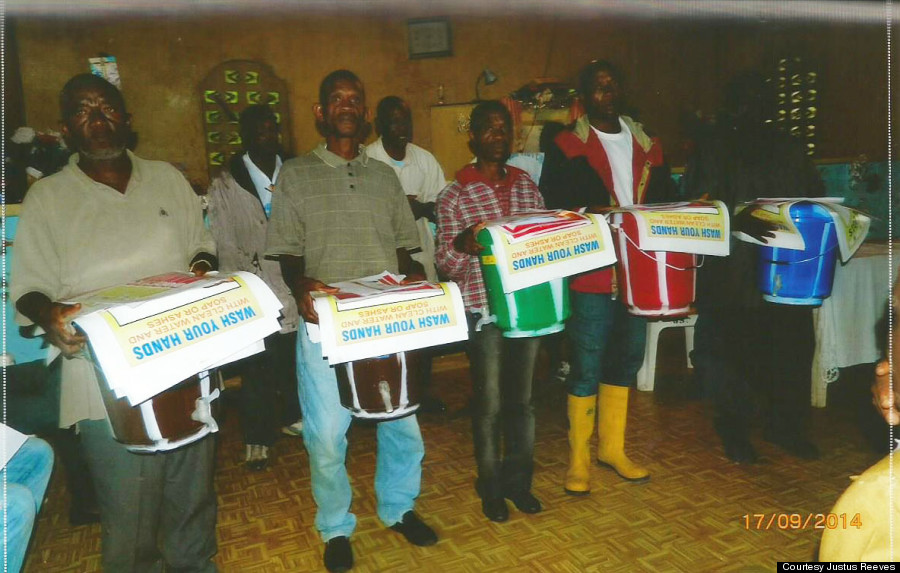 The sensitization conferences are meant to help people understand how Ebola is spread, and how to best prevent it.
What can those of us in the U.S. do to help?
Reeves: If you went to a doctor or a medical facility, they would say PPEs [personal protective equipment], medicines. A doctor from ELWA [one of the nonprofits providing support during the outbreak] said he's working with a lot of vitamins and antibiotics. But if you met an ordinary person on the street, they would say they need food. So the needs differ across the country. But we definitely need medical personnel that will come and help us during this crisis.
Ours is a nation that has an inadequate health care system; we have limited doctors and nurses and specialists working. But this is a war. This virus wants to destroy this country and this region. And the doctors are the soldiers on the frontline. And so we want to applaud them and give thanks to them for the dedication and hard work that they are putting forth.
And one of the huge things I want to add is, first, I want to say thank you to all those who have supported us overwhelmingly. But in addition, I want to urge people to please support Liberia. Financially, materially, with their prayers and well wishes. We need it. We need it right now.
This interview has been edited for length and clarity. Additional research by Damon Dahlen.
This story is part of "Inside an Outbreak," a HuffPost series taking you to the front lines of the world's worst Ebola outbreak. For more information on how you can help, visit HuffPost Impact.