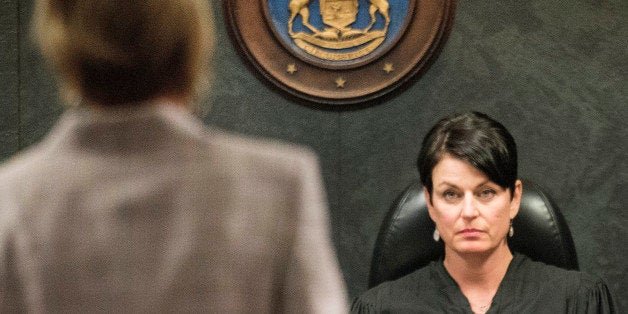 The Tsimhoni children -- ages 9, 10 and 14 -- recently made international news when they were bullied by Judge Lisa Gorcyca (Oakland County, Michigan) and ordered to the juvenile detention center Children's Village for refusing to see their father who they claim is abusive. Judge Gorcyca specifically referred to the detention center as "jail" when threatening the kids, asking them: "Do you want to live in jail?" Then she back-pedaled after public outrage claiming, "These three children are not being punished, they have been removed from a home situation in which they were unable to pursue a healthy relationship with their father."
The argument emerged that the specific wing, Mandy's Place, of the facility where the Tsimhoni children were held was not a "jail," but merely a housing facility for abused children. An article in the The Detroit Free Press quoted Director George Miller as saying, "We try to make it as homelike as we can... We even re-did the front door to make it look more like a home."
The front door aside, the conditions in the facility seem hardly distinguishable from other juvenile detention centers. The article goes on to explain: "There is no cable television. There is no internet access. There are no cell phones or iPads. And children cannot accept incoming calls. Outgoing calls, when allowed, are monitored." Miller calls the conditions within the facility "very structured, with 24-hour supervision." Most importantly, the children are not allowed to leave of their own free will.
Even if the facility is not officially a juvenile detention center, it functions as one.
Some juvenile detention centers may double as holding places for abused children, but they remain juvenile detention centers nonetheless. I am all too familiar with this phenomenon because, like the Tsimhoni children, my sister and I were incarcerated in a juvenile detention center for refusing to see our father at the age of 14. Like Mandy's Place, the juvenile detention center we were taken to had a reputation for doubling as a safe house. The lack of safety there made the large yellow "safe place" sticker on the front door painfully ironic to us.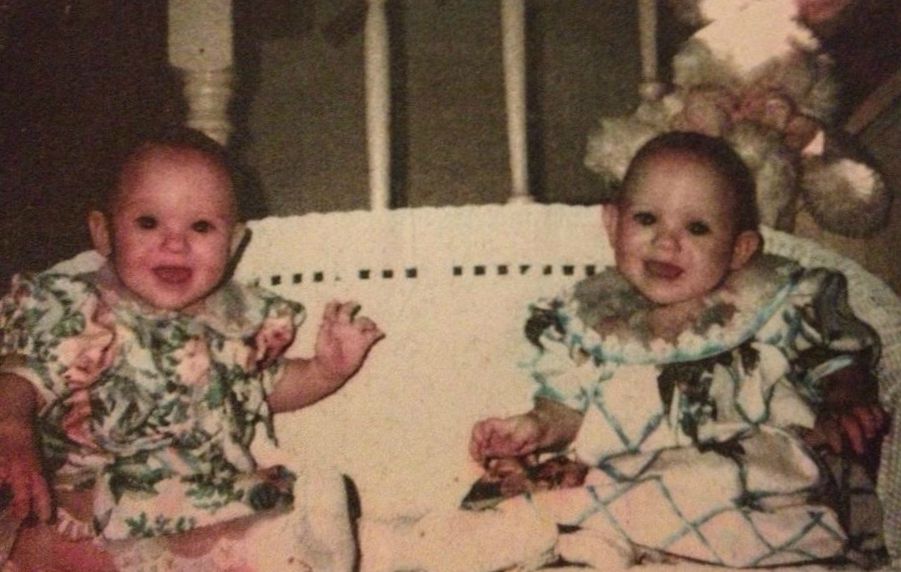 My twin sister and I at age 2.
I spent several hours of the first night praying on my knees after the staff members and social workers belittled and mocked me, asking "Did you ever provoke your parents?" and responding to my attempt to describe a violent incident by yelling, "Stop giving me these evasive answers! Did he or did he not leave a mark?" The next morning, and throughout the rest of my stay, I was very tired from my psychological distress. I asked the staff members if I could go back to my room and sleep during free time. The staff refused and told me that I could not go into my room unless I was sick. They also stated that, if I wanted to go back to my room, I would not be able to come out again all day... even for meals.
Like the detention center where the Tsimhonis were kept, our facility was also overwhelmingly populated with convicted juveniles who were shocked by our presence. The only other child being held there without having first been committed a crime was waiting for her mother to come and get her after she declined to live with her sexual abuser. Our collective guilt was assumed by staff members of the facility, and we were treated as criminals.
While incarcerated, my sister and I played monopoly with the abuse victim while the other inmates attended anger management counseling as a condition of their incarceration. As we laid out the monopoly pieces, the little girl told us, "I am not a bad girl. I am just waiting here for my mom to come get me from California." The nearest staff member, assuming she was a runaway, snapped: "Maybe it's what got you here from California that makes you a bad girl!" I will never forget the downtrodden look on that girl's face. I really hope she didn't believe the woman who told her she was a bad girl.
Like the Tsimhonis whom Judge Gorcyca ordered "to be kept away from each other as much as possible," I was forbidden to be near my twin sister, to hold her hand in prayer, and to speak freely to her or anyone else except behind a bookcase without the staff's knowledge. We were kept in private rooms in different hallways. The facility was not overcrowded the first night, so there was no need to have inmates share the two bedrooms. The next night, after another girl had arrived and engaged in a physical altercation in the yard, the facility became crowded enough to necessitate shared rooms. Even then, instead of putting my twin and I together, the staff members decided to put the new girl in the same room with me.
I became acquainted with many injustices as I witnessed arbitrary extensions of confinement and other victimization of the inmates. These inmates, all of my fellow inmates, had their minor sentences unjustly augmented by the deficits in their educations.
The facility kept us out of school and replaced our honors classes with not more than two hours a day of homework and online class time. The "teacher" brought her own child to the facility and played with her rather than teaching the incarcerated kids. The other children, many of them several years our senior, reached out to us for homework help. Unable to focus on our own homework due to our recent trauma, we tried to tutor them and teach them the third grade math they asked us about. "What's 3 x 9?" asked one older girl. "What's 1/4 in decimal form?" asked another. I did not recover from the absence from my advanced math class which I later barely passed with a D-.
After I was released from the juvenile detention center, I saw a booth for the organization that gives out the "Safe Place" stickers where I live. I was thinking about it as I drove away, and I realized that I had to talk to the man there. I walked up to him and told him timidly, "Sir, the [insert name of detention center] has one of your stickers. It is not a 'safe place' and you should take the sticker away." He looked at me with deep concern and replied, "You are not the first person who has told me that."
Sometimes I fantasize about educating the staff at the detention center where I was held; maybe shipping a box of Judith Herman's Trauma and Recovery to them and all the others. If you are tasked with protecting the interests of children or victims, please buy yourself a copy and save me the trouble.
The memories of my incarceration and being blamed by authority figures for the abuse I suffered haunt me still.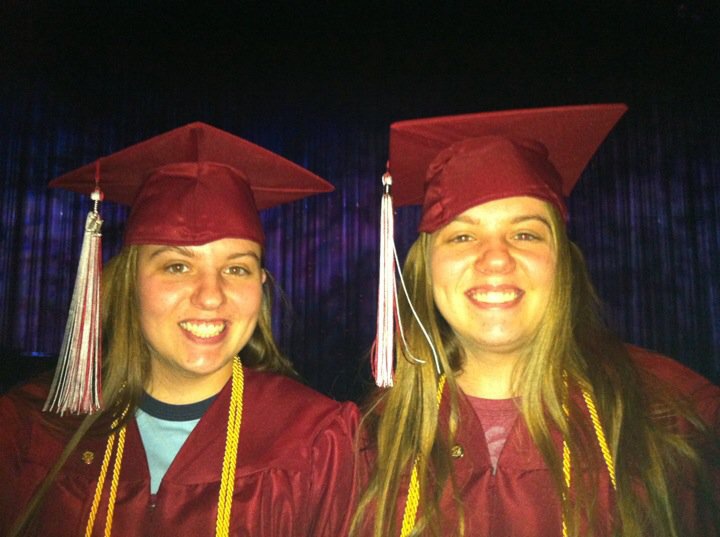 My sister and I at our high school graduation.
Many parents and children will never know what it is like to reunite in the midst of a forced separation. I hope that, after this case, even fewer will understand such a tragedy. I reiterate the trauma survivors' cry and say of this sad reality, "never again." It is my sincere wish that no victim of abuse will ever again be subjected to juvenile detention for any reason, least of all for refusing to see their abuser.
Related
Popular in the Community