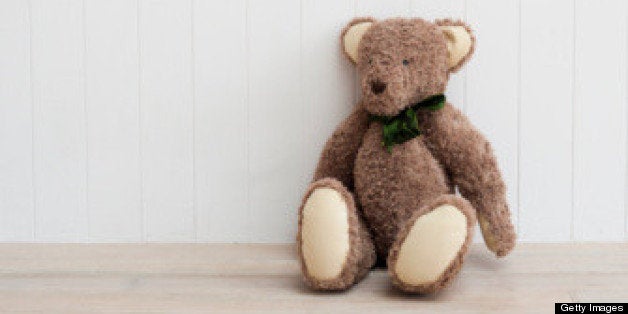 This Mother's Day, I will go to church and spend time with my mother and my son, Calvin.
Calvin and I will reflect on the fun times he had my other son, Casson Xavier "Biscuit" Evans, who was killed in a drive-by shooting when he was only 3 years old. We will talk about how they interacted and what Casson would be doing if he were with us. We always conclude that, given the strength he demonstrated during his short life, Casson probably would have been in college with a full scholarship to play football.
And I will think about the man slated to spend the rest of his life in prison for Casson's death. He was a 14-year-old boy at the time of the crime. He recently asked if I will fill the role of mother in his life and I have agreed to do so.
Casson died on December 21, 1995. There had been shootings the night before in my niece's neighborhood in Denver and I had gone by to pick up her child. Casson was sleeping, so I left him and Calvin, who was 6, in the car with two older cousins -- one 17 and the other 22. I had been inside only briefly when I heard gunshots. Casson was shot in the crossfire. He was dead within minutes.
Three children were arrested and held responsible. Raymond and Paul were 14; the driver, Damien, was 15. Both Raymond and Paul were sentenced to life in prison without the possibility of parole.
Four years ago, Raymond sent me a Mother's Day card. That card included a letter in which Raymond apologized for what happened and asked me to take on a mother role in his life. It was years before I was able to respond to that most difficult request.
Nearly a year ago, Calvin and I met with Raymond, whom investigators concluded fired the shot that killed Casson. He is now 33. We were the first participants in the pilot restorative justice program at the Colorado Department of Corrections. Raymond had to demonstrate accountability for what happened, genuine remorse and a willingness to repair the harm that he has caused. For us, restoration could come only through him answering many of the questions that had haunted us for years.
As we prepared to meet, I was enveloped in anxiety. I froze at the threshold to the room where we were to speak. Raymond immediately stood to his feet and dropped his head. I could tell that he both wanted to show his respect for me and demonstrate that he realized how much pain he had caused. That gave me the courage to walk into the room.
During the difficult, hours-long conversation, we talked about Casson, Raymond's difficult childhood, our lives and what happened on that day nearly two decades ago. And I told him that I had forgiven him. It was during that conversation that I agreed to take on the role he had requested of me. I am certain it is what Casson would want me to do for Raymond and others like him. I cannot replace his family, but my answer was and is yes, I will be his mother in whatever capacity I can. I have requested permission to revisit him for his accountability and because of our mutual commitment.
I believe that Raymond deserves an opportunity to be considered for release. He is no longer the naïve teen, struggling to escape from a negative situation and trying to fit in in the wrong place. He is a young man who has taken responsibility for the harm he caused. He also has been rehabilitated. I think he is prepared to make a positive contribution to our community.
Although I initially supported the extreme sentences imposed on these young people, my perspective has changed dramatically in the years since. I am now committed to seeing our juvenile sentencing laws reformed. I have come to understand that because their brains are still developing, children are not as able as adults to assess risks and consider the long-term consequences of their actions. This can sometimes lead them to engage in behaviors that cause significant harm. And when children have been raised in situations that are less than ideal, the situation is compounded.
Colorado no longer sentences children to life in prison without parole. But children who were sentenced to die in prison before the law changed in 2006 were not included in the revised law. I don't think this punishment is appropriate in Colorado or anywhere else.
We can never bring back the lives that have been taken, and the young people responsible for these deaths must be held accountable. But we must balance the desire for retribution with our country's commitment to children. We must assure that even children who cause serious harm have an opportunity to demonstrate that they have changed and can be reintegrated into society.
This Mother's Day, I am focused on impacting the laws that fail to allow for a second chance for young people. I ask you to join with me. We must do it on behalf of Casson, Raymond and all of our children.
Related