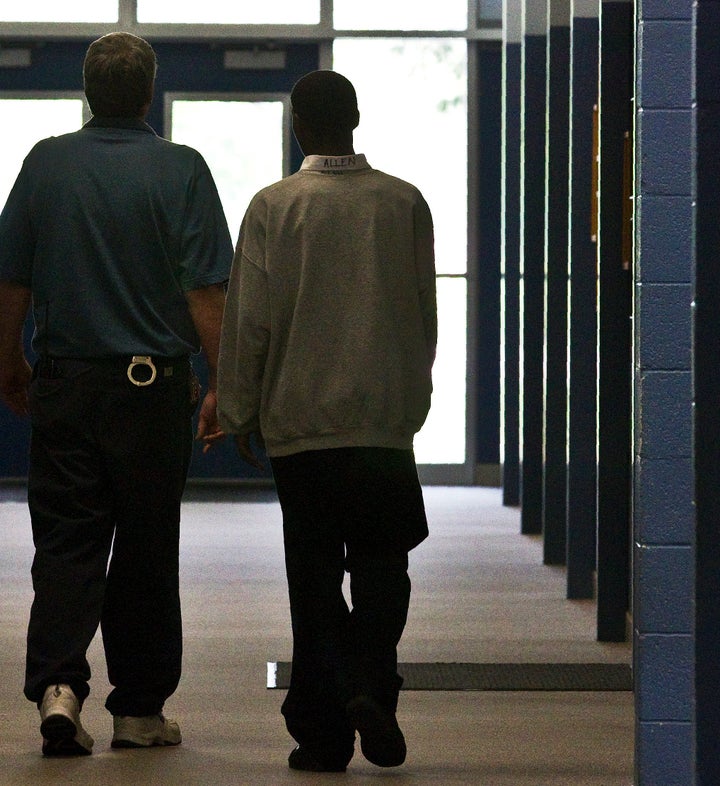 NEW YORK -- Public and private funds have flooded all manner of experimental education programs, from charter schools to Race to the Top initiatives.
But as America tries to ensure its children have a fighting chance in the 21st century, resources have been slow to come to one sector in particular: school-aged youth charged with criminal offenses.
Particularly in New York, one of three states in the country that charges children as adults by age 16 (rather than 17 or 18, as elsewhere), the issue of juvenile justice reform is particularly pressing. Roughly 400 students aged 15 and younger pass through the city's juvenile justice programs daily, according to Timothy Lisante, the state's deputy superintendent for alternative, adult and continuing education. He further estimates that every day, 800 16- to 21 year-olds pass through the state's educational programs at the prison complex on Rikers Island.
According to a 2009 report commissioned by then-Gov. David Paterson's office, an earlier study by the Department of Justice found that New York's juvenile justice system was "failing in its mission to nurture and care for young people in state custody."
Among the evidence, the report examined instances of excessive force by state employees, resulting in juveniles suffering concussions, broken bones and knocked-out teeth. This punitive discipline not only didn't serve the juvenile population, but Justice Department investigators concluded it amounted to a violation of constitutional rights. If these issues were not addressed, the Justice Department could sue New York state.
Many question whether the majority of juveniles belong in state correctional programs to begin with. The report reveals that in 2007, 53 percent of the roughly 1,600 young people who entered the state's juvenile facilities had a misdemeanor as their most serious offense.
And the efficacy of correctional efforts seems dubious at best. Of the youth who left state custody between 1991 and 1995, 75 percent were re-arrested, 62 percent were again convicted and 45 percent were re-incarcerated within three years of their release.
With the aim of better directing philanthropic efforts (and dollars) toward reform of that system, a new group calling itself the New York Juvenile Justice Initiative (NYJJI) formed late last year. According to Penny Fujiko Willgerodt, executive director of the Prospect Hill Foundation -- a philanthropic organization that cites criminal justice as a primary focus -- and one of NYJJI's principal organizers, the aim of the group is to support juvenile justice in "a diverse array of strategies."
With over 40 participants ranging from hedge fund guru John Griffin's Blue Ridge Foundation (which supports start-up nonprofits) to smaller organizations like the New York Foundation, NYJJI brings together funders looking to support to reform efforts and provides a forum for sharing both information and strategy. "All this stuff has been happening all over the place," says Fujiko Willgerodt, "and it became clear that [there was a need for] one coherent, strategic planning process to get everyone on same page. A way that this could be coordinated to achieve maximum impact."
According to Maria Mottola, executive director of the New York Foundation, a major reform effort focuses on "shifting from a punitive model" of juvenile detention to one of "youth development," a program emphasizing rehabilitation and treatment. "It's important to recognize," she says of juvenile offenders, "that these folks have been traumatized."
Exemplary of this approach is a new initiative in Crown Heights, Brooklyn. Felipe Franco, the deputy commissioner for New York's Office of Child and Family Services (OCFS), described efforts to serve children "closer to home, in the least restrictive setting."
"The fact is that kids are sent away upstate and then come back, barely prepared to deal with life," explained Marilyn Gelber, president of the Brooklyn Community Foundation.
Rather than uproot offenders from their communities, the Brooklyn Residential Center, a group home, will house up to 24 boys in a "rehabilitative environment." In tandem, OCFS two weeks ago opened City Challenge, an aftercare program in the same neighborhood that functions as a daytime rehabilitation program for up to 25 youth.
And juveniles from both the residential facility and daytime program will be able to access the local Brooklyn Evening Reporting Center, which will serve those who are finished with their rehabilitation and ready to transition back home. The evening center will provide services, including family therapy and support with local OCFS staff.
NNJI is determining how private donor funds can be used to complement and amplify rehabilitation efforts around such state-led initiatives. In late May, the group will hold its first meeting to discuss funding opportunities, which may include supplementary programs in and around core programming.
So far, the resources allocated directly to reform efforts remain relatively modest. Fujika-Willgerodt estimates that direct giving toward juvenile justice in 2009 totaled $5.7 million, and that the average grant was slightly less than $100,000. But donors insist that the bottom line is difficult to measure, as some juvenile justice reform funding is made indirectly, via related issues including programs focused on LGBT and minority youth.
And many programs, including the OCFS centers in Brooklyn, would not have been possible without planning grants from the donor community. "They donor community has been great," Franco said. "People pay more attention to the issue" because of their involvement, he said.
Donors "bring a flexibility that the government doesn't have, to bring in different efforts and try something new," Franco added.
Correction: An earlier version of this report misspelled Penny Fujiko Willgerodt's name.

Related
Popular in the Community