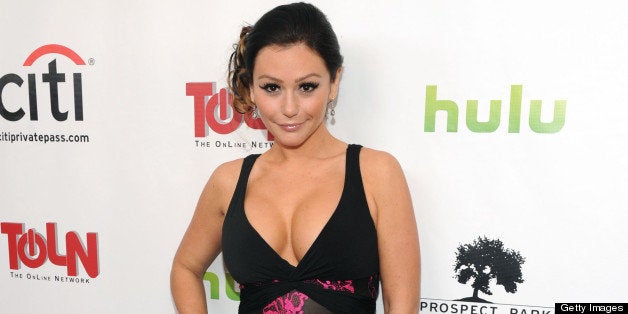 At the red carpet premiere of "One Life to Live," JWoww told The Huffington Post she was intimidated (to say the least) to join the cast of a soap opera that meant so much to her.
"I used to watch it with my grandmother," JWoww said. "I always said, 'If I do this, I have to do it for my grams' because she'll be looking down and be like, 'Oh my gosh, my granddaughter is on my show.' Now that I'm in it, I'm like, 'This is awesome, this is the best thing ever.' I was very scared though going into it, like sh***ing myself scared."
The "Jersey Shore" veteran said the "One Life to Live" cast was very welcoming. "It's like a little family here. I never expected that. I thought they were going to be like, 'Oh God, this reality star. Why is she here?' But they were like, 'Do you want to run your lines again? Do you need help? Do you want lunch? Do you want to get a coffee with me?' You don't even get that s*** on the 'Jersey Shore.' My roommates would be like, 'Go get that s*** yourself.'"
JWoww spent six seasons on MTV's "Jersey Shore," but she said her time on the reality show did not prepare her for working on the soap. The two, she said, are like "night and day."
"[On] 'Jersey Shore' you avoid cameras and film 24/7 with no cellphone, Internet or TV. This was like, 'Rehearsal, rehearsal, rehearsal, shoot! Look at this camera. Look away from this camera.' I'm like, 'I'm not supposed to be doing this! This isn't happening. This is not what I've known for four years.'"
On "One Life to Live," JWoww will play Nikki, a bartender at Shelter. The reality star said she would love to continue acting, but there's one condition: "As long as it stays true to me and I don't look like an a**hole, I'm good."

"One Life to Live" premieres online on Monday, April 29.
PHOTO GALLERY
Celebrity News & Photos
REAL LIFE. REAL NEWS. REAL VOICES.
Help us tell more of the stories that matter from voices that too often remain unheard.
BEFORE YOU GO