When Ranjana Amge was in the final months of her fifth pregnancy, she feared that she'd never hold that baby in her arms.
The doctor's exams didn't go well. Experts didn't know what to make of her sonograms. Something was wrong.
Now, 20 years later, Amge has reason to be proud. Her youngest daughter is happy, healthy and world famous.
"All the bad feelings are erased, replaced by good ones," Amge tells The Huffington Post. "We are lucky."
At just under 25 inches tall, Jyoti Amge of Nagpur, India, is the world's shortest woman. She's a college-bound student, with dreams of making it as an actress. Still, she weighs just 12 pounds -- only nine pounds more than she did at birth.
Even among dwarfs, Amge is tiny. "Game Of Thrones" star Peter Dinklage is more than twice her height. But Amge remains an optimist.
"It's hard for me to reach things," Amge says. "It's good I have brothers and sisters to help."
PHOTO GALLERY
World's Smallest People Have Big Dreams
Amge is the only little person in her family. She was born without the growth hormones necessary to achieve a normal height. Though she has a severe form of dwarfism, she attended public school and helps her parents around the house as she can.
Amge entered the Guinness World Records book several years ago, as the world's shortest teen. As spokeswoman for the new book, she's in town to remind us that the 2014 edition is filled with amazing photos, stories and interactive apps, including one that will allow you to see how you'd look with the world's longest tongue.
This year's book features the largest walking robot, the shortest donkey, the tallest useable pogo stick, and a tightrope-walking dog.
Amge kicks off festivities for the Guinness World Records 2014 launch Thursday with an event at the Empire State Building.
AMAZING GUINNESS WORLD RECORDS 2014 PHOTOS
PHOTO GALLERY
Guinness World Records 2014
"I don't regret being my size. I am happy the way I am," Amge says. "It's allowed me to do amazing things."
In her travels for Guinness, she's met 8-foot-3-inch Sultan Kosen, the world's tallest man, and 21-inch-tall Chandra Bahadur Dangi, the world's smallest man.
"It was amazing to see a person smaller than me. I was excited to see him, the way other people are excited to see me."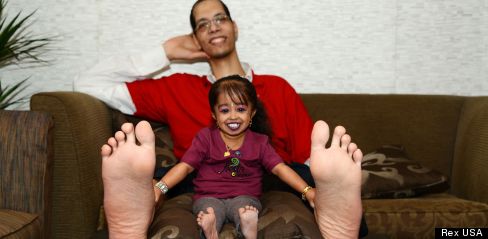 Jyoti Amge and 8-foot-1 Brahim Takiollah teamed up for the Amazing Feet challenge -- one of the largest mass-participation records ever attempted.
Calling all HuffPost superfans!
Sign up for membership to become a founding member and help shape HuffPost's next chapter