If we want to know what voters are really thinking about the issues facing the presidential candidates, ask the kids. They always tell it like it is.
Check out this new website where kids can learn how to interview community members about election issues and post them to YouTube.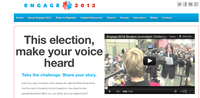 This competition called Engage2012.org is for students in K-12 and is run by the non-profit Media Arts Institute to encourage kids to make two-minute interview videos about one or more of these six issues facing the country and post them to YouTube, and then fill out this online application.
Voter Turnout
Jobs and the Economy
Education Reform
Health Care
Energy and the Environment
Immigration
The hidden agenda here is that it also gives students an opportunity to get involved in democracy while also practicing their 21st century media skills. There are also prizes up to $1,000 for the winning videos as well as national recognition on YouTube and ABC News.

Students can use cameras or smart phones to make these videos and there are instructional videos online just to help learn how to make a video using either a camera or your smart phone. Here are some resources for students and teachers. Videos can be up to two minutes long but shorter videos are also welcome

This exceptional opportunity is made possible through the cooperation of some major companies and foundations including YouTube, the ABC News digital division, The Newseum, The Poynter Institute, The Harnisch Foundation, Adobe, Baruch College of The City University of New York, the Student Press Law Center, the University of Oregon School of Journalism and Communication, Creative Commons., and Harvard's Berkman Center for Internet & Society.
Students who may not want to make a video but still want to be involved can help organize their peers who want to make videos. These student organizers can sign up to be Student Ambassadors as part of the project's Student Ambassadors Program. There is even a competition for them.
The 10 Ambassadors from around the country who motivate the most students from their schools and community organizations to participate in the challenge may each receive an award worth up to $500 in value.
The Engage in Democracy 2012 Student Journalism Challenge was founded in the spring of 2012 by leaders and educators from the University of Oregon School of Journalism and Communication, the Media Arts Institute, Baruch College and the Alliance for Excellent Education. The project will be administered by educators from the University of Oregon, Baruch College, the Media Arts Institute and by student leaders from the University of Oregon School of Journalism and Communication.
The project's primary goals are to motivate K-12 students to participate in the democratic process, include student voices in national discussions surrounding election topics and encourage curiosity, exploration and creativity in both children and adults throughout the nation.
Now kids have a chance to get involved. The competition will close at midnight on Nov. 5, 2012. Winners will be announced on Dec. 21, 2012.
Popular in the Community