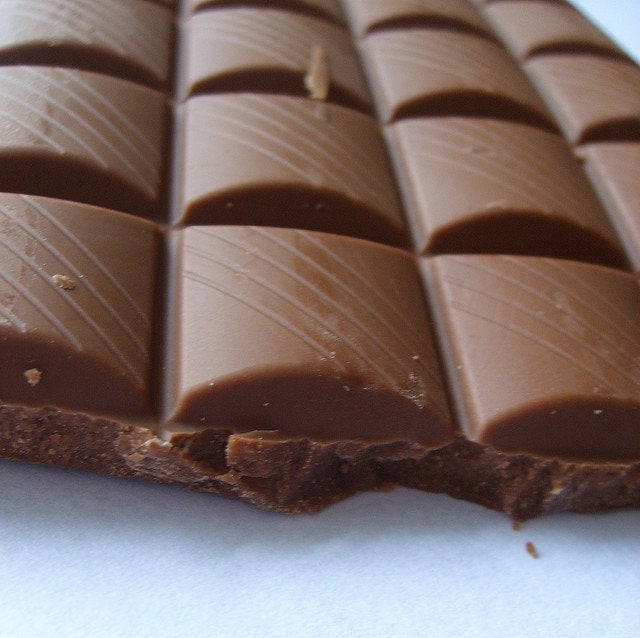 You would never know that Diane Kron has been creating some of the world's finest chocolates for nearly 40 years. Kron's passion for perfection and her devotion to her customers has kept her from aging. Or maybe it's the chocolate.
The small business she began in a New York City basement with her husband, Tom, is now world-renown, and in addition to Madison Avenue location, K Chocolatier now features stores just off Rodeo Drive in Beverly Hills and another at the Malibu Country Mart.
Today, her son David creates the chocolate, using the family recipe. He creates it fresh daily. It is an artisanal chocolate made in small batches and is the favorite of celebrities and chocolate lovers around the world. It is shipped across the country, as well as to Europe, Asia and Africa. It is also messengered across town.
For Valentine's Day, I visited Kron's Beverly Hills location. Not much larger than a walk-in closet, the store was a showcase of glass-encased chocolates and rose bouquet-packaging. Customers are greeted at the door by Diane or one of her two lovely sales associates -- Simona Grace and Alexandra Medrano (both of whom were once merely customers). The customer is allowed to try a sample.
"Even if they don't buy anything, I want them to try to the chocolate," Kron says, adding, "Because I know they'll be back." And they do come back. K Chocolatier produces a luxury good that despite a down economy generates repeat business because of the quality of product and the customer service.
"We like to make our customers feel special," Kron says. "You should feel special when you receive this." And for people shopping for themselves: "It should make you feel elegant, a luxury you can afford. It's a gift to yourself."
The gift aspect is fitting. The presentation is as unique as the product. Liquor chocolates ($40/bag) -- filled with Patron tequila, Ketel One vodka or Johnnie Walker Blue Label Scotch whisky -- are offered in a cocktail shaker. A ladybug gift box is another example of the stylish design offered by K Chocolatier.
But most interesting, perhaps, are the garden of roses and mini-bouquets, which can be filled with a variety of chocolates. The realistic-looking flowers appear delicate and fragile, but are actually sturdy and are not harmed during the shipping process. Complimentary gift bags are also available. There are no heart-shaped boxes or other clichéd examples of mass production.
The most popular chocolate is the truffle ($40/bag), a rich eruption of rich, sweet, satiny dark chocolate that is instantly pupil-dilating and which lingers long on the palate.
Alexandra's favorite is the wild berries ($25/bag) -- a gummy bear-like consistency of tart berry flavors wrapped in sensuous dark chocolate -- a complex juxtaposition of flavors takes several seconds to fully appreciate.
"It's a double dose of antioxidants," she says.
For Simona, it's the white chocolate-covered teddy bears ($25/small bag; $55/large bag), she confesses. Amid the subtler and more daring tastes, she is aware that she is the slave of her own palate, which prefers the simple joy of crisped rice covered in white chocolate. Or chocolate crack, as Alexandra refers to it.
One of the more versatile items is the Hungarian Drinking Chokolate ($20/travel pak; $40 lucite gift canister) -- a finely ground chocolate that can be poured into pancakes, over ice cream or mixed into milk or coffee. Or can be eaten straight out of the bag.
Kron emphasizes the health effects of her chocolates, from the lack of excess sugars to the healing antioxidants. Many doctors recommend the effects to their patients, including Dr. Oz, who has referred patients to Diane, who was prescient in creating such chocolates before the rest of the industry caught on.
The entire experience, from purchasing the chocolate, to giving it and to tasting it is a special treat. It's designed to make you feel better. "We're like chocolate therapists," says Kron. Let the therapy begin. Happy Valentine's Day. Enjoy some fantastic chocolate with someone you love -- even if that someone is yourself.