K. Larsen is a romantic suspense novelist from Maine. She's written over a dozen novels and is a master of the unexpected plot twist. Larsen's latest book, Imposter, releases later this week. Imposter is a departure from her body of work in that the novel is straight suspense sans the romantic element. It's the story of one family's struggle to hold together through the terror of child abduction.
MW: This will be a strange interview because sometimes we write books together, but Imposter you wrote alone. Did you miss me while you were writing it?
KL: I always miss you when I'm not writing with you. Our writing union feels so natural it's odd to go back to writing alone. I kinda forgot that writing is normally so solitary. It's nice to have a cohort.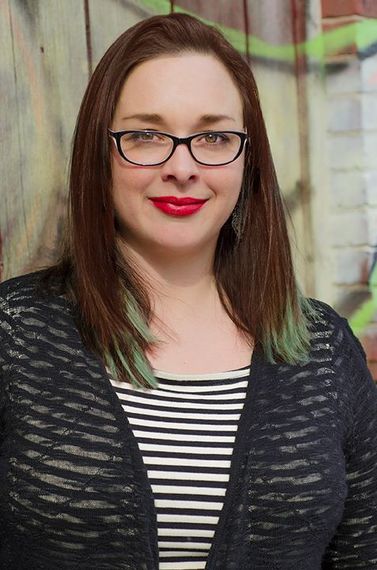 MW: So sometimes you write romantic suspense and sometimes you write romance, but Imposter is not romantic at all. What made you decide to go in that direction with this novel in particular?
KL: I love thrillers and suspense. I've always wanted to write one but I wasn't sure my readers would enjoy it and that's kind of scary for me as a writer. I polled one of my Facebook groups about using a pen name for this book because it's not romantic, and they resoundingly said No! So I went for it and wrote the book under K. Larsen. I trust them, if they say I can pull it off, I can.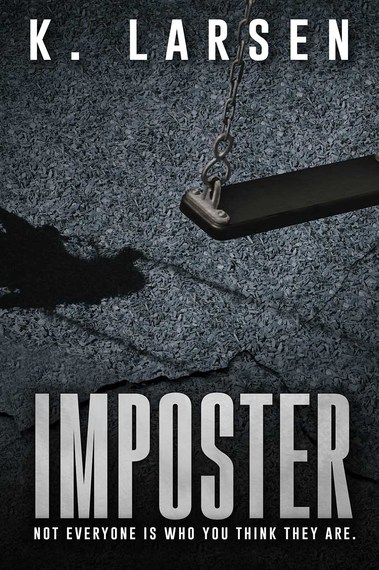 MW: Where did you inspiration for the story come from?
KL: The idea was a combination of a news article and my messed up imagination. The story is set in my home town. A few weeks before we moved here, a man tried to abduct a little girl. In the end, he wasn't able to and she was saved but it starts to make you wonder. As the mother of a little girl myself, this news story really got me thinking. That, of course, spiraled into a 'but what if' situation in my brain. Then, because I have an overactive imagination, the twists took form and I had a story plotted out in my head.
MW: How was the process different from crafting a romance story? Do you think you'll keep going in this direction (suspense) with future stories?
KL: I have already started another project that is- so far- a mystery/suspense novel. There are elements of love in it because in real life, it's those relationships which can make or break you. Over time, some of those relationships that began romantically can end up in a non-romantic place rather quickly.
Crafting a romance, for me, is easier in the respect that the conflict between two characters is easier to resolve when there is love or romance involved. Love is a catalyst for forgiveness and hope. When you take those elements out- it becomes harder to rationalize those traits between characters. I love writing romantic suspense so I am sure I will continue to cross genre lines in the future.
MW: The story is set in Maine, was there any real life inspiration you pulled from?
KL: Almost all the places mentioned in the book are real. So the descriptions are based on the actual places. And I absolutely pulled some inspiration from my own children's interactions, and neighbors in the neighborhood etc.
MW: What kind of special research did you have to do for this project?
KL: I needed to know what sort of plans were set into motion for recovery of missing children. The National Center for Missing & Exploited Children was a wealth of information that was very helpful. I had to also tap into my own emotions. How would I react if my child went missing? How would that affect my relationships? My marriage? The remaining kids at home?
MW: Do you plot in advance or do you wing it and move forward without knowing exactly where it will go?
KL: This book took me almost twice as long to write as any other books I've published!
I got stuck at thirty thousand words for a long time. I wrote in fits and starts. Nothing came some weeks and then others I knocked out five thousand words in a morning and I don't know why. I really needed to let parts of this book marinate in my mind before I could type a word. I would fall asleep thinking of certain scenarios. I'd wake up having dreamed about the plot line. It was a very strange process.
I actually scrapped almost forty percent of the book and rearranged the entire layout because it didn't read right to me. Normally I don't plot per say, but I can see the story in my head from start to finish. As I write things do change but usually not in a significant way. This book was a departure in writing style for me. It definitely pushed my boundaries. I've never scrapped large portions of a book before, but it all worked out in the end.
MW: Jezebel was also a departure from your norm and it was received well by your readers--tell me about Jezebel. Do you think that story in particular appealed to romance readers? Do you think a lot of romance fans read suspense? I know I do.
KL: Jezebel was a step away from romance and a step toward straight thriller. It's about a girl named Annabelle, who runs into some trouble and is sentenced to six months volunteer work in an assisted living facility. No, no... strike that... it's about a woman who lives in an assisted living facility and the story she has to tell a girl named Annabelle. That's not really it either. It's about Celeste.
Just read it. It's got a unique ending that most people don't see coming.
I do think it appealed to romance readers because there were romantic aspects in it but overall it was a suspense novel. Romance readers seem to really enjoy romantic suspense books. It adds a thrill to a straight up romance novel.
MW: What do you like to do besides writing?
KL: I am a huge DIY'er. I rehab furniture. I paint things. I make lots of pinterest fails. I like to make things with my hands. Or makeover things. I also love music but more than anything- I really dig my dog. Don't judge
KL: Next... well I have started a new project that is about a young woman who was held captive for twenty three weeks. It's thriller-ish, suspenseful, and dark...maybe a little too dark. I don't even know what genre it will end up in. I'm bad at categorizing my own work. Also, I plan on co-writing another novel with a pretty stellar author I know.
REAL LIFE. REAL NEWS. REAL VOICES.
Help us tell more of the stories that matter from voices that too often remain unheard.