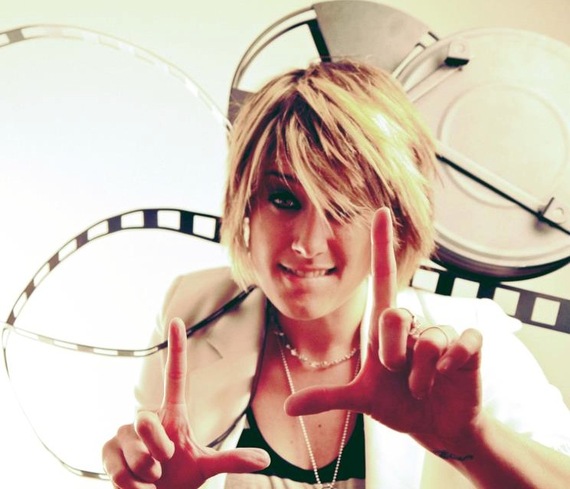 This week I talked with filmmaker K. Rocco Shields of Genius Pictures about her multiple-award-winning viral short Love Is All You Need?, which is about to become a full-length feature film. The concept of the film follows the life of an ordinary heterosexual girl who is bullied in a world where everyone is gay. Imagine a world where gay is straight and straight is gay. Challenging our current conception of the terms "gay" and "straight," this controversial film, written and directed by Shields, not only reverses the meaning of the terms but addresses the social and cultural prejudices that emerge with hate and bullying.
I also talked with Shields about her spin on LGBT issues. When asked about her personal commitment to LGBT civil rights, she stated:
My personal commitment to LGBT civil rights is through the power of cinema: We can make a difference and impact the world. I give this lecture at different universities around the United States about how to use media for social change. In short, basically we can track media, television, film as a springboard to represent minority cultures and bring them to public awareness. It was done with the Afro-American community, and it's been done with several other minority communities, and the more we can show these people on cinema, we can make them less of an "other" and more of just part of society. So I dream for a day when we see gay characters on TV and the story lines are not about them being gay. I really think that a film like this can really open up people's eyes and really make them understand, because it allows them to put the shoe on the other foot and really walk a mile in LGBT civil rights issues.
The Gay, Lesbian & Straight Education Network (GLSEN), considered one of the most revered anti-bullying organizations in the U.S.A., has partnered with independent film company Genius Pictures and Melke Pty Ltd to co-produce the feature-length adaptation of Love Is All You Need?. Additionally, From the Heart Productions, a charitable 501(c)(3) organization, will partner with GLSEN, Genius and Melke in an Indiegogo crowdfunding campaign that launched May 13.
Listen to more interviews with LGBTQ leaders, allies, and celebrities at OUTTAKE VOICES™.
REAL LIFE. REAL NEWS. REAL VOICES.
Help us tell more of the stories that matter from voices that too often remain unheard.