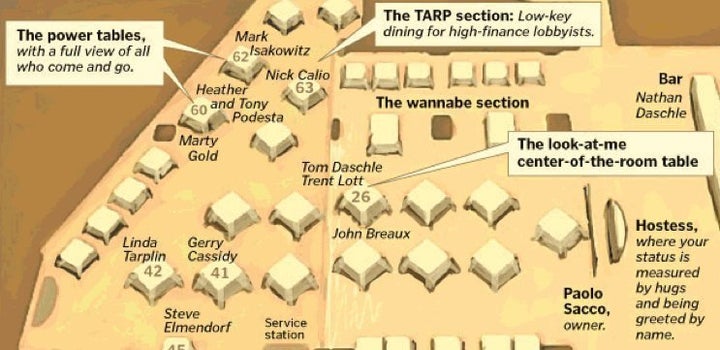 LobbyBlog was upset to read in the Washington Post's epic story on Ristorante Tosca, a favorite feeding ground of lobbyists, that the term "K Street" is terribly passe:
"This is the same crowd that some poor out-of-the-loop souls still call K Streeters," wrote the Post's Manuel Roig-Franzia. "Never mind that that old shorthand for the lobbying biz is soooo Clinton-era, given the shifting center of gravity in the lobbyist world."
The center of gravity shifted because many lobby shops have sprouted up off K Street in nearby Penn Quarter, where Tosca is located.
So what should be the new shorthand for the lobbying industry, if the ever-handy K Street is out? LobbyBlog invites readers to enter suggestions in the comments. We'll follow up with the best ones later this week.
The Post piece offers an amazing amount of detail about who sits at what table at Tosca and even illustrates the seating arrangements with an excellent chart.
Another interesting bit: Lobbyists lobby each other. Ethics reforms forbid lobbyists from buying meals for members of Congress, so what you see at Tosca is lobbyists fulfilling the wine-and-dine impulse by taking each other to lunch instead.
The tone of the piece is light and breezy throughout, but it nevertheless manages to sound one perfectly ominous note:

If only we knew just a smattering of what gets discussed in this subdued setting -- a simultaneously discreet and overtly public space -- with its 38 white-clothed tables, its leather chairs, its varying shades of brown, champagne and taupe. No music is playing at Tosca, but we still can't hear what's being said. These lobbyists know how to keep their voices down.
Calling all HuffPost superfans!
Sign up for membership to become a founding member and help shape HuffPost's next chapter