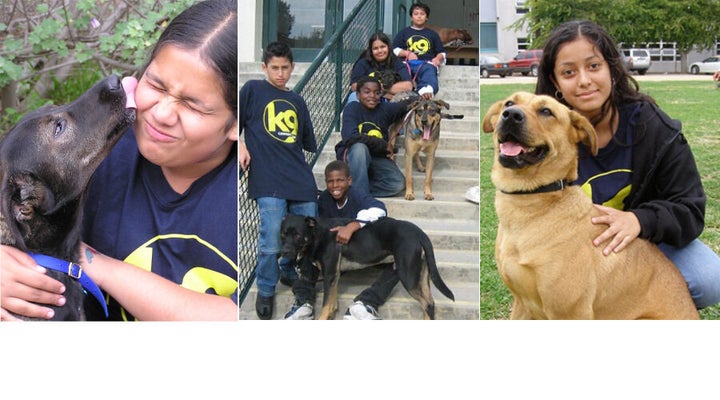 At-risk teens. Animals abandoned at shelters. Two marginalized groups in great need of love, security, and a chance at living a good life. With an alarmingly-high rate of teen suicide (the third leading cause of death among teens) and over three million unwanted dogs and cats euthanized each in year in shelters, it is easy to feel helpless towards these two populations who demonstrate an overwhelming need.
An innovative solution: put these two groups together and unleash the healing power of the human-animal bond. That's what Katherine Beattie and Pat Sinclair envisioned when they formed k9 connection, a non-profit organization that educates and inspires at-risk teens through bonding with and training homeless shelter dogs.
k9 connection, located in Santa Monica, California, is a remarkable organization whose mission is to teach at-risk teens how to train homeless shelter dogs in basic obedience skills in order to increase their chances of adoption. Through the training they provide to the dogs, the teens benefit by learning how to be more responsible and accountable, the importance of goal setting, and how positive reinforcement offers an alternative to force and violence.
At lot of the lessons the kids learn by training the dogs can be applied to the various challenges they may face in their daily lives. In turn, the shelter dogs develop skills that allow them to smoothly transition into permanent, loving homes.
During the course of the training the students learn how to train the dogs, and they also spend time learning life skills within workshops facilitated by various talented volunteers.
The day I visited the campus of the school where the k9 connection program was taking place was an experience I will never forget. I was observing the basic obedience training session where a professional dog trainer was helping the kids understand how to communicate with the dogs. Each teen was paired with a volunteer. At one point during the training, one of the volunteers had to leave early and I noticed a very frustrated teen trying to get his dog to sit and take treats without success. I was told that this particular teen had significant emotional challenges. I decided to fill in and try to help him out. I do have a background in basic training of shelter dogs, and I absolutely love working with kids and animals. Under the supervision of the k9 staff, I thought I'd give it a try.

When I got over to the teen (I'll call him Robbie), he sadly said to me, "I can't do this." Apparently Robbie was having difficulty understanding how to give the dog a treat. He was offering the dog a treat with a closed hand. The dog was gently trying to get the treat out of Robbie's hand and was confused as to what was happening. I showed Robbie how to open his hand and offer a treat. He was afraid to do it himself. I put my hand under his and positioned his hand to offer the treat. The dog gently took the treat off of Robbie's hand. The immediate pride and beaming face on Robbie was priceless. We did it again together a few times, and then Robbie tried it himself--successfully. With a grin from ear to ear he gave me a big hug and asked me to partner with him. I was honored. We proceeded to teach his dog a few tricks, and I witnessed Robbie's confidence soar. In a short period of time, I witnessed a youth who was labeled emotionally disturbed and afraid of a dog open up emotionally and connect with his companion.

After the outdoor obedience class, we proceeded into a room to have a workshop facilitated by a communications coach. The workshop involved goal setting and visioning. Robbie and I had a good time coming up with ideas of possibilities for his future. His main goals were to get along with his family and to help people. He wanted to be a doctor or a massage therapist so he could help people feel better.

After all of the teens and volunteers were finished mapping out their goals and visions, it was time to share. Robbie asked me if I could read aloud to the group since he didn't feel comfortable doing so. As I read to the group Robbie's list of goals, all of which had to do with helping others, there wasn't a dry eye in the room.

A few weeks later, I showed up at the graduation and saw Robbie. He successfully completed the program and taught his dog all of the obedience skills. I went up to him after the event, not really knowing if he'd remember me. He gave me a big hug and said "Hey, where've you been?" He then proceeded to introduce me to his family members as the lady that helped him to not be afraid of the dog. To say that I was deeply touched is an understatement. Robbie had graduated from the k9 connection program and had developed a special bond with the dog he had trained.

I've long known the k9 connection was a remarkable organization. They have helped many kids and dogs for years. But there's nothing like personal experience. I felt very blessed to have that opportunity to work with Robbie that day. I witnessed someone go from feeling emotionally closed down to connecting with a dog to opening up with possibilities for the future.
At the conclusion of each training session is a graduation ceremony for the students. If you ever need a heart-opening cry for seeing what is good in the world, go to a k9 connection graduation. When you hear the speeches of the kids and how working with the dogs has affected their lives, you better have your own box of tissues--or a mop.
Several students shared how they often skipped school in the past, but working with the dogs gave them a reason to come to school because they didn't want to let the dog down. Others shared how helping the dogs increased their sense of leadership, responsibility, and patience. Many were from broken homes and the close bond they felt with their dog was very special. Some offered how they lacked confidence and self-esteem, and knowing that they helped to save a dog's life meant the world to them.
WATCH: Teens share how k9 connection has impacted their lives:
So now these students have had these life-changing heart-opening experiences with their canine companions. Their canine companions are now being adopted into loving homes. What is next? This is a crucial time for these kids to not feel abandoned and to have continuing opportunities to develop the life skills they have learned.
What is also remarkable about k9 connection is that they make a long-term commitment to their participants. After the obedience training program, the graduates are supported by k9 staff and volunteers ongoing assistance in to fulfill their visions and goals. Some of the teens decide to become Peer Leaders and they help the new students entering the program.
k9 connection has been able to have a profound effect on the lives of both teens and dogs. Teens who have graduated from the program have demonstrated improvement in behavior, self-esteem, skills of goal setting and impulse control, and the sense of accountability and community. Students barely making it through high school are now succeeding in college. And every shelter dog in the program has been saved from euthanization and placed into a loving home.
To find out more information about k9 connection, to donate, or to volunteer, visit their website: k9connection.org