The first time Sandi Capra met Scott Young, a young war veteran who was staying at the K9s For Warriors residential center in Florida, she couldn't get him to make eye contact.
Capra, the K9s for Warriors director of development, watched as Young was introduced to his new service dog, Whisky, as part of the program. Young kept his eyes cast low and stayed away from the other vets at the center. When the first day of training was over, the vet who had served in Iraq and Kosovo quietly disappeared with the young dog into his room.
But two days later, something happened. With Whisky by his side, Young began acknowledging the other vets. And the next day, he looked right at Capra and smiled. "Good morning," he said. "It's a good day."
He also made a startling revelation to Shari Duval, K9s For Warrior's founder and president, that same morning.
"Scott came up to me and said that something occurred to him while he was in the shower this morning," Duval said during a meeting later that day with Capra and her team members. "Today was the first day he woke up and didn't think about suicide."
K9s For Warriors is among several nonprofit groups across the U.S. that matches unwanted dogs with war veterans. But the group sets itself apart by specifically targeting shelter dogs about to be euthanized -- some within a day -- and trains them to help soldiers scarred by post-traumatic stress disorder, or PTSD. Veterans spend three weeks at the program's facility in Ponte Vedra Beach, Fla., where they share a four-bedroom, two-bath house -- at no cost to them.
When K9s For Warriors began in May 2011, Duval and her husband, pro golfer Bobby Duval, had a modest goal of graduating 12 warriors and dogs per year. But in 2012, 41 men and women graduated with canines, Capra told The Huffington Post. The organization now has a yearlong waiting list.
With Diamond's help, the tour has attracted support from Halo, Purely For Pets (Ellen DeGeneres' pet food company), American Express Open, Loews hotels and Omni hotels.
Diamond told HuffPost that she was inspired to help K9s For Warriors after learning that suicide among veterans deserves more attention. According to a study the Department of Veterans Affairs released in February, one veteran commits suicide every 65 minutes.
"How could I sit back and just let that number go through my head?'" Diamond said. "I had to find a way to contribute."
Diamond said she chose K9s For Warriors because of its transparency.
The program is funded entirely by donations, Capra said. It spends no money on advertising, and Duval doesn't take a salary. Many of the people who work there with the vets and the dogs are volunteers. Veterans pay only their transportation to the center -- and K9s For Warriors helps find other organizations to help cover that cost.
Dogs give the veterans a new focus, allowing them to better adjust to everyday life after their war service.
Kevin Lindenzweig embodies that success.
The 41-year-old retired Army staff sergeant spent 18 months in Iraq before an improvised explosive device sent him home with a broken back in 2008. Suddenly, he found himself away from the soldiers who'd become his family and stuck at home in Denison, Texas, injured, unable to work, heavily medicated and depressed.
"Basically I became a couch potato," Lindenzweig told HuffPost. "I couldn't leave the house."
Even after he discovered K9s For Warriors and was accepted into the program, he said he remained skeptical.
(Story Continues Below)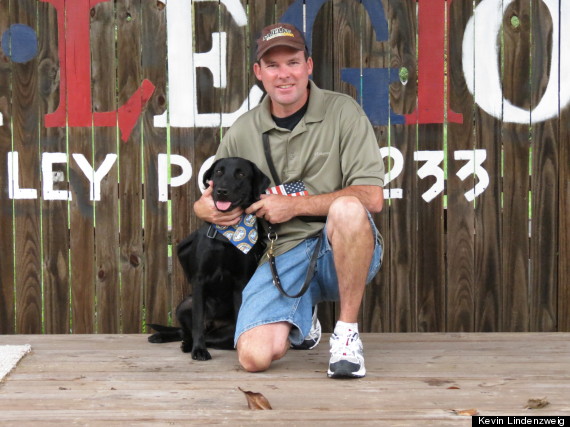 Patriot and Kevin
On Lindenzweig's first day at K9s For Warriors in August 2012, he dropped his bags off, met Duval, and headed to the kennel to be paired with a dog. His first match didn't gel -- he and the dog were mutually disinterested in each other. He instead eyed a small black English lab in a leftover crate -- "the demon dog," one trainer told him. "He just won't walk on a leash."
Lindenzweig didn't care. He hooked a leash to Patriot and the two walked in stride.
That night, while half-asleep, Lindenzweig was jolted awake -- by slobber. Patriot, only about a year old, had interrupted Lindenzweig's nightmare.
"I think I just knew, right then," Lindenzweig said.
A year later, Lindenzweig has abandoned his couch potato status. He's active again in the lives of his three children and wife. He weened himself off most of his anti-anxiety and pain medications. He and Patriot have even met former President George W. Bush on several occasions. ("He recognizes Patriot before me," Lindenzweig said.)
(Story Continues Below)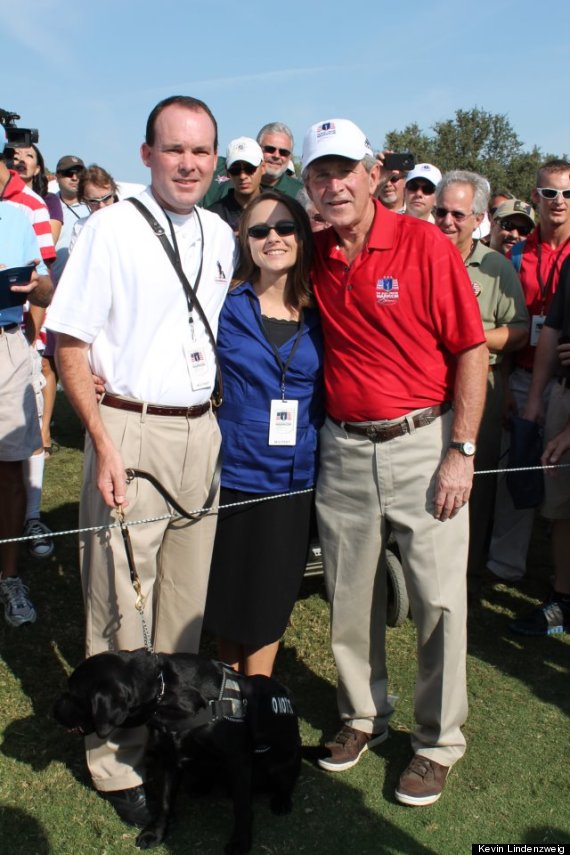 Kevin and Patriot meet President George W. Bush.
"Basically it's given me another outlook on life," Lindenzweig said. "It's given me my ability to engage in public again. It's given me the ability to start my own nonprofit (Hooked On Freedom) so I can help people like me."
His story keeps K9s For Warriors' employees, like Capra, and its advocates, like Diamond, inspired to keep it growing. At each stop along the tour this summer, Diamond and K9s For Warriors workers will spread awareness about vets, PTSD and the canine program. Many graduates will attend with their families.
Mariza Hart, whose husband graduated from the program on Friday with his dog, Bolt, is eager to give back to K9s For Warriors. She plans to attend the Los Angeles tour stop, near the couple's home in Riverside, Calif.
Hart, 43, said she feels like she suffered from what she called "co-PTSD" living with her husband, Jon, who was deployed to Iraq from October 2008 to October 2009.
"What I want to stress is that a wife or loved one will do anything to see their veteran happy again," Hart said. "And when Jon first got to the facility, he called me one afternoon and told me that he'd had a moment, standing on a beach next to Bolt, where an overwhelming sense of peace washed over him -- one he hadn't felt in a long time."
(Story Continues Below)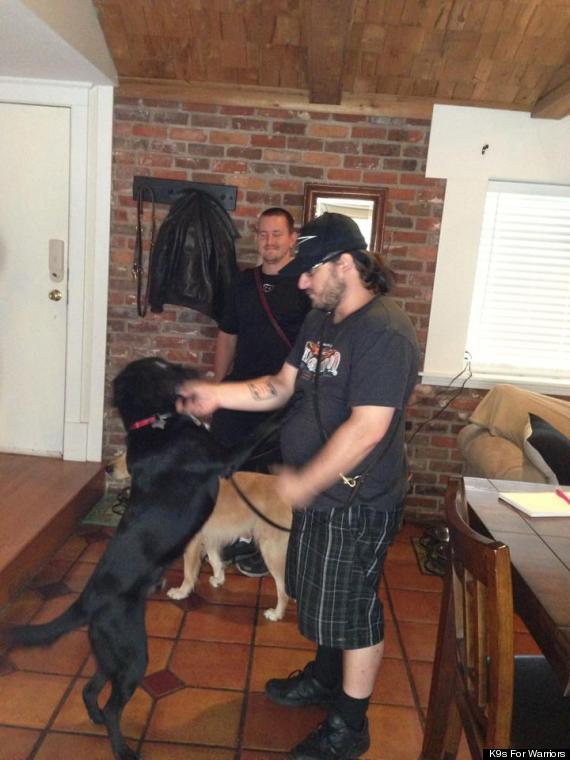 Jon and Bolt train at the K9s For Warriors facility.
"If Bolt can help him reach that state in such a short time, then it'll all be worth it," Hart continued. "I'm really hopeful that this will be what Jon needs. I'm hopeful it'll be a happy ending."
Visit K9s For Warriors on Facebook for more information about the program and updates on the Barks For Breakfast tour.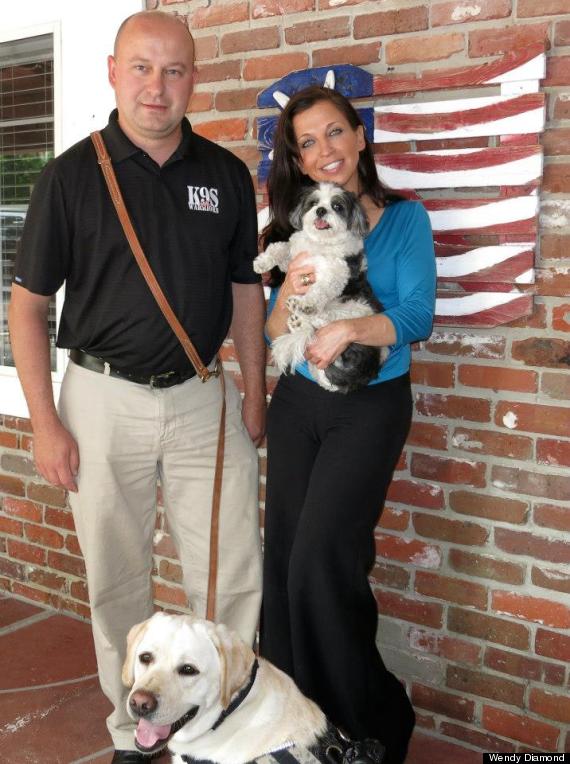 Wendy Diamond (right) poses with a warrior and his canine.
Calling all HuffPost superfans!
Sign up for membership to become a founding member and help shape HuffPost's next chapter
BEFORE YOU GO
PHOTO GALLERY
Our Favorite Military Reunions