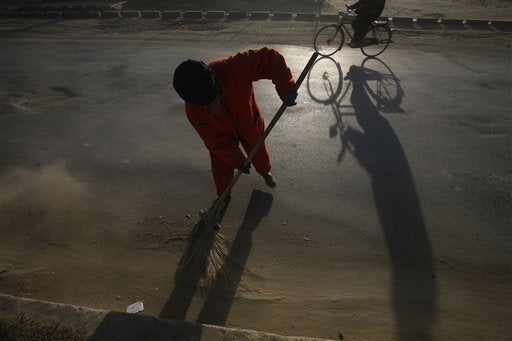 KABUL, Apr 15 (IPS/IFEJ) - On any given day, a pall of smog and dust hangs over Kabul's streets. It clings to the face, burns the eyes, and stains the hands. It bathes the cars, often stuck bumper-to-bumper in traffic, and occludes the view of the distant mountains.
"My friends and I prefer to stay indoors whenever we meet," says Kabul resident Habib Zahori, "because we can't stand the air outside."
The biggest killer in Kabul may not be the Taliban, but air pollution. Experts consider Kabul to be one of the most polluted cities in the world, and the scale of the problem has prompted a widespread government campaign.
"Air pollution is just a huge problem here," says Amanullah Hosseini, the director for environmental health in the Afghan ministry of public health. "It leads to so many diseases - respiratory diseases, allergies, miscarriages and even cancer."
The ministry estimates that some 3,000 people die from pollution-induced illnesses in Kabul yearly making them the biggest cause of natural death in this city of five million. And according to the National Environmental Protection Agency (NEPA), a government body, nearly 80 percent of Kabul's hospital patients suffer from diseases caused by polluted air and water.
With an increase in exposure of 10 micrograms per cubic metre in the level of small particulate matter (air particles of 2.5 micrometres or smaller), "there is a six percent increase in cardiovascular deaths and an eight percent increase in deaths from lung cancer per year," states a recent report from the ministry of health.
Kabul has three times the amount of particulate matter per cubic metre than cities in neighbouring countries, according to NEPA.
And the gap is even wider in comparison to industrialised countries. A measure of nitrogen dioxide, a dangerous substance, registers a level of 52 parts-per-million, whereas the same reading in the United States shows a level of 0.53 parts-per-million.
In the 1980s, Kabul was a quaint city with lush greenery and clean mountain air. But years of war, the crumbling of public services and population explosion have plunged the city to the depths of environmental pollution rarely seen elsewhere in the world.
The biggest culprits are the 900,000 vehicles that clog the city streets, says Dad Muhammad Baheer, NEPA's deputy director. "More than 80 percent of these are older than ten years," he says. Most in the city cannot afford newer cars, and the old cars lack catalytic converters and other technological improvements that limit harmful emissions.
And the cars travel over mostly filthy, unpaved roads, as most of Kabul's streets are not asphalted. Vehicles kick up large amounts of dust that hovers for days, until the next rainfall, posing an immense hazard to pedestrians.
In addition, Afghanistan imports very low-quality fuel, dubbed "dirty fuel" by government officials. The exhaust from these fuels pile pollutants into the atmosphere, including lead. According to NEPA, a randomly selected sample of 200 people found 80 percent had high levels of lead in their blood.
"I know this fuel causes problems in the air," says Sayed Farhad, a petrol station owner. "My eyes burn at the end of the day. But I have to make a living."
Much of the country's petrol comes from Turkmenistan to the north and Iran to the west, and merchants import the lowest grade available to maximise profits. "Our business people want to make more money," says Baheer. "They don't pay any attention to people's lives. They just want to benefit themselves."
Kabul's many powerless nights - electricity is still intermittent here - spark the widespread usage of diesel generators. NEPA estimates that over 200,000 such generators are droning on any given night, infusing the air with still more pollutants.
Another problem is Kabul's swollen population - the city was designed for 500,000 but houses close to five million, many of whom are refugees who returned after the fall of the Taliban to United States-led troops in November 2001.
Kabul produces nearly 2,000 tons of solid waste a day when the capacity for dealing with it is 400 tons, says Baheer.
In addition, "Kabul is the only capital in the world that I know of that lacks a sewage system," he says.
The scale of the problem is so great that President Hamid Karzai recently formed a special task force to tackle it. NEPA is leading a group of ministries in an attempt to address the causes of the pollution, starting with the dirty fuel that is imported into the country.
New government regulations are on the cards to prevent traders from importing substandard fuel. A delegation has also visited the petroleum ministry of Turkmenistan and extracted a promise to help curb the practice from that side of the border.
The government is also setting up monitoring stations on the border to inspect all inbound vehicles and ensure that they meet emissions standards. "Next, we are planning to check vehicles that are already here in the country," says Baheer. "We will study the emissions and ask the owners of those vehicles to upgrade their cars."
The Kabul city government is also launching a drive to cut down on other pollutants, such as the ubiquitous wood-burning stoves throughout the city, mostly used for making bread. Officials say that more than 2,400 bakeries in the city use such stoves, and typically around such installations soot-ridden smoke billows into the air.
A more fundamental solution, analysts say, is a comprehensive urban planning programme for the city. Kabul today is a sprawl of open sewers, illegal settlements, squatters, garbage-strewn streets and standstill traffic from the many closed roads. The city has not had a comprehensive plan to assimilate the millions of new residents, says Baheer, and without one tackling air pollution will remain an uphill struggle.
Meanwhile, one of the most common sights on Kabul's streets is street vendors and security guards with their mouths and noses swaddled in scarves.
"If I had a wish list," says Zahori, "breathing clean air would be near the top."
(*This story is part of a series of features on sustainable development by IPS - Inter Press Service and IFEJ - International Federation of Environmental Journalists, for the Alliance of Communicators for Sustainable Development).
REAL LIFE. REAL NEWS. REAL VOICES.
Help us tell more of the stories that matter from voices that too often remain unheard.