"What'd you think?" Kacey Musgraves asked. We were talking about her new album, "Golden Hour," and she was asking in that smiling, expectant way that suggested she knew the answer already.
We'd just met at a hotel restaurant in midtown Manhattan, Musgraves having arrived late, as should have been expected. In the very first lyric of "Slow Burn," the album's opening track, she sings that she "hasn't been early since '88," a reference to her beating her due date by arriving in the middle of her mother's baby shower.
"It's not what I was expecting," I said, before starting to stumble through an explanation that was best abandoned. "I like it," I went on, "but it's ... weird."
"Golden Hour," set for release on March 30, isn't that weird. There are still banjos and pedal-steel guitars, still all the hallmarks of modern country, still Musgraves' natural songwriting, unmistakable voice and Texas twang.
But it is sort of weird. The lyrical and metaphorical twists that have become her signature are mostly absent. So are the bits of humor she's sprinkled into past albums. And then there are the Vocoder synths and disco sounds and a few horn sections that give her fourth album a whimsical, dreamy vibe that, at least on first listen, might catch even her most hardcore fans off guard.
Musgraves has spent much of her early career sharply critiquing the world around her. On "Golden Hour," she's appreciating it. It feels like hippie country. Eccentric country.
"Galactic country," she said.
And then Musgraves started to chuckle.
"I don't feel like this album will be what people expect from me," she said.
"In my head," she went on, "I was wondering, 'What would it sound like if Imogen Heap made a country album?'"
The answer: It sounds like a musician unbound, from the conventions of country music, from the tiresome arguments over what constitutes "real country," from an industry that hasn't so much made her a superstar as it has watched her become one anyway.
″ ... Untangled all the strings 'round my wings that were tied," she sings in "Butterflies," one of pair of singles released in early March. That sense of liberation runs through all of "Golden Hour," one of the most interesting and creative country albums released in recent memory.
"There can be this attitude of having to prove how country you are ... and letting that be what defines your sound, and really being a stickler to that," Musgraves said. "And I just I think that can be dangerous. I refuse to play that game, to be in that contest."
For the whole of its history, the country music industry has been caught up in a neurotic existential debate over what is and is not country. The Country Music Association was founded in 1958 as means of protecting and promoting country music during the Elvis Presley boom. When it seemed in 1975 as if the CMA had become too permissive in turn, traditionalists broke away and formed the Association of Country Entertainers, which they hoped would "preserve the identity of country music as a separate and distinct form of entertainment."
Subtext occasionally became text. In 1979, Porter Wagoner, a Country Hall of Fame recording artist who often performed alongside Dolly Parton, criticized the mingling of pop and country radio formats by saying, "It's kind of like mixing all the races."
This may seem funny because the music itself has always been a mongrel, a touch of gospel here and a strain of the blues there, with rock 'n' roll joining up later in what geneticists would call an inbred backcross. As the author Paul Hemphill wrote in his book The Nashville Sound in 1970, "Let the Country Music Association and the scholars talk all they want to about country music being the only pure form of American music; what they should say is, it is the purest hybrid music we have in America."
But the industry's angst isn't about preserving a particular sound, which is why there's room on country radio today for both Chris Stapleton's traditionalism and Sam Hunt's hip-hop-infused country. The ACE gave the game away in 1975: It's about identity. Country was and is, in Hemphill's phrase, "the folks' music," by which he meant white folks, the tribe of people who define themselves in opposition to middle-class taste, urban blackness, Yankee cosmopolitanism.
It has always been the business of the country business, and particularly of country radio, to draw and redraw the borders around the music and then to stand sentry over those borders.
That sense of country music as a garrison built in enemy territory gets reinforced by the structure of the business, which unlike any other genre is still driven by radio, even in the era of Spotify and other digital streaming services. Playlists come to radio DJs and programmers from consultants on high. Stars are handpicked. Country music is what country radio executives say it is.
And Kacey Musgraves, those executives have apparently decided, is not country music.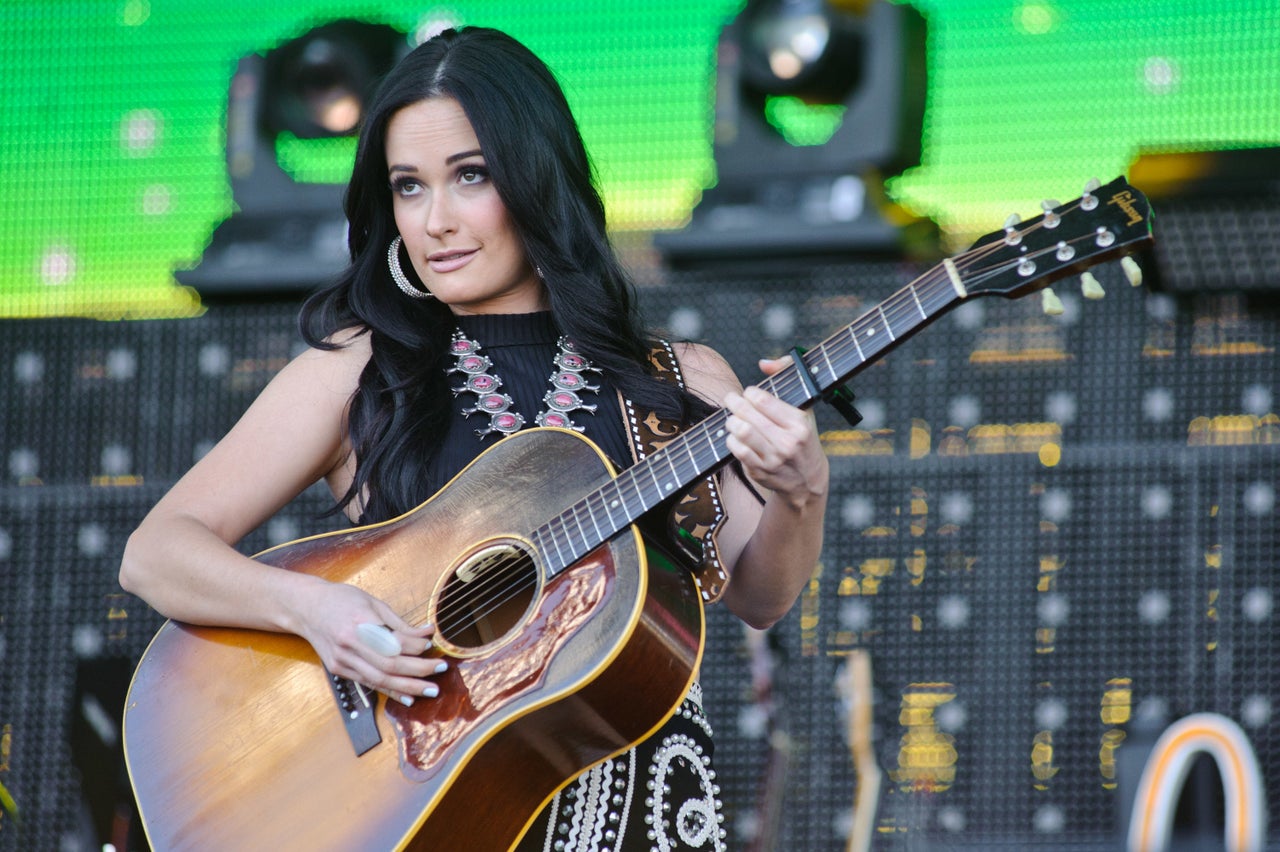 That may sound ludicrous, but for her all her success, Musgraves has still barely dented country radio.
Her debut hit, "Merry Go 'Round," rose to No. 10 on Billboard's Country Airplay chart, which measures radio play exclusively. But she hasn't repeated the feat since, producing just one other Top 20 Airplay single.
Musgraves' second single, "Follow Your Arrow," became a "queer country anthem" for its LGBTQ-inclusive messages ― "kiss lots of boys, or kiss lots of girls, if that's what you're into," she urged ― and reached the Top 10 on Billboard's Hot Country Chart, which combines radio play with digital and online streaming data. But it tanked on country radio, peaking at No. 43 on the Airplay list.
That problem isn't unique to Musgraves. Many of country music's most famous women succeeded in spite of the industry, not because of it. And when they dared broach subjects that explicitly violated country's inherently conservative politics ― like Loretta Lynn's "The Pill," a song about birth control ― the songs were exiled from country radio, even as they won acclaim and praise in other formats.
Their best work has often struggled to rise up charts like the throwaway hits of bona fide country dudes, but that's particularly true today.
Look at the Airplay chart at any given point. You'll find all sorts of singles about women, and hardly a song by them. The week of March 10, female solo artists occupied just three slots in the Top 50, and none in the Top 25.
"It seems a group of 10 guys who all sound the same have no issue getting on the radio," Musgraves told HuffPost, without criticizing anyone specifically. "But women who vary vastly from each other have a very hard time breaking through even in the smallest way on the country radio chart."
"The only place you can't hear Musgraves' music or someone singing its praises, it seems, is on country radio."
Life in country music isn't as bad for women as it used to be. Major labels and studios are at least pushing more and more female solo artists and giving them freedom to create the sort of music they want to make. Veterans like Miranda Lambert and newcomers like Cam have produced albums that have sold well without completely smashing radio charts, making some of country's best and most provocative music in the process.
But country radio still isn't playing their songs.
"Women have really come a long way, but they're still dealing with a structure that really mitigates their success," said Mary Bufwack, co-author of Finding Their Voice, a history of women in country music. "They're getting support from labels. But if they don't achieve success, will they find themselves out in the cold? Because the radio isn't promoting them, and therefore the audience isn't hearing them."
Musgraves' label, she said, gave her almost total control over "Golden Hour," and has mostly let her plot her own path throughout her career. And she's never made her music with an eye turned only toward radio. Still, it's frustrating.
"Critical acclaim, and even quality of sound," she lamented, "does not translate to the chart."
With a few notable exceptions ― including erstwhile country megastar Taylor Swift ― there has always been a gap between the preferences of country music radio and country music critics, who love nothing more than to anoint talented musicians just outside of the country radio consensus as the new saviors of country.
But there may not be an artist who's caused a bigger rift between country critics and country radio than Musgraves. She's never lacked for critical acclaim, and for good reason. What makes her one of country's most interesting artists is that she's spent her career using her roots in country identity to poke a stick in the industry's eye.
Born and raised in Golden, Texas (population 200), Musgraves comes with cornpone bona fides, as heard on her 2013 debut, "Same Trailer Different Park." That album was rooted in her simultaneous appreciation of the rituals and habits of small-town America and her wish to escape their tedium:
Mary Mary quite contrary,

We get bored so we get married

And just like dust we settle in this town

On this broken merry go 'round
She followed that up in 2015 with "Pageant Material," an album full of strings and John Prine touches that also told the actual industry ― and country radio, which had essentially just ignored "Follow Your Arrow" ― to go to hell.
"I don't wanna be a part of your good ol' boys club," she sang.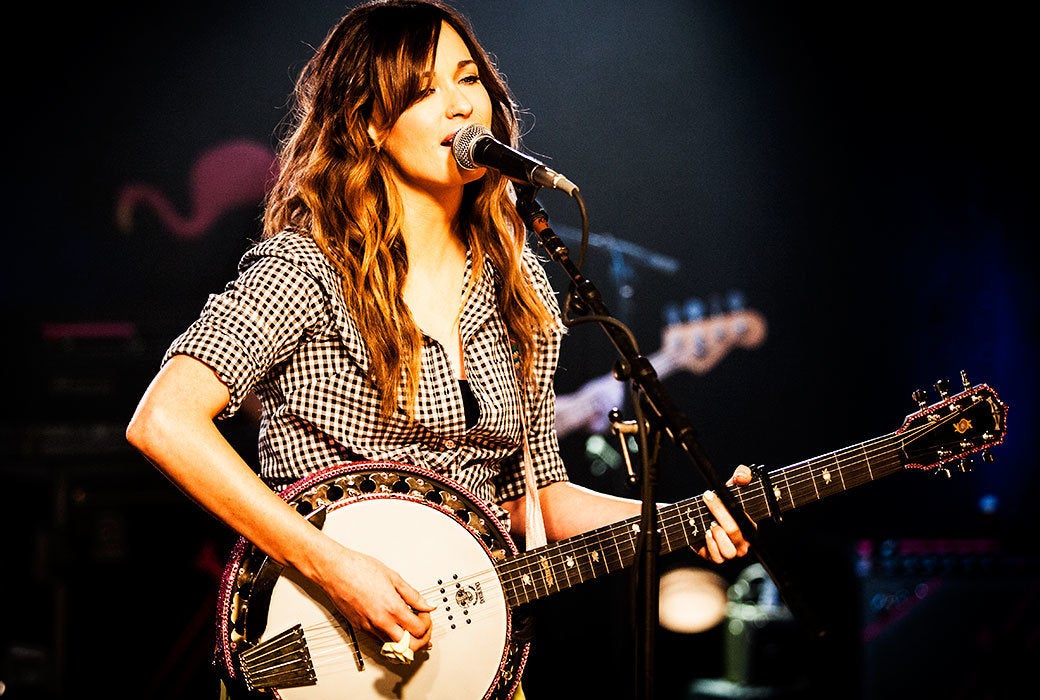 She earned praise from outside the industry, too, and a well-earned reputation for making country music for people who really like country and for people who truly think they don't. Here was a singer as comfortable onstage at Bonnaroo as she was at country fests, an artist at ease making duets with both Willie Nelson and Miguel. She was a country music darling who toured with Katy Perry.
"I've always really loved this place where traditionalism meets modern," Musgraves said. "Maybe it's just because genres are bending these days, but also, a good song is just a good song, no matter how it's wrapped up."
She also has the awards to back up that approach: a Best Country Album Grammy for "Same Trailer Different Park," a Best Country Song Grammy for "Merry Go 'Round," another Grammy nomination for "Pageant Material." She has two Country Music Association awards and another from the Academy of Country Music to go with them.
The only place you can't hear Musgraves' music or someone singing its praises, it seems, is on country radio.
Male country radio programmers often blame the lack of female presence on their stations on pure capitalist considerations. Their primary goal is to keep people from flipping the station, and country fans, even female country fans, simply don't like listening to women sing. So they claim.
In 2015, Texas-based radio consultant Keith Hill earned the ire of nearly every woman in country music for trying to put numbers to that problem. The ideal formula for a country radio station, Hill said at a conference, was for songs by women to make up no more than 15 percent of radio playlists. And then he compared women to tomatoes, causing no small amount of controversy.
"Trust me, I play great female records and we've got some right now; they're just not the lettuce in our salad," Hill said. "The lettuce is Luke Bryan and Blake Shelton, Keith Urban and artists like that. The tomatoes of our salad are the females."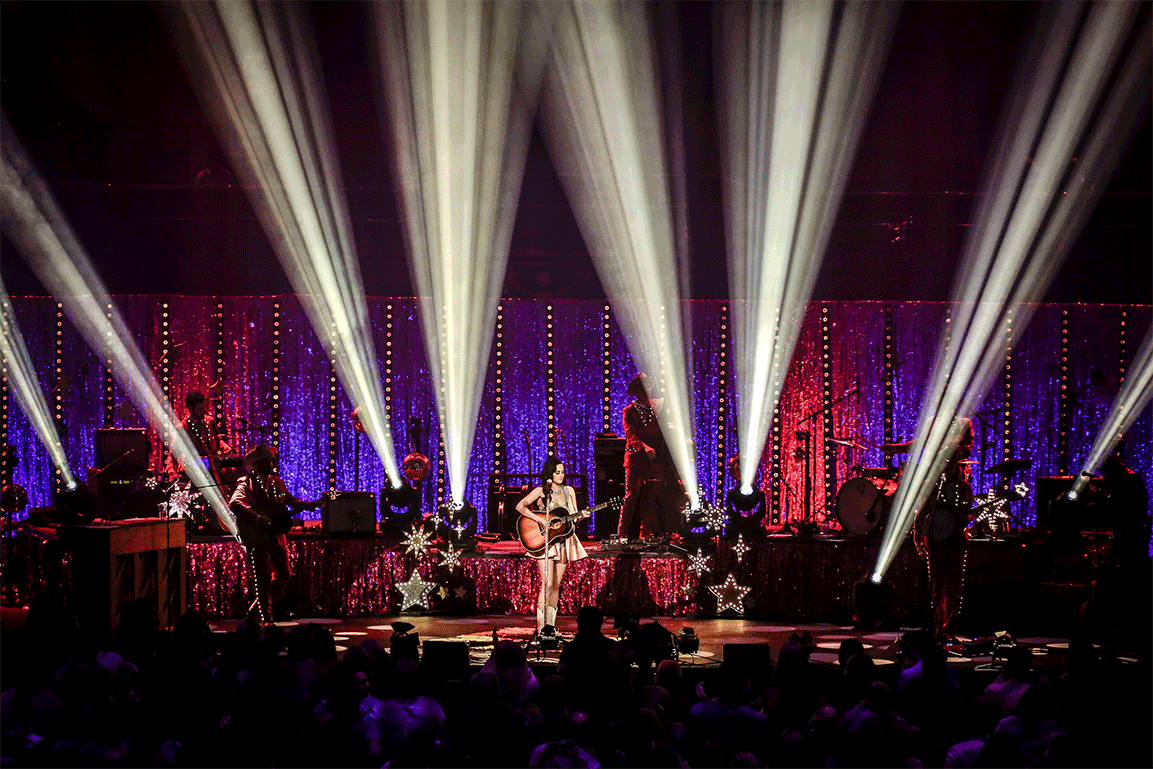 I asked Hill what he thought of Musgraves. "I wish I was the God of country radio, because Kacey Musgraves would be a superstar," Hill said. "I think, to date, we've missed the opportunity with Kacey as a format. There's nothing wrong with Kacey Musgraves. Country radio just hasn't embraced her."
Plenty of fans have. Musgraves' first two albums each debuted at No. 1 on Billboard's sales charts; it'd be surprising if "Golden Hour" doesn't make her three-for-three. She's accomplished the feat by cultivating a modern pop star's fan base.
"If you look at my fan base, it's primarily women and gay men," said Musgraves, who scores better on charts that measure digital sales and downloads than on radio lists.
Musgraves isn't ready to say that country radio doesn't matter, and the first two singles from "Golden Hour" ― "Butterflies" and "Space Cowboy" ― would be country radio hits in any sane world. But she's leaving any concerns about how "Golden Hour" performs on charts, or about whether country radio embraces it, to everyone else. "Wherever it lands," she said, "it lands."
"I love country music, I love the fans and I love my fans. But I'm not scared of 'em. I'm going to do what I'm going to do."
Musgraves' sharp lyrical elbows have earned headlines in the past, especially when critics interpreted one line from "Good Ol' Boys Club" ― "Another gear in a big machine don't sound like fun to me" ― as a potential diss of Swift, who was signed to Nashville's Big Machine label at the time (it wasn't, she said).
There's only one such song on "Golden Hour": "You're classic in the wrong way," she sings on the funky disco tune "High Horse," before telling her target to "giddy up, giddy up and ride straight outta this town."
"I have my thoughts as to who 'High Horse' is about," Musgraves said. "But we all know that character, you know what I mean? We all have that character in our lives."
"Golden Hour" is intentionally understated. Think of it as a maturation of the industry critique Musgraves began in "Same Trailer Different Park," the work of a self-assured artist breaking the mold instead of the younger version telling us that one day she would.
"This album, in its own way, is commenting on my view on the state of everything," Musgraves said. "It may not be as pointed or literal as a song like 'Merry Go 'Round' or 'Arrow,' but it's still looking through the lens and writing through that lens. It's just maybe, on this album, a bit more is left up to the listener to fill in."
While she relied on Nashville-based co-writers and producers, and wrote much of the album at her home in Nashville ― where she believes "there is no better songwriting community" and plenty of "good, creative juice flowing" ― Musgraves turned elsewhere for her musical influences: to the Bee Gees, to Neil Young, to Sade.
"I think there's fear in creative risk. But you don't get far by not risking anything creatively," Musgraves said. "I love country music, I love the fans and I love my fans. But I'm not scared of 'em. I'm going to do what I'm going to do."
Musgraves recorded the album in Sheryl Crow's sound studio, which sits in the loft of a horse barn on a farm outside the city. She finished "Oh, What a World," which in many ways is the album's spiritual and stylistic center, the day of the solar eclipse that darkened Nashville almost completely. It was Aug. 21, her birthday.
It was a few months before her marriage — to fellow country artist Ruston Kelly — and the beginning of the final year of her 20s, and it inspired her new album's mixture of freshly encountered happiness and natural curiosity about what comes next.
"It was kind of like the universe was saying that you need to be present, and, I don't know, witness this beautiful thing that's happening," Musgraves said. "It led me to kind of focus on the positive and beautiful elements of this earth and this relationship I'm in, despite the fact that the social and political landscape is a little unnerving in a lot of ways. It's nice that this album injects me with a little bit of positive color and hope."
So "Golden Hour" may be a bit weird, and a bit surprising, by country's traditional standards. But it's relaxed, authentic and at home with itself. There's nothing more country than that.
Support HuffPost
The Stakes Have Never Been Higher
Popular in the Community