Kaci Hickox, the nurse currently being held in quarantine at Newark University Hospital despite testing negative for Ebola, has hired a prominent civil rights attorney to help get her out of isolation.
Siegel told Reuters that Hickox will file a federal lawsuit over her quarantine.
Meanwhile, the ACLU of New Jersey released a statement demanding Gov. Chris Christie (R) provide more information on the circumstances surrounding his new policy calling for a mandatory 21-day quarantine of any health worker returning home from West Africa who came into contact with Ebola patients.
"Ebola is a public health issue and the government's response should be driven by science and facts and not by fear. We must treat our medical workers who put their lives at risk, and are the only ones who can contain this epidemic, with compassion and not like criminals," Udi Ofer, executive director of New Jersey's ACLU, said in a statement, adding that the organization had "serious constitutional concerns about the state abusing its powers."
Hickox, a nurse who had been treating Ebola victims in Sierra Leone, landed at Newark Liberty Airport Friday night just hours after Christie's abrupt announcement about the mandatory quarantine, made in conjunction with New York Gov. Andrew Cuomo (D). In an op-ed published in the Dallas Morning News Saturday, Hickox described the "emotionally exhausting" ordeal she endured following her arrival, during which she was held in a quarantine office for six hours and only given a granola bar and water while officials refused to answer her questions.
"I was tired, hungry and confused, but I tried to remain calm," she wrote. "My temperature was taken using a forehead scanner and it read a temperature of 98."
Hickox later registered a temperature of 101 (which she said was a result of being flushed and upset), and she was subsequently put into quarantine at Newark University Hospital, where she tested negative for Ebola but is still being held. She spoke to CNN Sunday from her medical tent, which she says has a portable toilet but no shower, no television and weak cell phone reception.
Two high-ranking federal officials criticized the quarantine policy on Sunday, arguing that it will deter medical professionals and aid workers from visiting Ebola-ravaged West Africa to help combat the spread of the fatal disease. Ebola can only be transmitted through contacting bodily fluids of patients exhibiting symptoms, and under the most recent federal guidelines, travelers returning home from West Africa must have their temperature taken twice a day for three weeks -- the amount of time it takes the virus to develop in the body after exposure.
Dr. Anthony Fauci, director of the National Institute of Allergy and Infectious Diseases, said Sunday that not only do aggressive quarantines of asymptomatic health workers contradict science, but such measures could ultimately worsen Ebola's impact in Africa. "Let's not forget the best way to stop this epidemic and protect America is to stop it in Africa, and you can really help stopping it in Africa if we have our people, our heroes, the health care workers, go there and help us to protect America," he told ABC. "If you put everyone in one basket, even people who are clearly no threat, then we have the problem of the disincentive of people that we need."
United Nations Ambassador Samantha Power said that instead of disenfranchising aid workers, "we need to make sure they are treated like conquering heroes."
The New York Times reported Sunday that the White House is also pressuring Christie and Cuomo to reverse the mandatory quarantine. In the mean time, Illinois and Florida have adopted similar measures.
The governors announced the quarantine rule one day after New York City doctor Craig Spencer, who had recently returned from treating Ebola patients in Guinea, tested positive for the disease. He is the fourth person to have been diagnosed with Ebola in the United States.
In a press release Saturday, Doctors Without Borders, the Nobel Prize-winning organization that both Spencer and Hickox volunteered for, spoke out about the circumstances surrounding Hickox's quarantine. "Doctors Without Borders is very concerned about the conditions and uncertainty she is facing," it read. "While measures to protect public health are of paramount importance, they must be balanced against the rights of health workers."
The ACLU has not announced whether it will legally challenge the states' authority to quarantine individuals who exhibit no symptoms and test negative for Ebola, but Ofer encouraged lawmakers to base their decisions in science.
"This is a challenging time for New Jersey, but decisions must be made based on sound medicine, and not on fear," she said in a statement. "Governor Christie must provide more information to the public about how the state came to the conclusion that mandatory quarantine of our healthcare workers was medically necessary."
Before You Go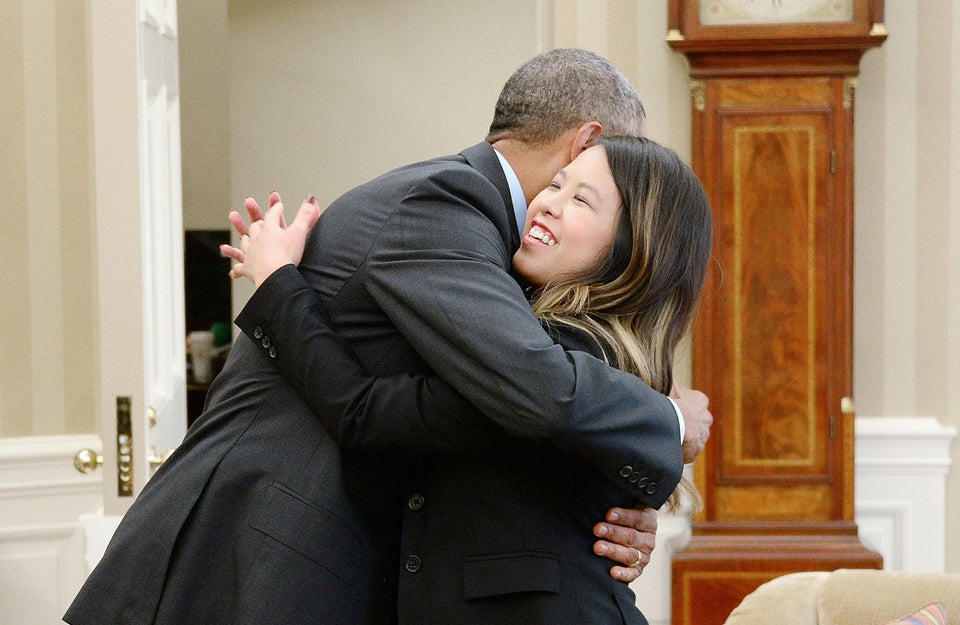 Ebola In The U.S.
Popular in the Community