His entire life Trump has done a decent job in keeping in his feelings about black people hidden enough. Every now and then he will do something completely offensive like harassing the Central Park 5 long after their acquittal. Or be caught discriminating against African-Americans and have to settle housing discrimination lawsuits. But for the most part his rhetoric (unlike his justice department policies) has walked a thin line between flat out racism and thinly veiled racism.
That was until after the election, now the gloves are off and Trump can be Trump and that includes racist comments. His latest dig at Colin Kaepernick is the real Trump. Trump in a stump speech in support of Luther Strange's bid for the Alabama Senate seat said "Wouldn't you love to see one of these NFL owners, when somebody disrespects our flag, to say, 'get that son of a bitch off the field right now, he's fired?'" It's not even the first time Trump went after Kaepernick. Trump has tweeted taking credit for Kaepernick not having a position on an NFL team. But it was an odd time to talk about the NFL while he was out stumping for a Senate candidate.
But Trump knows his crowd. Looking out at the totally white crowd in Alabama, Trump most have felt he was on safe ground. And the crowd did cheer. The same type of crowd that bashed President Obama for filling out an NCAA bracket cheered Trump telling NFL owners to fire their players for protesting the lack of police accountability.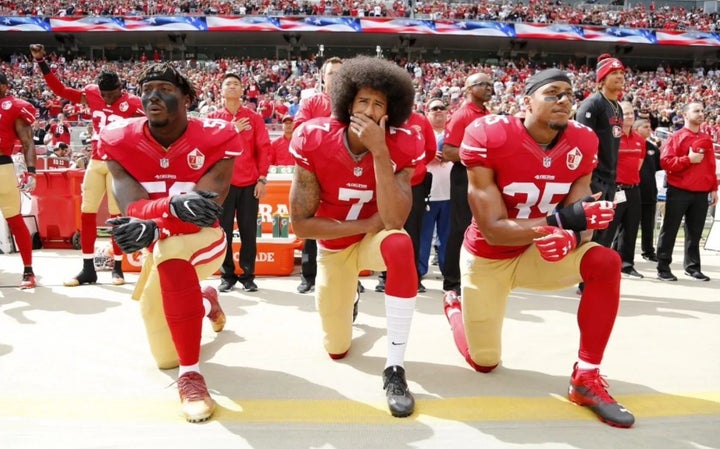 It was a departure from Trump's lukewarm comments he gave about Charlottesville, where he claimed "both sides" were at fault. And he was much more forceful when talking about Jemele Hill's tweet than when he was discussing Putin. Like I said, Trump knows his crowd.
But what Trump and a lot of white people don't understand is that Kaepernick's kneeling has brought more attention to these issues. Kap's taking a knee and all the consequences that went with that meant that one more media outlet would run a story about Kap with a story about another senseless killing like the one in Oklahoma City.
A mentally challenged, deaf man was standing on his porch when police officers arrived looking for the driver of a hit and run. There were no deaths involved in this hit and run so officers were looking for someone who left the scene of an accident. Magdiel Sanchez was not the driver or in any way involved with the accident. Sanchez often went on walks in his neighborhood and he took a small metal pipe with him to protect him from stray dogs. The officers shouted for him to drop the pipe but Sanchez didn't hear the officers or understand their commands. Several neighbors yelled at the police officers that Sanchez was deaf and couldn't hear them. But the officers shot him anyway. One officer shot this man with a taser, the other officer shot him six or seven times with his gun. This deaf, mentally challenged man died on his own porch.
Trump will never have to worry about the issues Kaepernick and other black people are protesting. He won't have to worry about being shot on his porch, spending two years in jail for allegedly stealing a backpack, spending years in jail for a small amount of marijuana, or because you're unable to pay a fine. Trump will never have to worry about his child being gunned down in a park with a toy gun that they sell in Walmart. Trump will not have to worry about a family member killed by police, and the police officer goes free or is never charged in the first place.
Philando Castile – No Conviction
Terrence Crutcher – No Conviction
Sandra Bland – No Conviction
Eric Garner – No Conviction
Mike Brown – No Conviction
Rekia Boyd – No Conviction
Tamir Rice – No Conviction
Freddie Gray – No Conviction
The stories are horrific and a person with even an ounce of empathy would try and understand why the protests continue. Trump isn't that person. But there are millions of Americans who can be swayed and who can vote for people that can make changes in the justice system. Or who could be inspired to run themselves for office.
So every NFL player needs to kneel this weekend and every game this season. It is time for those among us with influence to BE HEARD. #TakeAKnee
Calling all HuffPost superfans!
Sign up for membership to become a founding member and help shape HuffPost's next chapter