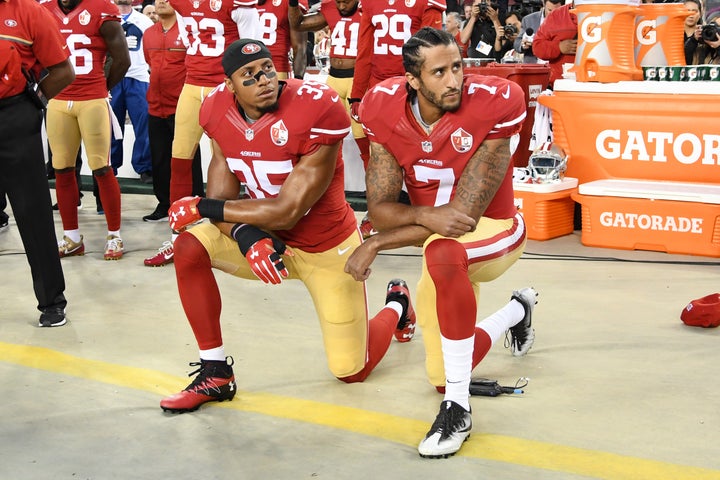 San Francisco 49ers quarterback Colin Kaepernick continued his national anthem protest before the team opened its season Monday night, kneeling through the Star Spangled Banner yet again.
49ers safety Eric Reid again joined Kaepernick in the protest. Los Angeles Rams wide receiver Kenny Britt and defensive end Robert Quinn raised their fists throughout the anthem.
Kaepernick began sitting through the national anthem during 49ers preseason games in August, a gesture he later explained was meant to draw attention to police killings of African-Americans.
"I am not going to stand up to show pride in a flag for a country that oppresses black people and people of color," Kaepernick said after the team's third preseason game. "To me, this is bigger than football, and it would be selfish on my part to look the other way. There are bodies in the street and people getting paid leave and getting away with murder."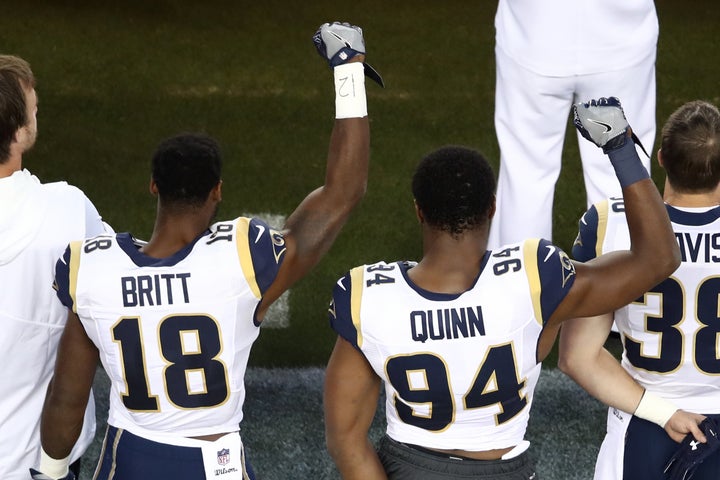 ESPN sideline reporter Lindsay Czarniak said that "seven or eight" of Kaepernick's teammates immediately hugged the quarterback as the anthem concluded, and that some 49ers said today that the discussions the protests have started have "brought the team together." Czarniak also reported that a few fans behind the 49ers bench yelled at Kaepernick to stand up.
Britt, the Rams wide receiver, was among the players who participated in a "hands up, don't shoot" gesture before a 2014 game to protest the fatal police shooting of Ferguson, Missouri, teenager Michael Brown.
Popular in the Community