Colin Kaepernick's free agency may not have generated the type of league-wide interest he surely hoped for, but we do know at least one team ― the Seattle Seahawks ― are courting the veteran quarterback. According to the NFL Network, GM John Schneider reached out to Kaepernick's agent inquiring about his services.
Schneider, to his credit, is spot-on in his interest. Kaepernick is the ideal backup to three-time Pro Bowler Russell Wilson for an assortment of reasons, and it would behoove the team to bring him onboard.
Here are the three main reasons why the Seahawks must sign him.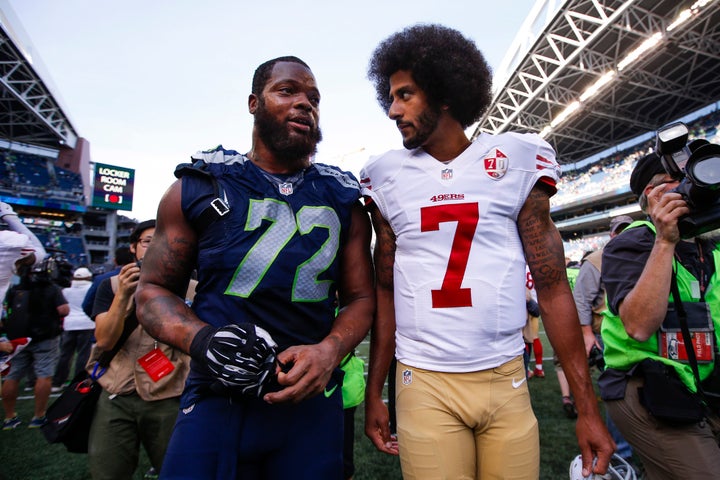 Head Coach Pete Carroll doesn't just tolerate his players being themselves, he encourages it. His philosophy is simple: By entrusting and empowering "his guys," they will play that much harder for him. In turn, a certain level of trust within the locker room is created that perhaps other coaches cannot achieve. After one Super Bowl title and another Super Bowl appearance ― not to mention playoff appearances in five of Carroll's six seasons ― it's hard to argue with the results.
Case in point: Michael Bennett. The defensive end, to be sure, is a fantastic player, but he's also someone whose openness towards the media wouldn't sit well with every head coach. During Bennett's contract negotiation process ― a deal ultimately broken by HuffPost ― Carroll said: "We're gonna take care of him. We love him."
Bennett has been outspoken about his desire for the Seahawks to sign Kaepernick, telling 710 ESPN Seattle: "I think that Kaepernick getting the opportunity to be on our team would be really cool, would really be a good place for him because you have a coach like coach Carroll who is up for challenges like that. ... So this is a perfect place for him."
The 2-14 49ers were downright awful last season, but Kaepernick quietly amassed a productive year, albeit in just 12 games. His 16-4 TD-INT ratio was the best of his career, and his 90.7 passer rating outpaced the likes of Cam Newton, Eli Manning, Phillip Rivers and Joe Flacco. Maybe most surprising? He did all of this with Jeremy Kerley and Quincy Patton as his leading wide receivers. And, with respect to Vance McDonald, it's not exactly as if he was throwing to Jimmy Graham either. When Kap had the more talented Vernon Davis at his disposal though, the tight end earned second-team All-Pro honors while totaling 13 touchdown catches in 2013.
While Kaepernick's stellar, record-breaking days may be behind him, he is just 29-years-old. And, like Wilson, he is an excellent runner who thrives in the read-option. Granted, Seattle doesn't run Wilson as much as it used to, but it's nice to know that your backup features some of the same qualities. 
Seattle's offensive line ― while revamped with the addition of free agent acquisition Luke Joeckel ― is still very much a work in progress. Last season, according to Pro Football Focus, it was the league's lowest rated, least effective line. Moreover, no team in the league has spent less money on its offensive line. Wilson, while he's never once missed a start during his five-year career, has undoubtedly battled injuries and tremendous discomfort as a result of a chronic lack of protection.
Last season, he suffered a "significant" ankle injury in a Week 1 win over Miami, then sustained a slew of other injuries throughout the season. He should not have been on the field in a Week 2 loss to the Rams. Then, in a Week 3 win over the 49ers, he was injured once more. Naturally, his production spiraled downward.
Although the 28-year-old still enjoyed a good year, it was easily his worst as a pro. Wilson recorded his lowest passer rating, highest interception total and least amount of touchdown passes, to go along with just one rushing score as well. He was visibly hampered the whole year.
All of this is not to suggest even the slightest of doubts toward Wilson's ability ― he remains an elite NFL quarterback. What it should signal however, is the notion that he will once again be battered because of an inept offensive line. Seattle's current backup options meanwhile are second-year man Trevone Boykin ― who has been arrested twice in 11 days ― along with 25-year-old Jake Heaps and rookie Skyler Howard, both of whom the team signed as undrafted free agents.
Having a quality backup such as Kaepernick would do wonders for an organization that's not thinking about merely making the playoffs, but trying to lock up home-field advantage for them and capture a second world championship.
Kaepernick, to his credit, overcame last year in San Francisco a situation similar to that Wilson faced. Per Pro Football Focus, the 49ers offensive line ranked 28th out of 32 teams. He has shown superb toughness and is more than capable of winning a couple games should Wilson need a rest. It's those one or two games that determine home-field advantage. And ultimately, winning games ― and rings ― is all that matters to Pete Carroll and John Schneider.
REAL LIFE. REAL NEWS. REAL VOICES.
Help us tell more of the stories that matter from voices that too often remain unheard.