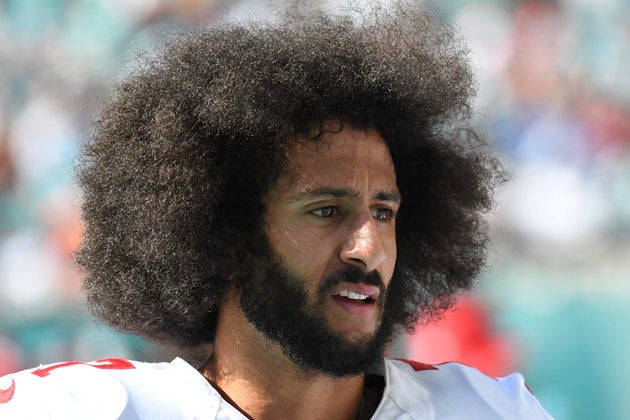 Colin Kaepernick has had more than his fair share of critics. Some of the abusive ones, like Mike Ditka and Donald Trump, have suggested that he would do well to get the hell out of the country and try to find a better one. But many of Kaep's critics have been a bit subtler, saying that there are "more effective" ways to protest racial oppression and police brutality than by taking a knee during the national anthem. Former NBA star Shaquille O'Neal, who says he would never kneel during the anthem, suggested doing "things in the community," adding that he had "never seen Kaepernick do anything in the community."
Did you see that on the first day of the off-season Kapernick donated books, clothes, and shoes to local charities? He didn't ask someone to do this for him; he and his friends visited the charities, met the clients, and personally offered them a helping hand.
Hey, Shaq. Did you see that during the football season Kaepernick, along with a group of friends, conceived, sponsored, organized, and led a camp for hundreds of at-risk black and Latino kids from the San Francisco Bay Area?
Standing tall, Kaep explained to the excited youths that the "Know Your Rights Camp" would give them tools to succeed in life. "We want to teach you today about financial literacy, how you can pursue higher education, how you can be physically fit and healthy," he said. "We will talk about police brutality, and what to do about it, but we also have lawyers, professionals, health and fitness experts, because we want you to be able to live the life of your dreams."
Shaq, did you also see that Kaep plans to hold camps like this in communities all across the country? He wants to make sure that at-risk youths have not only "the skills and lessons they need" for living well but also the sense that "we love and value them."
Given your interest in money, Shaq, surely you saw way back in September that Kaep stood up and announced he would donate the first million dollars of his salary to oppressed and struggling communities.
"I've been very blessed to be in this position and make the kind of money I do, and I have to help these people," Kaep said. "I have to help these communities. It's not right that they're not put in the position to succeed or given the opportunities to succeed."
Since that announcement, Kaep has helped to fund community-based programs that use a variety of methods—education, direct action, and political advocacy—to tackle police brutality, poverty, unjust evictions, poor nutrition, financial illiteracy, low wages, and the lack of education and health care.
Did you notice that, Shaq? Did you see that Kaep dug into his own pocket to help finance a program that helps impoverished families purchase headstones—yes, headstones—for loved ones unjustly killed by law enforcement officers?
That he has provided funds to a community-based program that teaches nonviolence to youths who live in neighborhoods where violent death is a daily possibility? It's the "I Will Not Die Young Campaign," and it educates young black men about the high risks of dying violently and provides them with the resources required to lead peaceful lives that embrace education, employment, and stable families.
Shaq, you and so many of Kaep's critics could not shut your mouths when he was taking a knee during the national anthem. You could see nothing but that knee. And how all of you piled on him, smothering him with your self-righteous charges that he was unpatriotic, that his protest was ineffective, that his skin color wasn't all that black.
Where are you now, Shaq? Now that Kaep has stood tall and proud. Now that he has become "a cultural superhero in the black community," as Shaun King has put it. Now that Kaep has shown just how much he loves America. Where are you and the countless loud-mouthed critics?
One can only hope that you and all of the critics are finally where you belong—on your weak knees.
Calling all HuffPost superfans!
Sign up for membership to become a founding member and help shape HuffPost's next chapter