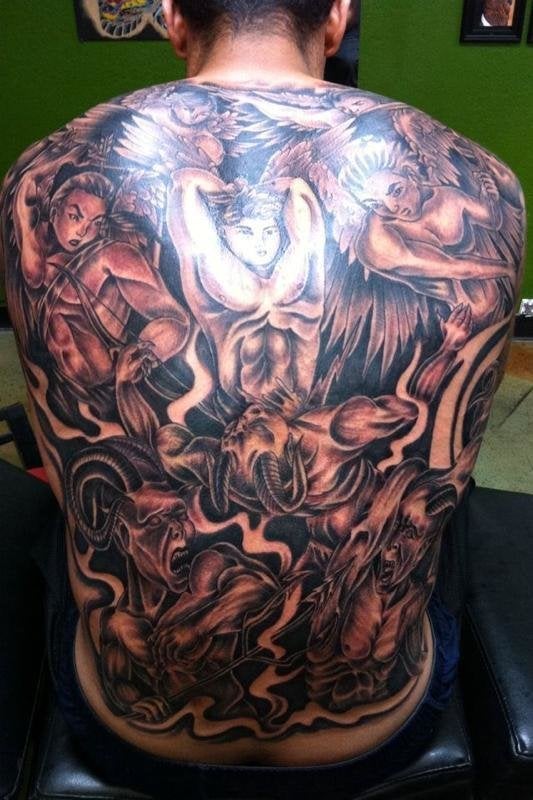 Colin Kaepernick dazzled spectators and opponents throughout the 49ers' run to Super Bowl XLVII. In the world of art, Kaepernick's success in football has helped spotlight two up-and-coming artists who similarly dazzle viewers of their work.
Nevada tattoo artist Nes Andrion and Bay Area artist Ras Terms say the art they each made for the star quarterback created unexpected opportunities to showcase their other works.
Andrion, 35, saw his creations take center stage in national sports debate when Sporting News columnist David Whitley penned a column bemoaning the look of a quarterback with prominent tattoos. The artist who made Kaepernick look "like he just got paroled" in Whitley's eyes was Andrion, a Filipino immigrant who rose from abject poverty to newfound fame in the tattoo world.
"Whatever that guy did, for me he kind of opened doors," Andrion said of Whitley. "It wouldn't be how it is now if he didn't say anything about it. Ever since he said it, it's gotten me a lot of attention. If I got to talk to that guy, I'd thank him."
"How it is now" is busy and booming. Since his artwork became the subject of Whitley's consternation, Andrion estimates his waiting list for customers has extended to the beginning of April. If customers keep coming in at this pace, he projects his income will be roughly $60,000 this year, more than double the $25,000 to $27,000 he approximates he earned last year.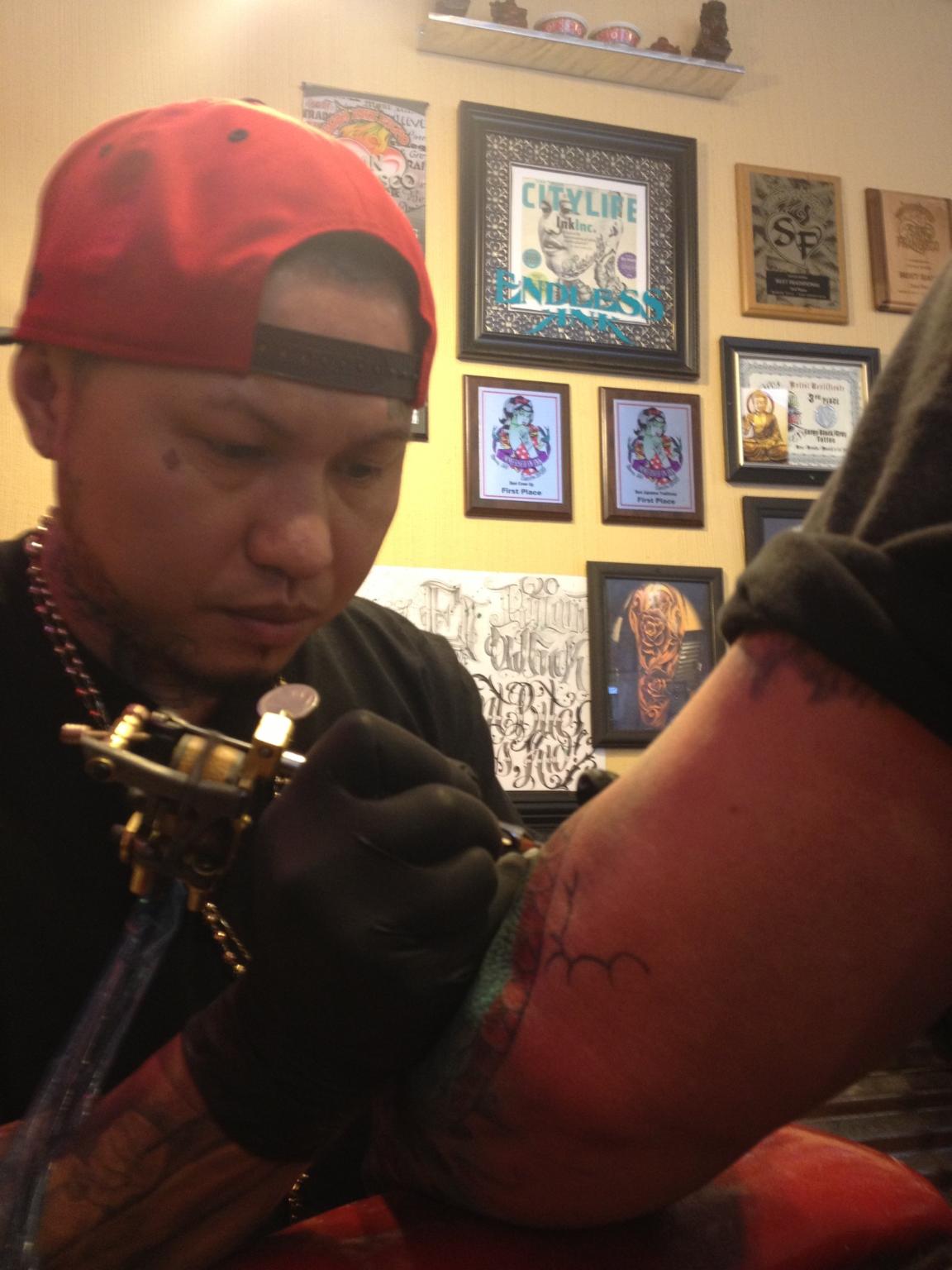 For Andrion, even last year's income would have been unimaginable in his childhood, so the success he's enjoying now is a welcomed departure from his destitute youth in the Philippines.
Abandoned first by his mother and shortly thereafter by his grandmother, Andrion spent most of his early years moving from home to home with his aunt Anastacia and uncle Antonio. They were so poor, he said, that by the age of six years old he was scrounging through trash heaps for scraps to sell in order to purchase even a hot dog or a single egg.
"In the Philippines, people would burn garbage," Andrion said. "I'd take a stick and pick through it and if there was copper or broken bottles in there, I'd take it and put it in my recycling bag just to get money and eat good."
Tattoos first captured Andrion's attention after his mother successfully petitioned for him and three of his siblings to immigrate from the Philippines to her home in Reno, Nev., when he was 10 years old. At the age of 14, he got the only tattoo he could afford at such a young age - the letter "N" on his right arm, to stand for his first name.
Andrion liked the tattoo so much, he decided it would be fun to make his own. He took a needle out of his mother's sewing kit, dipped it in ink, and poked himself with it to see if it would work. After he saw his makeshift tattoo needle worked, he said he then approached numerous tattoo shops to request an apprenticeship, but was rejected because of his young age.
"I was getting a lot of turndowns," Andrion said. "A lot of turndowns. I told myself as I walked out of the buildings of these tattoo shops I wanted to work for, 'one day I'm going to be competing against these guys.'"
He talked friends into letting him practice on them, and he said he eventually taught himself most of what he knows about tattoo art. He eventually started practicing with actual tattoo machines as a side hobby until he opened his own tattoo parlor, Stain Tattoos, in 2007 in Reno.
As a redshirt freshman, Kaepernick entered Andrion's shop for the first time with only one tattoo, a piece of scripture on his arm. Throughout Kaepernick's record-setting career quarterbacking the Nevada Wolfpack, Andrion tattooed Kaepernick so many times that the artist can't remember which tattoo he first put on his most famous walking canvas.
Out of the numerous tattoos he designed on Kaepernick, Andrion said three in particular bring him the most pride. He said he's proud of tattooing "Against All Odds" on the quarterback's chest because of the message's applicability.
"It's a reminder," Andrion said. "That's life. Against all odds. It's part of his life and the way he is."
Andrion also said he loves the story of the large angel-and-demon-themed mural on Kaepernick's back, because he's met with incredulity when he tells other artists how tough Kaepernick was by handling such a large amount of ink in such a short amount of time.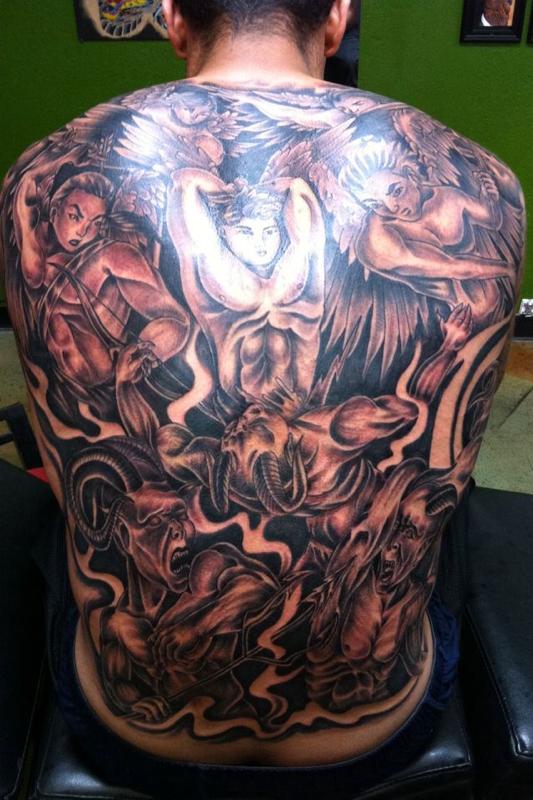 Kaepernick was back in Reno for only a short period of time when preparing for the draft, and told Andrion he needed the entire back mural done in two days. Andrion said he warned Kaepernick how much pain would be involved, but Kaepernick steadfastly guaranteed he could handle it.
The marathon tattooing session on Kaepernick's back lasted eight straight hours the first day, and eight and a half the second day. Kaepernick withstood the pain without making Andrion take any breaks, so by the end of the first session, Andrion was more worn out than Kaepernick.
"The first thing I wanted was to lay down and close my eyes after standing up and working on that same area," Andrion said. "I've never done anyone with that long of a session, back to back. Him taking all that pain together, it impresses me. It says a lot about how patient he is, and how dedicated he is."
The last of the three tattoos Andrion listed as his favorite was somewhat a two-part tattoo: the words "My gift" run down the inside of Kaepernick's right bicep, and the phrase continues with "is my curse" on the inside of his left bicep. Andrion said Kaepernick meant the tattoo as an acknowledgment of a responsibility to use his talents.
"God's given him a talent that has to do with his arm," Andrion said. "It's a good curse. You have to use it. You don't want to waste it. Use that talent. It's like, 'God's given me this talent, I've got to use it.'"
"My gift is my curse" is a sentiment that strikes a chord in Andrion's heart too. He said he feels the tattoo means those fortunate enough to have a gift or talent are obligated to use it in a positive manner. For him, that means imparting his knowledge of the tattoo trade to aspiring artists.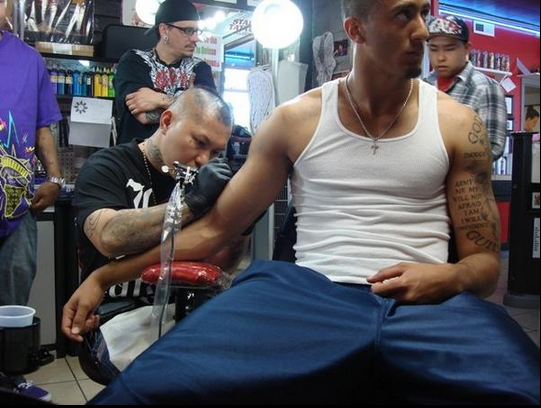 "I think whatever you've got, you've got to share it," Andrion said. "It took me so long to get where I am right now because nobody wanted to help me. I learned it by myself. So that's why now I teach people and do apprenticeships. I'm showing them the life of a tattoo artist."
Andrion also tries to share what he has when visiting his family members who still live in the Philippines. He said it bothers him that some of his relatives are still financially strapped, so he tries to bring them money when he goes to see them.
"I don't think kids should be living like that," Andrion said. "The experience I had, my cousins are still living like that. Walking around, standing on the dirt. When I go back to the Philippines, I put a smile on their face. And it makes me smile."
Andrion attributes the ability to financially help his family largely to the attention he's gotten from adorning Kaepernick with his art. He said he has seen a large increase not just in the number of customers he's getting, but in the variety of locations from which customers are coming to visit him.
Andrion estimated that before the media deluge surrounding Kaepernick's tattoos, approximately 98 percent of customers entering his current shop, Endless Ink, came from the Reno area. Now, he says he's seeing customers from all over the country, especially a large influx of fans from the Bay Area who want 49ers-themed tattoos.
"Them knowing I tattooed Kaepernick makes them come to the shop," Andrion said. "They want to be a part of that, to say 'I got my tattoo from that tattoo artist that did Kaepernick's.' That's what I've been seeing lately on Facebook."
"A couple hundred miles west of Endless Ink, Terms' work is garnering attention beyond the Bay Area buildings and walls he uses as a canvas for his paintings.
Terms' life has taken him from one coast of the country to the other, from being a self-described "street kid" doing graffiti behind schools to designing Super Bowl clothing for one of the hottest names in football. The journey began at an early age, sparked by an innate desire to make artwork.
"I was an artist, always," Terms said. "My mom would give me a pencil and some paper and it would sort of calm me down. I was a hyperactive kid, and when she would give me paper I would start creating."
Terms soon took to the streets to display and develop his artistry, which led to some trouble as a youth, including an arrest for spray-painting the back of a school. As he reached his older teenage years, though, his artwork started demonstrating an awareness of the cultural melting pot surrounding him in his hometown of Miami.
"I started becoming, people started calling me, a 'conscious' street artist," Terms said. "I started talking about positive things, not just tagging my name. My staple is African art mixed with a conscious spiritual art."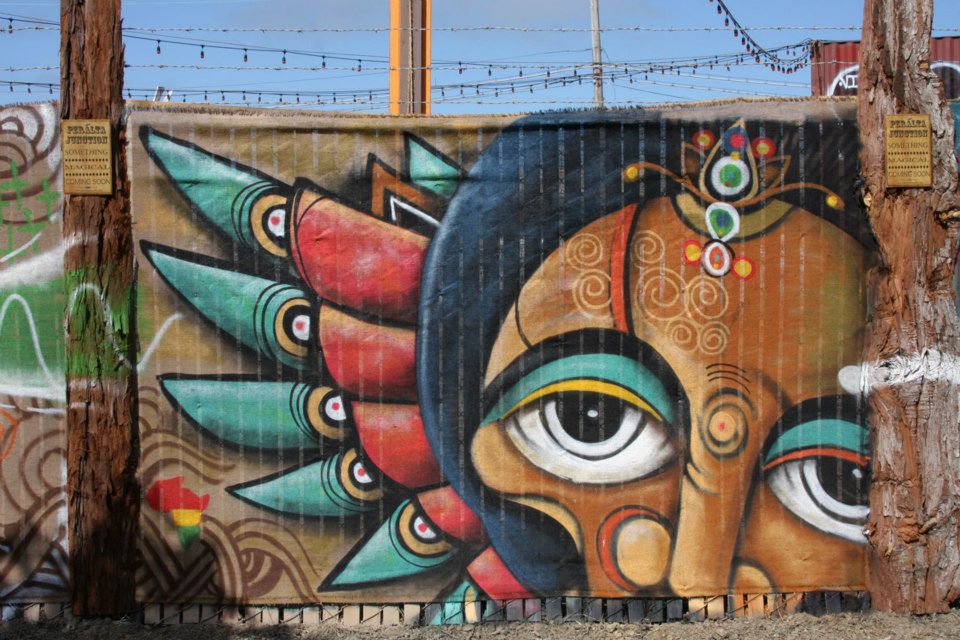 Growing up so close to the Caribbean, Terms said the island regions heavily shaped his style as an artist, and he abandoned his birth name - James Monge - for the Rastafari name Ras Terms. He said the African elements of his art also come from Caribbean influences because of the prominence of the slave trade in the area's history.
The main staple of Terms' artwork is an angel he said has origins in Ethiopian art. He said he uses the theme of angels as one of his main images, and it has a special meaning to him.
"When I put up an angel in the street, it's like something's looking out for me," Terms said. "I don't know if angels exist or not, I've never seen one. But they exist because I draw them."
As Terms' style has matured, especially since he moved to the Bay Area in 2000, he's moved from just using spray paint cans to using a variety of mixed media -- mostly acrylic house paint nowadays -- on buildings around Oakland and San Francisco.
Terms took a brief break from painting Bay Area walls in the week preceding the Super Bowl, when Kaepernick's agent, Scott Smith, of XAM Sports asked Terms to design a t-shirt. When Smith decided to make a t-shirt to celebrate the 49ers' Super Bowl berth, he drew inspiration from the office decor he had purchased from Terms four years prior and gave the artist a call.
At first, Smith wasn't even sure he'd be able to talk Terms into designing the shirt. Terms doesn't follow professional sports and had never done sports-related art before, saying he is "not into all the hype" because sports are too commercialized for his tastes. He doesn't own a television, and he said he hasn't watched football since he was 17 years old.
After reading more about Kaepernick, Terms said he started to consider agreeing to design the shirt because the quarterback seemed "revolutionary" and "was somebody who could inspire people." Terms decided to do the piece for sure when he realized Kaepernick's jersey bore the artist's favorite number.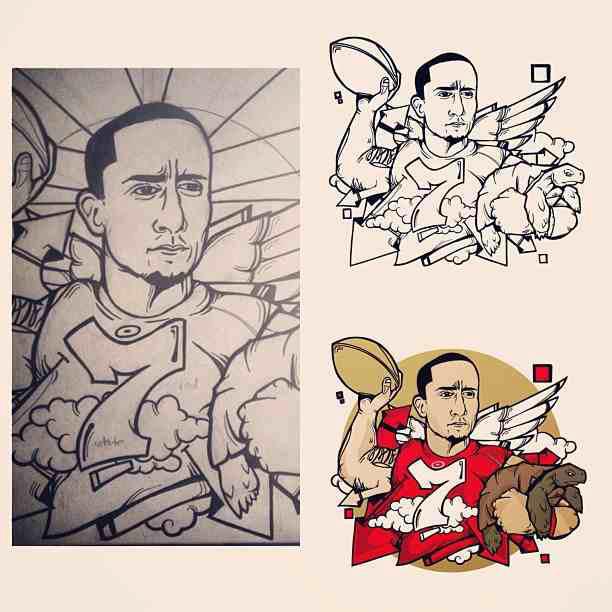 "The seventh letter of the alphabet is the letter G," Terms said. "The word God begins with a G. So I believe it's a spiritual number. I always put 7 in all my work, way before Kaepernick. 7 to me is an uplifting number, whether it means God or not. 7 is a powerful number. So it went perfect for him. When I saw the 7, I said I've got to do this piece, even though I'm not a football fan."
Each element of the t-shirt Terms designed is a meticulously-chosen metaphor. Terms put his signature angel wings on Kaepernick in the t-shirt design because of Andrion's angels-and-demons tattoo mural on Kaepernick's back. He surrounded the San Francisco signal-caller with clouds as a "symbol for reaching heights above." The arrows surrounding Kaepernick in the image are both an important element in street art and a football playbook.
"It's telling the X's and O's where to go," Terms said. "If you look at street art and you see arrows, they're kind of showing you the motion. The arrow's pointing, and your eye goes that direction. When I put it there, it's traditional that I put arrows in. And I said 'Why did I do that in this picture of the football player?' And I said 'Oh, it's the gameplan.'"
The image in the shirt that means the most to Terms though is Kaepernick's pet tortoise, Sammy. Terms drew Kaepernick's 115-pound, 15-year-old tortoise on the shirt because it represented "quiet encouragement" in the form of being a metaphor for the fable of the tortoise and the hare. Terms said the fable's lesson is even more important now that Kaepernick looks to rebound from losing the Super Bowl.
"The race is not for the swift, but for those who go and endure," Terms said. "The turtle's taking his time, but he's getting there. There are things you have to go through and keep going at it. Enduring through the whole, both the good and the bad. He's not going to quit."
After finishing the t-shirt design, Terms put the shirt on his online store where he sells other works of his printed on shirts as well. He said as customers bought Kaepernick shirts, many also looked at the rest of the site and bought other t-shirts along with the Kaepernick one.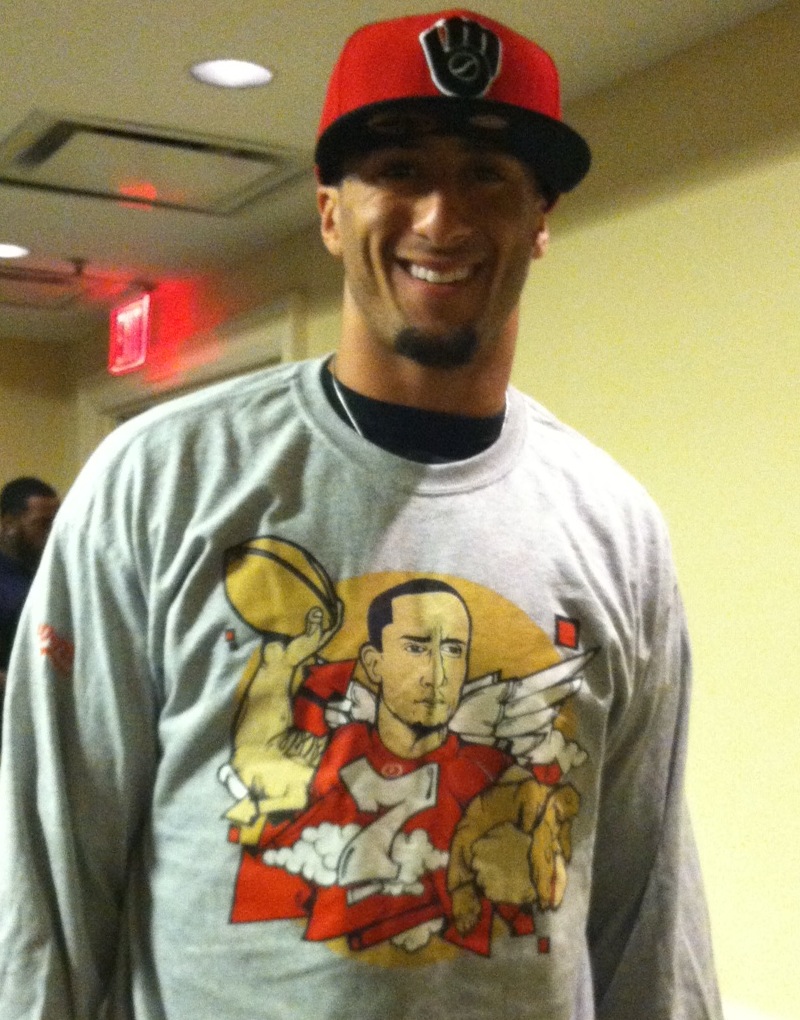 In the short amount of time since releasing the shirt, Terms already estimated he's almost made enough money to pay the month's rent from shirt sales alone. He said he expects the value of publicity from the shirt to pave a path for more business opportunities for him in the future.
"Did I make a lot of money off it?" Terms said. "No. Did I get exposure? Yes. I don't know if I've gotten more work. I don't think I've gotten anyone who's said 'Because of the shirt, I want you to do this.' But I have gotten exposure. The people I know are excited."
Terms said he expected more shirts to keep selling as Kaepernick's popularity continues to rise. During Super Bowl week, the Wall Street Journal interviewed Terms as background research for an article about Kaepernick's tortoise, Sammy. For Terms, it was a far bigger news outlet than any which had previously interviewed him about his art. He said his work with Kaepernick's shirt has brought him increased recognition from his peers and comments on his Facebook page.
"I'm getting a lot more respect out of it," Terms said. "When I posted it on Facebook, people were like 'Wow, he's making some spirits move.' It felt good though."
As Terms and Andrion shine under Kaepernick's spotlight, they're able to help shake off negative perceptions surrounding their chosen genres Terms specifically describes his style as "street fine art," a fusion of street art and fine art, to avoid some of the stigmas attached to the word 'graffiti.'
"People say to appreciate graffiti you've got to be a gang member, which is false," Terms said. "I do see the kids tagging and the gangs, and I'm not part of that, so I want to influence them. So I came up with this term, 'street fine art.' It's like fine art, but I put the word street in front of it. Because I'm trying to get people's minds out of 'graffiti is tagging up houses and gangs.'"
Andrion's tattoos likewise have negative connotation in the eyes of certain pockets of society, as evidenced by Whitley's column. While Andrion said he didn't mind Whitley's criticism, XAM Sports Marketing Director Shawn Smith said Kaepernick's most recent visit to Camp Taylor, a camp for children with heart defects, shows an important lesson about harshly judging heavily tattooed people.
Kaepernick played volleyball, made crafts and swam with the children, and when Smith asked him afterward if any of the children said anything about his tattoos making him look different from them, he told her nobody even seemed to notice.
"A lot of them have scars from the top of their ribcage all the way down, or a lot of medical equipment they have to wear every day," Smith said. "So they probably feel different in their own right. So they didn't even see that. They were just excited to have him come make buttons with them. As adults, we're a lot quicker to judge. Those kids have been through hell and high water, and they didn't judge at all."
While helping dispel the unfavorable myths about their respective genres and gaining attention, Terms and Andrion are both mindful of the personal sacrifices they've made to get where they are now. For both artists, the cost of their dedication to their craft has been a broken family and strained relationships with children.
Andrion said he gets along well with the mother of his six-year-old daughter and 10-year-old son and is able to visit them whenever he wants, but he has no such luck with his oldest daughter, who is now 15. When their daughter was one year old, Andrion said his wife at the time presented him with divorce papers.
"I was young and irresponsible and didn't want to read it," Andrion said. "I signed the papers, and one of those papers was signing all my rights away. It took my daughter away. I have nothing to do with my daughter any more."
The only time Andrion said he has seen his daughter since the divorce was a week before Father's Day in 2011. Andrion said he pulled up to a rest stop right as passengers in another car were about to leave. He saw his ex-wife's boyfriend getting into the car, and the boyfriend introduced the estranged father to his daughter.
"I didn't know whether I should give her a hug or anything," Andrion said. "I just smiled at her and said 'How are you doing?' And she just smiled at me. And that was it. About a minute or so. And after I drove away, they had left already, and I looked in the sky and thanked God for it."
Andrion said he hopes his newfound increase in customers will bring him enough money to offer to pay child support in exchange for getting some of his paternal rights back. He said the demanding and inconsistent schedule of his job frayed the threads of his marriage, and he doesn't want his relationship with his daughter to be a cost of his career choice.
"I grew up not knowing my dad, not knowing my mom," Andrion said. "I want to break the curse. It happened to my mom, it happened to me and my brothers, and it's happening again."
Terms knows all of his children, but he said the physical distance between them "sucks." He lives with his five-month-old son, but his other three children live with their mother in Oregon. Terms said he only recently started making liveable wages from his artwork, and he still doesn't own a car.
Hindered by a lack of financial means, Terms said he hasn't seen his oldest three children in two years. One of the first things Terms said he will do when he makes some more money from his Kaepernick clothing is rent a car and drive to Oregon to see them.
One memory Terms said he cherishes dearly is a conversation he had with his seven-year-old son after appearing in reggae artist Jah Sun's "Heart Like a Lion" video in 2012.
"He saw me in there and said 'I want to be just like you, Dad,' because of my art," Terms said. "I was thrilled. I don't care what anyone tells me. I don't know if he's seen the Kaepernick shirt, but I'm going to make sure I get them and send them to him."
Both artists hope the exposure from working with Kaepernick can serve as a stepping stone to the next steps of their careers as well. Andrion hopes to save enough money to buy the building he rents for his shop, and eventually hire enough other employees at Endless Ink to deal with most tattoo requests so he can focus primarily on portrait tattoos and Japanese-style ink.
"I don't want to be known as just Kaepernick's tattoo artist," Andrion said. "I want to be known as a great all-around tattoo artist. That's why I want to do Japanese art, because it's been around for all these years."
Terms wants to continue doing street art, and he wants the subject of his first sports-related artwork to also be the subject of his next piece of work on a much larger scale.
"People see me, or donate spray paint, and tell me 'can you do a mural for me on this wall?'" Terms said. "Whatever comes out of it, what I really want is someone to say 'Hey, I've got a big wall, come draw Kaepernick for me.'"
Whether Terms and Andrion reach these goals remain to be seen, but after working with Kaepernick, both artists are closer to those goals than they ever could have imagined.
Images courtesy of Nes Andrion, Ras Terms, Twitter, Scott Smith
Calling all HuffPost superfans!
Sign up for membership to become a founding member and help shape HuffPost's next chapter