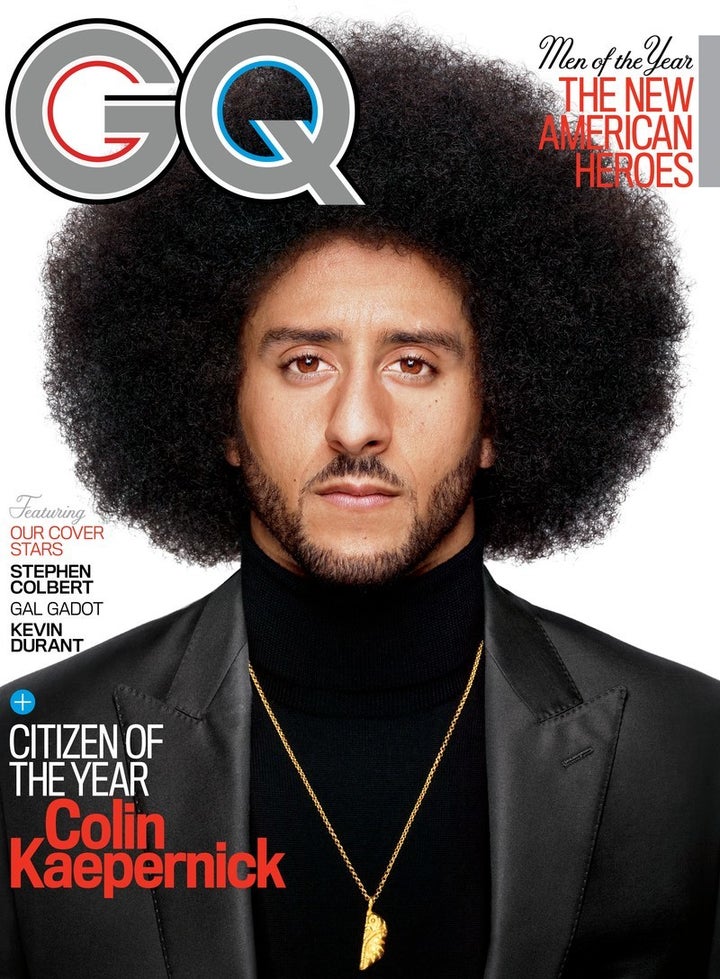 When you risk it all for the people, that's patriotic.
Today "GQ" named Colin Kaepernick the magazine's Citizen Of The Year. And while many triggered conservatives tossed the magazine off the roof with their Keurigs, as if any of them ever read "GQ" before, I want to tell you exactly why "GQ" is spot on ― why Colin Kaepernick is not only the citizen of the year, but a true American patriot, who risked everything to fight for the people.
Back in 2016, Colin Kaepernick took a stance when no athlete with his profile did. He knelt to protest the unjust killing of Black Americans by the police. He knelt to lend a voice to the voiceless when very few did. Like many Americans, he saw the deaths of Philando Castile, Terrence Crutcher, Alton Sterling, Jordan Edwards and many more, and his heart broke. And even with history the perfect case study as to what happens when a prominent black athlete speaks out against injustice, he still did it, jeopardizing everything for the cause.
Muhammad Ali 1967, Tommie Smith, John Carlos and Peter Norman 1968, Mahmoud Abdul-Rauf 1999. Their examples all pointed to the inevitable backlash he would face. But none of that deterred his cause. He gave up his dream of playing football. A dream he had spent every waking moment working for. He gave it up for the people. As a result, the topic of police brutality is now at the forefront of every single NFL game. Whether you agree with his protest or not, this issue has reached millions more Americans thanks to one man's bravery. That is patriotic.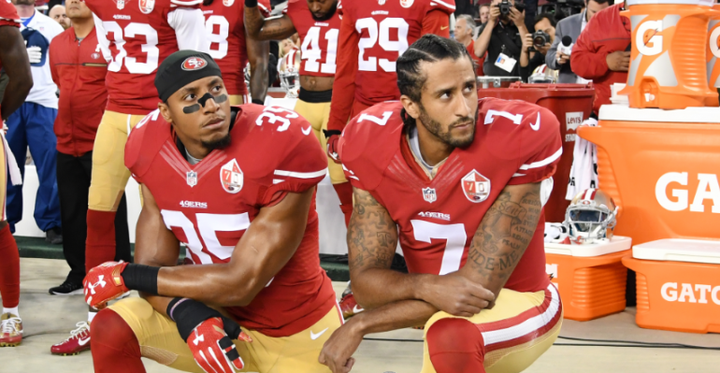 But aside from the stance itself, let's remind ourselves, and the mindumbingly ignorant right wingers who have deliberately tried to mischaracterize his protest and slander him personally, the lengths Kaepernick has gone to off the field to promote the cause he knelt for. First, he sought to educate the youth, recognizing the power of knowledge, which is why, as his movement gained momentum, Kaepernick prioritized educating at-risk youth about their constitutional rights when interacting with law enforcement. So while talking heads were lambasting him as a coward who hated police, Kaep was actually doing his part to ensure that at risk youth were fully informed on what they're obligations were when/if they dealt with law enforcement. He formed Know Your Rights camp, a nonprofit that he funded out of his own wallet, that has since become a leading organization empowering oppressed communities across America. Not only does the organization provide step-by-step guidance on constitutional rights, but it also encourages children to see that, as human beings, they have the right to be happy. The right to what Kaep took a knee for - freedom, liberty and justice for all, that is not for all right now. That is patriotic.
Kaep has acknowledged from the beginning that any non-profit's ability to grow and reach more people depends on donations and backing. Which is why he pledged to donate $1 million dollars to select organizations throughout America. But here is the thing ― anyone can donate money. Donations are terrific and they help a great deal. But arguably more important than his financial commitment has been the specificity of where he directs his money. He is not just throwing around dollars and hoping it inspires some sort of change. Each month he documents, with the help of his organization, exactly where the funding goes and precisely what it will be used for, down to the finest detail and dollar assigned. So while those outraged by his initial protest screamed "What about black on black crime in Chicago?" as a means to deflect attention from the systemic racism plaguing the country, around a quarter of his 300K donated so far has been assigned to groups helping at-risk youth in the city of Chicago. Again, that is pretty damn patriotic.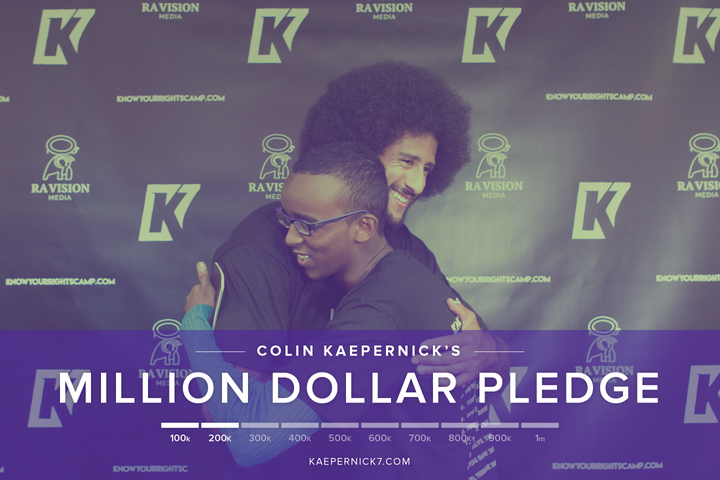 And lastly, amidst the torrent of abuse, he has never let that deter from his primary objective: leading and educating. Onslaught after onslaught, attack after attack, from journalists, colleagues and even the president, not once did he blink. Not once did he let any of the noise distract him from what he set out to do. Having met with him personally, I was struck by how humble this man is. It's startling. How one man can remain so poised, so focused and so present up against unimaginable adversity is beyond admirable. Where many would have broken, he has stayed true to those he fights for. Think about it. Imagine the headlines if he clapped back at the manchild in chief after being called an SOB? How far down the list would the issue of police brutality fall? Pretty far, right? How many of these 'patriots' who describe him as a 'ungrateful thug' would be able to withstand the smears, the ruthless and relentless hyperbole and remain focused on their objective? Very few. But that's why none of them are Citizen of the year. That's why very few are real patriots.
Popular in the Community