The two Koreas seem at an impasse. In March Park Geun-hye's Dresden speech held out a hand of friendship. Brusquely dismissing this, North Korea showered insults on the South's President.
Fortunately rhetoric is not the whole reality. For over a decade, one project has shown how both Koreas can cooperate to their mutual gain. The joint venture Kaesong Industrial Complex (KIC), a short drive from Seoul just across the Demilitarized Zone (DMZ), has weathered many storms.
In May 2010 Seoul banned trade and investment with Pyongyang after the sinking of the warship Cheonan, but wisely exempted Kaesong. Last year when the North pulled out its 55,000 workers, President Park patiently negotiated the KIC's reopening under a new joint management structure.
Since 2005, this potent combination of Southern capital and technology with Northern discipline and diligence has produced goods worth US$2.3 billion and generated US$9.45 billion in trade, according to Seoul's unification ministry (MOU) last month. Yet it could achieve much more.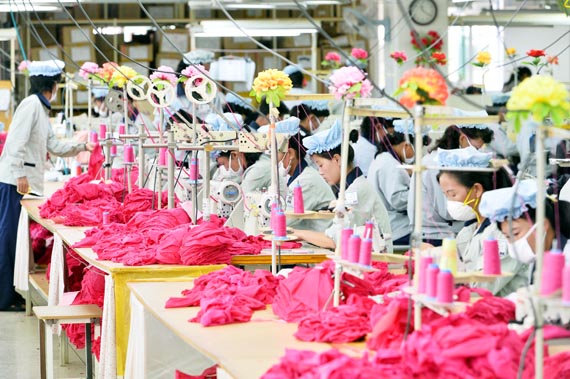 Workers in Kaesung Industrial Complex in North Korea busy at the production line. © Pooled photos by South Korean photojournalists
As originally conceived, Kaesong would have hosted 250 Southern companies (twice the current total) by 2007. Planned expansion envisaged as many as 700,000 Northern workers by 2012.
Both Koreas need to recover that early ambition. Those who think North Korea is unchanging forget the heroic risk the late Kim Jong-il took, facing down his own military to lease part of the front line to the enemy. Hoping for large-scale foreign investment, Kim invited Samsung and other major South Korean corporations to come in -- only to be thwarted by his own bureaucracy.
'Trustpolitik' is President Park's watchword, and trust is what the Koreas need most and first. To that end, each side must reconsider its past practices and offer the other a basis to move forward.
Until the North rashly withdrew its workers last year, Kaesong was mostly a sanctuary insulated from the peninsula's knotty wider issues. That status must be re-established. Southern companies need a firm guarantee from the North that business is business and will never be sabotaged again.
On that basis Seoul should let another joint venture restart. The Mount Kumgang resort on North Korea's southeast coast saw 1.9 million Southern visitors in the decade to 2008, when the South suspended tours after a straying tourist was shot. That was tragic, but the eight-year impasse has benefitted no one. Like Kaesong, Kumgang was a win-win project overall. It is time to try again.
Once it is clear Seoul means business, Pyongyang will reciprocate. Kim Jong-un recently created a dozen new special economic zones, but given North Korea's reputation he will find few takers. Not wishing to become yet more dependant on China, South Korea is his only realistic option.
For South Korean companies the North's advantages are obvious. Language, labor, logistics and location are all favorable. North Korea' educated but underemployed workforce, vast amounts of underutilized land, and worn-out infrastructure and plant are all opportunities for Southern firms. A precedent lies close at hand. Cross-straits politics are as fraught as Korea's, yet for 25 years China and Taiwan have forged business ties. Deepening economic integration has helped reduce tensions. The two Koreas could learn much from such a pragmatic, long-term strategic approach.
It is ironic and tragic that Samsung et al. have large operations all over Asia, not least in China - yet none on their doorstep in North Korea. This can and must change, to all Koreans' benefit.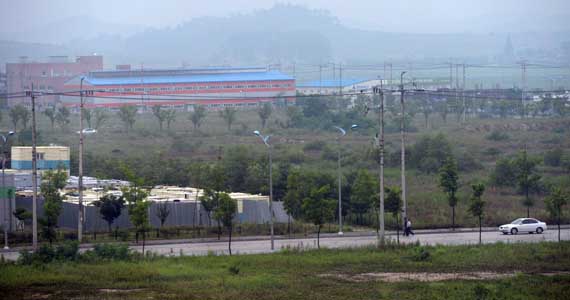 Panorama view of Kaesong Industrial Complex in North Korea. © Pooled photos by South Korean photojournalists
Criticisms that this rewards Pyongyang's misbehavior miss the point. Of course UN Security Council sanctions must be observed. But expanding Kaesong and resuming Kumgang are small beer: Those few extra dollars won't buy Kim any new bombs or major missiles. It's worth a try.
Two further arguments. Existing policy towards North Korea isn't working: on the nuclear issue, human rights and much else. We need to try another tack, more long-term and imaginative.
Second, South Korea has a unique responsibility. As we Koreans say, Uri nara: It's our country. While careful to treat the North as a partner -- and to insist that they equally respect the existing Southern state -- we both know that between us it's different, because we are the same people. Both North and South Korea see unification as their goal. That will take time, and a road-map - which must be a shared one. The obvious way forward is to build on what works. Kaesong works. By expanding it and creating other Kaesongs, we can show North Korea two things. First, we are sincere. And second, win-win is better than confrontation. Kim Jong-un has promised his people that they need no longer tighten their belts. Only with South Korean help can he deliver that.
Pyongyang will remain a tough and sometimes tiresome partner. Yet we must not let irritation over minor issues distract us from long-term goals. South Korea's retreat in recent years has left China dominant over the North's economy. With Russia and even Japan forging fresh links with North Korea, Seoul can ill afford to be a laggard. The challenge for President Park Geun-hye is not only to deal South Korea back into the Northern game, but to take - and keep - the lead role.
The author is chairman of JoongAng Media Network -- one of South Korea's leading media groups, including the prestigious JoongAng Ilbo daily and a former South Korean ambassador to the United States.