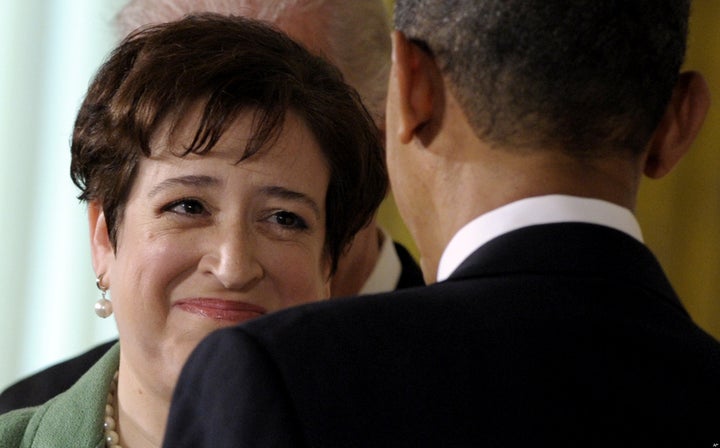 As the formal stages begin for the confirmation for Supreme Court nominee Elena Kagan, the most noteworthy element seems to be the potential for friction between conservative activists looking for a fight and the elected GOP.
Hours after lecturing Kagan on the pitfalls of judicial activism and the shortcomings of her record, Sen. Orrin Hatch (R-Utah) told MSNBC that he didn't think a filibuster is forthcoming.
"The only people who have ever used a filibuster were the Democrats and, by the way, President Obama participated in filibustering judges," he said. "And I have to say that I don't know of any Democrat who really wants to filibuster this nominee and I personally don't believe that judges should be filibustered. But be that as it may, I would be surprised if anybody even talked about filibustering very often on the Republican side. The only ones that have really done that were Democrats, including the president."
This seems to be the conventional take on the nomination process. Kagan has been criticized at length for her scant written record and the dearth of substantive explanations for her jurisprudence. But the flip side of that coin is that there is remarkably little on which the GOP can attack her nomination.
And yet, while Hatch may just be offering a sober take on a confirmation that appears to be a fait accompli, the activists in the party aren't going to be pleased if they don't take a pound of flesh. Here, for example, is an AP write up of some of the histrionics taking place in the Senate today (which a Democratic source pointed out, provide a valuable contrast for the party).
Anti-abortion activist Randall Terry escorted a dancing chicken around to jab at Republicans' apparent unwillingness to filibuster Kagan. With Terry helpfully interpreting the chicken's squawks, the big bird explained that Republicans "don't think they have the votes and they don't want to have egg on their faces."

The chicken turned out to be a multi-tasker. His yellow suit was stuffed into a knapsack, and the chicken quickly transformed himself into a black-hooded grim reaper. Randall and the reaper headed over to the Supreme Court to protest Justice John Paul Stevens' last day on the bench.

The heat didn't deter a few hundred civic-minded Americans from queuing up outside the Capitol for a seat in the hearing room. Audrey Smith, a homemaker from Calverton, Md., was up at 4:30 a.m. to take the bus and subway downtown to see "a woman who's going to take the seat of a man on the Supreme Court."

"I'm for women progressing," she explained.
Calling all HuffPost superfans!
Sign up for membership to become a founding member and help shape HuffPost's next chapter